Letters to the Editor
View(s):

Dumping Colombo's  garbage in Arawakkadu:  A disaster in the making?

It has been in the news these days that garbage of Colombo and the suburbs is to be transported by rail for disposal in Arawakkadu, an area bordering the Wilpattu National Park.

There are over 100 elephants who inhabit this area and this move would be a definite death knell to them and many other wild animals big and small which abound in the area.

The purported dump sites are within the area claimed by Holcim and are disused excavation pits which were dug for the extraction of lime stone for the manufacture of cement.

The rail network used to transport the lime stone from Arawakkadu to the cement factory at Puttlam is probably to be used for the transport of the garbage to its sites via Puttalam.

The stench that will emanate from this site in addition to the flies,  will affect the thousands of people from the villages of Karaitivu, Tirikkapallama, Gangewadiya, Serakuli, Eluwankulam and even Wanathavillu and of Kalpitiya, a popular tourist destination which is only a few kilometres across the Puttlam Lagoon, from the site.

This stench will definitely attract elephants from the sanctuary to the dumpsite and will cause an elephantine problem.

The seepage from the garbage dumped into these deep pits with the collection of rain water will certainly contaminate the adjoining Puttlam Lagoon, the nearby Kala Oya and catastrophically the deep underground water channels which will eventually pollute and render unusable the deep water and other wells which the people of the area depend on for their survival.

Though several attempts have been made by environmental  organisations to put a stop to this ill-conceived project, it seems that it is well underway from what has been reported. It is still not too late for all concerned wildlife enthusiasts and environmentalists to raise a joint voice against this venture.

If the argument of the entities favouring the project is that this will not harm the environment nor affect the wildlife of the area etc since the disposal will be done in a scientific and methodical manner, let them find a site within their province.

The people in the villages mentioned are fishermen, farmers and small time traders who have no way of voicing their opinion whilst most of them are not even aware of the impending and looming disaster which is to befall their communities if the envisaged project goes ahead.

It is also alarming to note that some very vociferous politicians who represent the people of the area have not made any significant representation or any agitation to avert this impending disaster.

 Kiyaz Deen  Colombo 7
---
A plea to bring back our 'lost' bus stands
The people of Kesbewa are thankful to the authorities for finally putting up a bus shelter, two weeks ago, on the Horana Road (on the side of the temple), at the Kesbewa main junction, after two years of  agitation for it.
But, it is a matter for regret that authorities have turned a blind eye on the Kesbewa lake side, on the same road, at the same junction.  There were two bus halts (one with a shelter) at the lake side of the 120 bus route but they were removed, like the clock tower, during an expansion project.
These two bus halts were never rebuilt neither was the clock tower, which authorities promised would  be brought to the city centre, as was the original plan.
For the past two years the people made many representations (including some library members and myself) to the RDA, the Kesbewa TC and the Transport Ministry to instal these two bus halts as bus drivers stop according to their own whims and fancies, specially favouring the younger women.
"Can we have these two bus halts back" is the plea of the people of Kesbewa as many government institutions such as the Ayurveda  Clinic , Maternity Clinic, the Post Office, the Public Library, and the walking path are all situated on the lake side.
Sumith de Silva   Kesbewa
---
Citizen Silva, your comment on Mr. Kumarasinghe is unfair
Dear Citizen Silva, I appreciate the forthrightness and good sense of your articles. But your comment on P.G. Kumarasinghe, President Maithripala Sirisena's brother, in the Sunday Times of January 7, was not fair.
You cannot equate the appointment of P.G. Kumarasinghe as Chairman SLT, with that of Nishantha Wickremasinghe, President Rajapaksha's brother-in-law. In all fairness, Mr. Kumarasinghe is a qualified and experienced professional administrator with two MBAs. An MBA is a qualifier for promotion in the public sector and the private sector. Mr. Wickremasinghe has no qualification for  a high executive position whatsoever. Is it a fair comparison?
I am non-partisan between these two factions. I am for objectivity and fair-mindedness.
One must remember that P.G. Kumarasinghe was previously deprived of a promotion just because he was President Sirisena's  brother.  You are old enough to remember what Sir John Kotelawala once said when he was criticised for appointing his nephew Dixon as Director, Civil Aviation: " He shouldn't be deprived of his appointment because he is my nephew."
Mr. Kumarasinghe is a grassroots man. I am too and I presume you are too since you are Citizen Silva
Patrick Jayasuriya  Maharagama
---
Thoughts on passing  a parking meter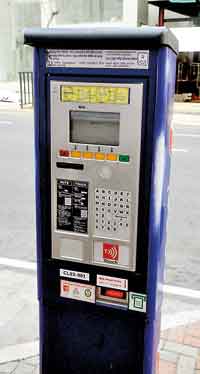 Ambling along on the pavement on Galle Road, Wellawatte, I paused to study the new parking meters that are being installed.
Here's what I saw:
Exact Change- No Refunds- Charge for cars Rs 30 per hour. There are no place to insert coins on the meter. Now how is one to deposit Rs 30 without a ten rupee coin? There are no ten Rupee notes any more.
Or is one to deposit Rs 40 and forfeit Rs  10 on every occasion?
Nihal Ratnayake  Dehiwala
---