Appreciations
View(s):

She brightened our lives with her care, inspiration and music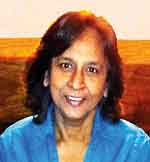 Daphne Kulasekere
My beloved sister Daphne Kulasekere was called to eternal rest on January 22, 2017, a year ago, leaving a void in the lives of all her loved ones. Born on January 18, 1953, Daphne had her education at Princess of Wales College, Moratuwa.  She followed a career in music (pianoforte) and obtained professional qualifications from Trinity and Royal College of Music, London.  She started teaching music at the very young age of 19 years for around 15 students.  She was actively involved in church work and was the organist of the Methodist Church Suduwella, Moratuwa and a dedicated Sunday school teacher.
She migrated to Canada in 1977 and lived a peaceful life with her family.  She was married to Felix (Rohantha) and was blessed with two sons, Travis and Troy. She was a well known and much loved music teacher in Calgary and had the privilege of teaching many for more than three decades.  She was attached to the Alberta School of Ballet and as appreciation for her dedicated services, the school held its annual concert in memory of her. She was also the organist at the St. Augustine's Anglican Church and the United Church in Calgary. The Funeral service was held at Christ Church Elbow Park, Calgary.
I wish to share some of the vivid, wonderful and nostalgic memories of her.  We were very close to each other in a wonderful family atmosphere and lived happily under the guidance of caring parents and God Almighty.  When she started earning, she never failed to give me pocket money. It was she who dropped me off to the University hostel in 1975 with words of encouragement to study hard.  She taught me how to ride a bicycle and to drive a car. My memory recalls, the fun we had during Christmas singing Christmas Carols with family and friends, with my sister on the piano.
My sister never lost the common touch and was devoted to her family members, especially to relations and friends in need.  She was constantly in touch with her family and visited us regularly. The annual Christmas card from her was much awaited by all the relations.  Throughout her life she epitomized kindness, love and compassion for the needy. I am told by my sons who visited her in Calgary recently, how excited she was to have them at her home.
In 2015, she spent Christmas with my family in Sri Lanka along with Travis her eldest son, and had a wonderful holiday. We had a family and friends get-together and as usual she was on the piano entertaining us all with Christmas hymns, songs and golden oldies that brought back  fond memories. I was really moved by her very friendly approach towards my little grand-daughters who still talk highly of Daphne Achcha. In spite of her own declining health condition, she had played the piano, one last time, at the cancer hospital during the Christmas of 2016, entertaining the patients and staff.
Though we were apart, we never felt it, as we were constantly in touch with each other. My several visits to her home in Calgary too brought us much closer.  Her love, affection and dedication to the family was admirable and exceptional.  A thanksgiving service in her memory was held on April 1, 2017 at the Suduwella Methodist church with a large gathering and an inspirational message was delivered by our cousin Ivor Poobalan.  I take this opportunity to thank all those who attended the service. She was a loving daughter to our parents late Justin and Charlotte, a caring sister to both me and my brother Bernel (deceased) and a very loving and affectionate mother to her sons Travis and Troy – she truly was an "inspiration".
We all miss her so very much! I thank God for her life and it is my belief that we will meet each other again on that "beautiful shore".
 Denver Brian Coorey
---
You are now safe on the golden shore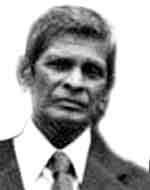 ASHLEY HERMON WIJESINHA
Ashley, a cousin of my late husband, died on January 15 this year, incidentally, his wife Sria's (nee Salgado) birthday. He was 84. An old boy of Trinity College, Kandy and Wesley College, Colombo, Ashley after retiring from the Sri Lanka Tea Board, worked as a journalist at the Sunday Times and the Daily Mirror.
That he had a nose for news, with journalism running in his veins, is no surprise as his talent for writing was seen right throughout his career. Journalism was close to his heart; so he was very much drawn to working in the newspapers like the Daily News, the Sunday Times and the Daily Mirror. He was also Assistant Editor in the Hansard Reporting Department of Parliament at one time.
He had a pleasant personality that was liked by all, much loved and respected by his peers, supervisors and subordinates. He treated people equally, expressing that every human being is a child of God. I remember at the time he retired he initiated and organised a pensioner's (boys only) pound and pint monthly get-together among the cousins. This continued for some years until one by one, the members fell ill. Ashley was sociable and one event he attended with much enthusiasm was the Salgado family union meetings and picnics. He was instrumental in arranging entertainment items and attended to this task very well.
He was a man of method and managed his work and home affairs meticulously and with order. Bill payments, pension documentation, medical records of himself and his wife were always handled and maintained personally by him in a neat and orderly manner.
In lighter vein, not only did he have a 'nose for news' but could 'smell' a pick-pocket from far. I recall how he was in the habit of informing the police of such persons in the buses and bus stops. On one occasion a pickpocket had got off the bus and threatened him in sign language. After that incident, as our house was close to the bus stand, he would come there and call the police to give details of the pickpocket waiting for his prey. It used to be hilarious for us, but because of his public spirited nature, many a pickpocket was rounded up.
It was sad to see his health deteriorating due to Parkinson's disease and he then started going to work at Sunday Times only on Saturdays. He looked forward to this day and told me that he forgot his sickness and felt happy when he went to work even once a week. Of late, I visited him more often and felt he enjoyed my visits. I remember on one occasion when I prayed over him he was so happy that he kept talking about it for weeks. Many times he asked Sria to dial my number and requested me to come over.
His cousins, relatives, friends and colleagues, especially those at the Tea Board, the Sunday Times, the Daily Mirror and the Daily News, will miss him much as he was a pleasure to be around with.
His wife Sria and son Dhinuk spared no pains to see that he got the best of care and endeavoured to keep him happy and comfortable to the best of their ability. I am sure his demise leaves a void in their lives and an empty space in their home.
No more clouds in the sky, no more tears to dim the eye. All is peace forevermore as in glory bright unclouded, he is safe on the golden shore.
Mary Anne Perera
---
Amma, I will love you endlessly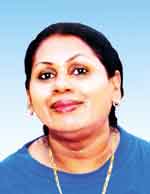 Sangeetha Hemanthi Dharmakeerthie
My mother was determined to give us things that she thought a normal kid should have, in order that we should not be considered different. Ironically, it's also what I felt when I was offered a position in a university, which I had hoped to enrol in. I was overwhelmed by happiness, however another part of me thought otherwise.
As my friends were sharing how their parents reacted to their offers, their mothers in tears, some with smiles, some with hugs and kisses, expressing how proud their parents were of them, it reminded me of the part of me that I was missing; my amma.
Whilst my friends were blessed with the privilege of kissing their mothers, I only had her photograph to look at. No sources of comfort, no way of hearing her telling me the sweet phrase I desired to hear the most; "I'm so proud of you".
The more I stared at her photograph, the more I realised, that she wasn't there to see me become the woman that she wanted to see me become. All there was left was a photo with a fixed smile, which still managed to somehow comfort me with silence, when I needed her the most.
I was disappointed that she wasn't there to hug me and tell me she cared. Disappointed, that she could no longer crack her sarcastic jokes, which in her opinion were "top-notch".
Disappointed, that I couldn't tell her how much she meant to me when I had the chance to. Disappointed, that I couldn't share my small milestones in life with her.
On February 8, it'll be five years since she eft us without notice. Since then, I've heard many people say to me, "Don't worry, time will heal". But, I'm still waiting on time to do its duty of healing. As each year passes, I accomplish bigger things, better things, but not having my amma by my side always restricts me from feeling the full extent of happiness.
The reality of a photograph being the closest I can get to her, leaves me restless. Words simply cannot explain how much I desire to be held by her, to have her gentle hands stroke my hair like she used to or even to have her tell me stories from her childhood, that would leave me breathless from laughter.
Words cannot explain how jealous I have become of my own friends for being able to do the exact things that I yearn to do at least one more time.
Words cannot explain how much I'm affected by her absence.
But I know and I understand, that no matter how far she may be from me physically, she's always with me in thought. She's the woman that made me who I am, the woman I aspire to become and the woman I love endlessly; my Amma.
 Anarkaie Manel Dharmakeerthie
---
A memory so fond and true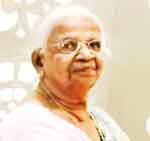 M.K. De Silva
It's been a whole year since my grandmother took that last breath and closed her eyes forever. I still find it difficult to convince myself that she is no longer with us. Her soul was fierce, her heart was brave and her mind was strong. She was kind and sweet.
I remember like it was yesterday, her waiting for me patiently at the gate whenever I came home from school. Her smile was priceless as joy was the only emotion that swept her heart when she saw me running towards her wide open arms.
She was my guardian angel. She always made sure that I was at my best whenever she was around. Fear was just a word, her embraces and tender words were enough to convince me that the world could be a beautiful paradise to survive in.
Most of all, her love was unconditional.
She was gentle and kind,
A beautiful memory she left behind.
Three little words "forget me not"
Don't seem much but mean a lot.
A memory so fond and true,
To show, dear Achchi, we think of you.
 Loving Granddaughter – Shavini
---