Seventy years of US-Sri Lanka partnership
By Atul Keshap, the United States' Ambassador to Sri Lanka
View(s):
On February 4, 1948, as Sri Lanka became an independent nation, President Truman noted in his congratulatory telegram to Prime Minister D.S. Senanayake; "On this memorable occasion I extend on behalf of the American people sincerest best wishes … on the peaceful and orderly progress of constitutional development in Ceylon … The people of Ceylon today assume added responsibility for their own destiny and we are confident they will join with other democratic nations in the high endeavor of increasing liberty and freedom throughout the world … Ceylon embarks on this new course with the firm friendship of the United States of America."
We Americans are proud of our partnership with Sri Lanka over the past 70 years, but our shared history goes back much further. In 1789, the year that we adopted our Constitution, American sailors first anchored in the harbours of Sri Lanka. In the early 19th century, American missionaries built schools in the north and American merchant ships carried ice from New England and returned with cinnamon and graphite. In 1850, John Black established the first official American presence in Galle, as a commercial attaché. Famous American author Mark Twain visited Ceylon in 1896 and exclaimed: "Dear me it's beautiful … What through the spicy breezes blow soft o'er Ceylon isle… The drive to Galle Face, what a dream it was of blooms and blossoms." All the American diplomats who have served here certainly share his wonder at the beauty of the land, the sea, and most importantly, the people of this exquisite island.
During the last 70 years, U.S. development and humanitarian assistance has improved lives, livelihoods, and living conditions across Sri Lanka. We have made substantial investments in agriculture, enterprise development, education, healthcare, governance, humanitarian assistance, military cooperation, energy, and natural resources. The State Department and USAID have allocated more than $2 billion (300 billion rupees) in grant assistance to Sri Lanka. Trade and investment are the engines of growth and employment, and the United States is Sri Lanka's largest trading partner, purchasing around $2.8 billion (425 billion rupees) in Sri Lankan goods in 2016, sustaining tens of thousands of jobs in Sri Lanka.
As we celebrate 70 years of partnership, we also look to the future. We hope to expand our ties with the people of Sri Lanka, and we share your hopes for a better future for your children. We will continue to support initiatives that increase transparency, reduce barriers to trade, and combat corruption. We envision benefits to both our countries, and to peace and security in the Indo-Pacific region, as a result of a strengthened military relationship.
Above all, we share with the majority of Sri Lankans the belief that reconciliation is the key to the future. We will support Sri Lanka as you seek to build an inclusive multi-ethnic multi-religious society where Sinhalese and Tamils; Muslims, Hindus, Buddhists, and Christians; men and women, share equally in the prosperity and freedom that is rightly Sri Lanka's. That is why we continue to urge the Government of Sri Lanka to take meaningful, concrete steps to respond to the concerns of its people in such areas as democratic governance, respect for human rights, reconciliation, and accountability. And we hope to see sustained momentum toward a new constitution that meets the aspirations and safeguards the rights of all Sri Lankans.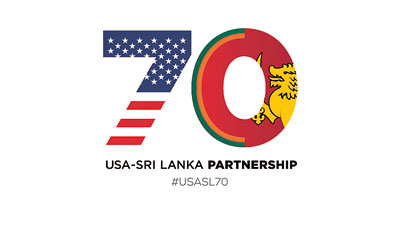 We remain optimistic and share with Sri Lankans great hope for a prosperous democratic future, where the doors of opportunity are open to all who have the skills, the drive, and the courage to walk through them. On behalf of all the women and men of the United States Embassy in Sri Lanka, and Americans everywhere who love this country, I extend my heartfelt congratulations on the 70th anniversary of our bilateral relations, and of Sri Lanka's independence.