Singing for the time of their lives
12 Lankan Children in Andrew Lloyd Webber's production of 'The Sound of Music'
View(s):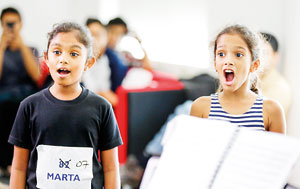 "When you know the notes to sing – you can sing almost anything". And sing and act, they did, with all their hearts and souls. The 375 young theatre enthusiasts, ranging from ages 5 – 15, were auditioned to play the parts of the Von Trapp children in South Asia's first international theatre performance of Andrew Lloyd Webber and David Ian's West End Production of "The Sound of Music". Presented by Cinnamon Life, this iconic musical will be brought to life in Colombo by the Asia Broadway Group.
The stiff young children, cowed by the discipline of a military upbringing, brought to life under the free and joyful spirit of Maria, and how she uses music to get through to them is one the most endearing themes of this magical production. The excitement was literally palpable as the children eagerly awaited their turns. If selected, they would have the unforgettable experience of being part of a world-class musical that has made its mark on some of the most famed stages in the world, including
West End and Broadway. To be trained under Johnny Bowles, Associate Choreographer / Children's Director of The Sound of Music, to practice and perform with International Artistes who have taken the Theatre World by storm, will be an unforgettable and inspiring experience for the young local artists chosen to play the parts of the Von Trapp children.
After several sessions of judging, the finalists were selected.Playing Freidrich will be Leeth Meth Singhage and Niven Nanayakkara
(St. Joseph's College). Louisa will be played by Amaya Perera (Lyceum International School) and Nesandi Wickramanayake (Bishop's College, Colombo). Bringing the funny and entertaining Kurt to life will be Lohan Tharinda Perera (Lyceum International School) and Venuka Rison Joseph (St. Joseph's College).
The sweet and shy Brigitta will be played by Evni Sapugoda (Lyceum International School) and Tashiyana Devarajan (Asian International school). Little Marta will be played by Kimaya Wijesuriya (Colombo International School) and Ayra Wadood (Bishop's College, Colombo). Selected to play the lovable Gretl, the youngest role in the production, are Senushki De Silva (St. Bridget's Convent) and Naadya Tranchell (Ladies College)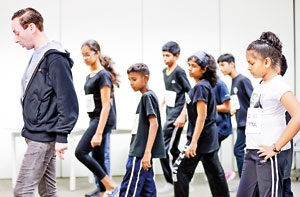 In a few short weeks, you will see these young local artists take the stage as the original Broadway production of the Sound of Music is performed live in Sri Lanka. The sets, production equipment as well as cast and crew members will be flown in especially for this performance of par excellence.
This family themed classic will be staged from the 14th to the 18th of February at the Nelum Pokuna theatre. Tickets for the show can already be booked on 011 2161161 or through
www.cinnamonboxoffice.com and are fast selling out. Fans are cautioned to book their seats early so as to not miss out on this once in a life time experience.