'Padmaavat' finally here
By Susitha R. Fernando
View(s):
Cleared by India's Supreme Court 'Padmaavat' was scheduled to start its release in India and worldwide on January 25. The film directed by Sanjay Leela Bhansali was delayed due to deadly threats from Hindu groups and Rajput caste organisations.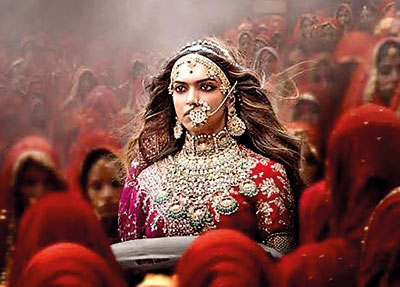 Ruling in favour of the film, the Supreme Court lifted the ban on it and went on to direct the states to allow the screenings in their respective territories..
However protests continued even after the Supreme Court ruling and last week extremist Hindu groups torched buses and vandalised a theatre in the western state of Gujarat.
Despite the court ruling and tightened security, theatre owners in the state have decided against screening the film as they fear further violence.
The film narrates the story of a 14th Century Hindu queen belonging to the high Rajput caste and the Muslim ruler Alauddin Khilji. Deepika Padukone and Ranveer Singh play the lead roles.
According to media reports, Hindu groups and Rajput caste organisations had alleged that the movie, depicted an intimate romantic scene between the two characters, which they say "disrespects" her character. The producers of the film deny this.
Here in Sri Lanka the film will be released in Hindi and Tamil at the Majestic Cinema Colombo and other theatres around the country.