'Nidahase Piya' Trailer, theme song released
By Susitha R. Fernando
View(s):
In line with the 70th anniversary of Independence on February 4, the film trailer and the theme song of 'Nidahase Piya DS' is to be released. The film is based on the life and times of D. S. Senanayake, the first Prime Minister of Ceylon when the country gained its independence from Great Britain.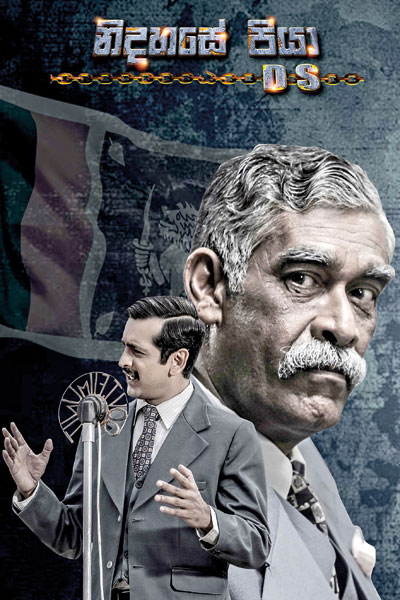 It was award winning lyricist Prof. Ariyaratne who penned the theme song highlighting the yeoman service rendered by D. S. Senanayake; its musical composition is by Samantha Perera and it is sung by Amarasiri Peiris.
The director Suneth Malinga Lokuhewa recently organised a private screening for the family members of D. S. Senanayake and F. R. Senanayake including grandson Rukman Senanayake, great grandson State Minister of Foreign Affairs Vasantha Senanayake and former Minister Wijeyadasa Rajapakshe who produced the film.
"The members of the Senanayake family were of the view that the potrayal of D.S. Senanayake's character was commendable and it was sad that it took such a long time to make a film based on the Father of the Nation," director Lokuhewa said.
"The film is something that should have been done a long time ago. There are many countries which have made similar films on the fathers of their nations. This is the first such attempt for Sri Lanka," State Minister Vasantha Senanayake said following the screening of the film.
"This film also cleared away many misconceptions and false information about D. S. Senanayake, and the film had portrayed a factual and accurate picture of Mr. Senanayake and his family," the minister said.
'There are many who think that we got our independene on a platter but do not even know that leaders like D. S. Senanayake were behind it" said the director. The film also features the other leaders like Henry Pedris who sacrificed his life.
Veteran actor Lakshman Mendis plays the main role of Don Stephen Senanayake while the young DS is played by award winning playwright and actor Thumindu Dodentenna.
The other main roles are played by Jayalal Rohana, Janak Premalal, Susantha Chandramali, Thisuri Yuwanika, Palitha Silva, Buddadasa Vithanarachchi, Saranga Disasekara, Somasiri Alakolanga, Douglas Ranasinghe, Anura Bandara Rajaguru, Udeni Alwis, Isuru Lokuhettiarachchi, Pavithra Wickremasinghe, Priya Vithanarachchi, G. R. Perera, Nayana Hettiarachchi, Roshan Pilapitiya, Nirosha Thalagala and Ayodhya Ratnasiri.
Behind the screen camera by Chandana Jayasinghe, production executive- Udaya Eranga Lokuhewa, music direction is by Samantha Perera, art direction by Dhammika Hewaduwaththa, make up by Tharaka Adhikari, assistant direction by Udaya Prasanna and media coordination by Anton J. Fernando. Still photography is done by Mewan Liyanage.