'Himidiriye' Singing Doc's maiden venture
By Sanath Weerasuriya
View(s):
Dr. Suraj  Ranasinghe, popularly known as the singing doctor amongst his friends in the UK, is a professional medical practitioner living in Norwich, UK. Apart from his medicinal life, Dr. Ranasinghe is a lover of music and a musician. Recently he has produced his maiden CD comprising 16 Sinhala originals titled 'Himidiriye'.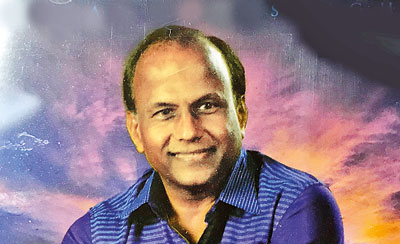 'Himidiriye' was  officially launched at the Ananda Samarakoon multi -studio  at the  SLBC  on 11th  December  2017 amids a host of musicians, Suraj's family and other invitees .
Suraj himself had composed eleven songs for the CD. He   was  responsible  for originating   introductions  and   interludes  for all the  songs , while   Dr. Ajith  de  Silva  -  also  domiciled  in  the  UK, composed five songs for  this 'Himidiriye' album. The music scores were written and conducted by music virtuoso Visharadha Dinesh Bogoda who supplemented Suraj's creations and melodies to produce a classy and melodious musical end product. The  repertoire  of  Suraj's songs are varied and portray Sinhala folk and art-song traditions, while  some   of  them  follow the group songs style of the 70s –  a genre of simple music very close to Suraj. In  fact, Suraj, now  past his mid 50s, first thought of 'doing  something  musical' less  than  a  year back  when he penned his maiden song 'Dayak  Damaa' – a lament of an expat. Very soon, one song led to another – thus igniting the passion to produce the CD. 'My CD 'Himidiriye' became a reality due to a 'chance' I encountered with Visharadha  Dinesh and the  casual chats . I am immensely grateful to him' Suraj said. Suraj, who  learned the rudiments of  music under the late Claude Fernando at  his music academy in Dehiwala, is self-taught in many ways, having spent time to understand the basics of western harmony singing and north  Indian raagadhaari music . His creations contain a combination of a variety of musical traditions.
The songs included in this compilation are 'Himidiriye', 'Mahaweli Ganga', 'Punchi Punchi' (innocence), 'Kurullene', 'Kandukara Siriya', 'Aadaraya', 'Tham Dena Thana', Dayak Damaa', 'Neela Guwan', 'Bo Maluwe', Kaasi Aththnam' Mage handa wetha', 'Eda Sandawe', 'Eatha Kodeuwaka', Handewae Ulalani' and Hiru besa yanne'.
The songs were originally arranged by Suraj on a Yamaha Tyros 5 workstation and the tracks sent to Dinesh via mobile phone - using 'whats app' for him to write the musical scores. Suraj is full of praise for Visharadha Dinesh for encouraging and spurring him to produce his CD on the basis of mutual friendship in the name of quality music, for absolutely no monetary gain . Some of the best instrumentalists in the country – namely Manoj Peiris (tabla), Mahinda  Bandara   (guitar), Sarath de Alwis (keyboard), Niresh Perera (drums), Janaka Bogoda (flute) among others provided the musical backup for 'Himidiriye'.
All proceeds from the CD sales would be channeled to the charity – 'SMILE', created and managed by Suraj's son Lasith, which has been in existence since 2010, providing library books, computers and musical instruments to needy rural schools in different locations in Sri Lanka.
All songs on the CD were well received by the audience at the launch ceremony, with  the 70s  group  songs era musicians Priya Peiris of La Bambas and  Melroy Dharmaratne – two of  Suraj 's close  allies  sharing  some glowing impressions about 'Himidiriye'. Suraj also runs  his  own  YouTube  channel  'Sulilala' named  after  himself, his wife Lilani (also  a medical doctor) and  the  son Lasith.