Dr. Vijaya Corea receives 'Lifetime Achievement Award'
View(s):

Well known broadcaster, telecaster and showbiz personality, Vijaya Corea received a 'Lifetime Achievement Award' at the State Awards Ceremony held under the patronage of President Sirisena and the Minister of Cultural Affairs recently.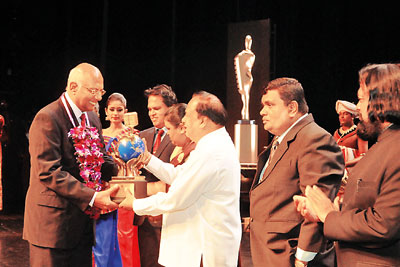 The award was presented to him 'in recognition and appreciation of his excellent contribution to electronic media for more than five decades'.
Vijaya Corea has been in broadcasting since 1964 as Newsreader, Commercial Broadcaster, Compere and Master of Ceremonies. He became a household name even in India. His versatility saw him lend his voice to the Sinhala Commercial Service of the Sri Lanka Broadcasting Corporation on the "Sooriya Show." He was at the helm of Sri Lanka's inaugural TV transmission and goes on record as the country's first TV compere.
In July 1976, he was called by the then Prime Minister Sirimavo Bandaranaike  to be the Master of Ceremonies at the banquet she held for visiting heads of state  at the 5th Non-Aligned Nations' Summit Conference. Four years later, he was called by the then President of Sri Lanka, J.R. Jayewardene, to be the Master of Ceremonies at the banquet he held in honour of  Britain's Queen Elizabeth II and Prince Phillip during their visit to Sri Lanka.
He was awarded the trophy for the "Most Popular DJ" consecutively in the public poll conducted in the mid-70s by the 'Daily Mirror.' At the first ever National Media Awards Ceremony held in 2007, he received a Gold Award from Prime Minister,  RatnasiriWickramanayake for his outstanding contribution towards the upliftment  of broadcasting.
He reached the zenith of his career when he was appointed Director General of the Sri Lanka Broadcasting Corporation.  He was simultaneously a member of the Board of Directors of both the Sri Lanka Rupavahini Corporation and the National Film Corporation.
He is indeed both a distinguished old Thomian and a Sri Lankan citizen whom this nation boasts, not merely on account of his accomplishments but, because of his servant hood to all humanity.