Amagi Aria joins hands with Illy Coffee and PMD Tea
View(s):

Amagi Aria Hotel in Negombo has taken on a unique scope of food and beverage offerings for all their Sri Lankan and foreign guests, commencing with the recent induction of partnerships with Ceccato Colombo (Illy Coffee) and P. M. David Silva & Sons.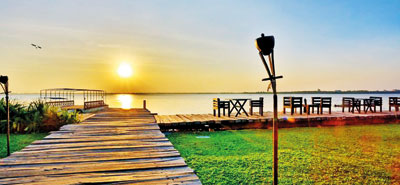 Ceccato Colombo Pvt Ltd is a BOI company which was established in 2001 with a 100% Italian investment. The vision for Ceccato is to become a one-stop-shop creating an authentic Italian experience for clients and it has become a leading brand in Sri Lanka within a short period.
The collaboration between Ceccato, the sole agent for Illy Coffee brand and Amagi Aria, a prestigious hotel located in Negombo was announced recently.
'Ceccato decided to join hands with Amagi Aria mainly because we recognise its key location, beautiful structure and professional management and believe that they are capable of mirroring our values and image. We are pleased to commence our joint venture and hope it will be a long and fruitful collaboration for both our companies' said Salvy de Bellis General Manager, Ceccato Colombo.
The leading tea company, P. M. David Silva & Sons was established in 1945 during the Plantation Raj in Ceylon's world famous Dimbula Valley. Today, three generations on, P. M. David Silva & Sons remains a family company.
'Our teas are found globally in hotels of the leading hotel aroud the world and small luxury hotel groups, Harrods of London and Her Majesty the Queen of England's Royal Farm Shop in Windsor to mention a few. Partnering with Amagi will boost our image and always looking to enhance the customer experience, fits in with our company values and vision. We are partnering with Amagi hotels because there is a shared synergy between our two brands' said Dananjaya Silva, Managing Director of P. M. David Silva & Sons.
Amagi Aria is set to introduce an exquisite tea and coffee based cocktail menu as well as other promotional offers such as high tea on the lagoon deck and tea tasting sessions on a catamaran where guests will be able to sample and taste the different varieties of teas whilst a tea sommelier encapsulates on a tea education angle. Special tea and coffee induced drink and food items will be included in the hotel's al a carte menu and wedding menus for a further emphasis on the values of these two commodities, specifically in the line of promoting tea as a prominent essence of Sri Lanka.
Founded in 2012, Amagi Hotels has been offering unique and unforgettable hotel experiences in some of the most sought after destinations in Sri Lanka. Within its portfolio, Amagi Hotels hosts two distinctive properties; Amagi Aria is a four-star located along the serene locale of the Negombo Lagoon; and Amagi Beach is a three-star hotel set amidst the pristine western coast of Marawila.
Amagi Hotels debuts on a new venture with the rebranding of its Negombo property early in 2018 with the 'Aria' brand, that significantly caters to the four-star market in Sri Lanka.