Good Friends! Good Times!
By Ramith Dheerasekera
View(s):
They had planned to go to the Happy Fishes theme park that night. As planned they met outside their hostel gate at 9 o'clock.In the beginning it was just Marshall and Shane who had planned to go on the journey. Praveen had however overheard their secret conversation in class and wanted to join them.
The Happy Fishes theme park was the biggest theme park in their area. It was situated close to their hostel.Shane, Marshall and Praveen were all from the same boarding school. They were definitely some of the naughtiest boys in school. All of them were 15 years old and in the same class.
The Happy Fishes theme park had all sorts of rides such as the Yo-Yo Ride, Boat Ride, Joy Ride, Super Twist Ride, Ladybird Ride, Blue Ride and the Jet Ride.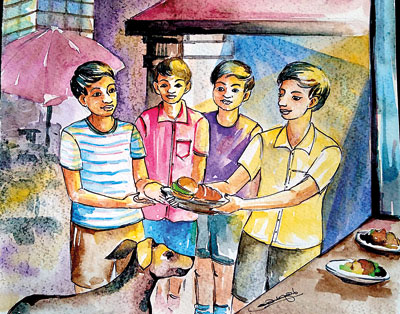 That night was one of the best nights they had in ages, maybe even the best night in their entire lives.It was not the rides that were the best part of the night. They definitely screamed their heads off on all the rides. Shane screamed loudest while on the Jet Ride. Marshall had screamed in the Blue Ride. Praveen had not enjoyed any of the rides. His favourite was the Bumper Cars.
The Bumper Cars were controlled by cables and electricity. Both Praveen and Vincent enjoyed the bumper cars. They each got themselves a bumper car and tried to bump into each other. This was what you called the Bumper Car Ride. The Jet Ride was a ride that went high up in the air, seated, holding on tight with your eyes closed. The rides would swivel and twist. The rides would turn and bend while up in the air.
Now I told you before, that it was Shane, Marshall and Praveen who had planned to go on this epic adventure.But then who was Vincent?
Vincent was a poor boy who lived with his mother in a caravan in a field close by. No one knew anything about his mother. His mother would do all kinds of odd jobs like washing and cooking in houses, to earn a few hundred rupees.
Vincent was the same age as the others but he never went to school. Every morning, he would wait on the road, watching the other kids go to school, with this particular look in his eyes. A look which made his friends feel really sad about Vincent. "The world is indeed unfair for such souls," they thought to themselves, with such heaviness in their hearts. The three friends would teach Vincent whenever they could.
The journey to the park that night had been planned from the beginning of that term. They collected every rupee they had, to spend on the day of the adventure. This had been their biggest dream from the time that they joined school as little children. They agreed to invite Vincent on their accounts. They collected the money and decided to spend it equally among the four. They went on every ride and every activity that was in the park.
Vincent smiled the whole time.
It seemed like the happiest day of his entire life. It was not only because of the rocking rides he just had. It was not only because he had such a delicious meal. It was because he felt the love and kindness of his friends. For the first time in his life, he didn't feel neglected. He didn't feel lonely. In fact, he felt jubilant among his dear friends.
All this had cost a lot of money but no one cared about how much money they spent. They had come there with the intention of spending every rupee they saved, for the adventure. The day definitely seemed worth all the money that they spent.They also bought some delicious food for Vincent's mother. They even shared some of their food with a hungry dog whom they met near the Jet Ride.
They finally finished with everything close to 11 o'clock in the night. It was early morning when Vincent sneaked back into his caravan unnoticed and Shane, Marshall and Praveen crept back to their hostel. When Shane, Marshall and Praveen slipped back into their bunks, each of them seemed to have a beautiful smile on their faces.
It wasn't just because they remembered the adventures of the day. It was because each of them recalled how happy, poor Vincent had been that day. It was because they had fed a really hungry dog. It was also because they imagined Vincent's mother's face as she enjoyed the food that they had bought for her.
And most importantly, it was because they remembered something really beautiful told to them by their English teacher. He would tell them every Monday morning, "When you make others happy, you always end up making yourself happier. It's the blessing of helping others. Kindness is always a blessing to both who give and receive. It is the most divine thought a man can have!"
This was exactly what was going through all their little minds.