Dehiwela, Mount residents meet mayoral candidates
View(s):
The Dehiwela and Mt. Lavinia residents had a meeting with the city's mayoral candidates on January 14 to discuss issues pertaining to their areas and illegal constructions in these jurisdictions.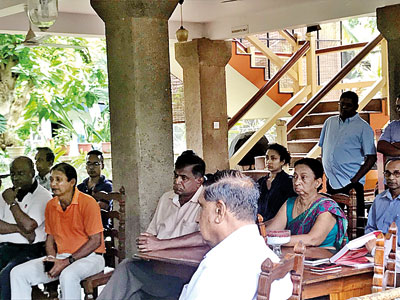 Around 100 residents gathered at the Ivory Inn on De Saram Road and met with the three mayoral candidates and discussed their problems. The mayoral candidates – Sunethra Ranasinghe from the UNP, Kesaralal Gunaskera representing the People's Alliance and Samanalee Gunasinghe from the JVP attended this meeting.
Notably absent was Danasiri Amaratunge, former Mayor of Dehiwala- Mt. Lavinia Municipal Council, who had declined the residents' invitation saying he's too busy with the upcoming elections.
The residents had put forth their concerns on unplanned constructions – especially high rises and how these can be resolved. A resident noted that enforcement authorities are lethargic, which has become a new challenge for the residents who are dependent on these authorities. Another resident on the sidelines of this meeting told the Business Times that the moment there's some lethargy from the authorities, the errant builders who have construction, restart building. Ms. Ranasinghe and Mr. Gunasekera had both said that in future they'll only sanction those high rises within guidelines, while the latter had said that in future the developments will need to be vertical rather than horizontal. Ms. Gunasinghe gave a concrete solution to the issue at hand saying that she will start an investigative unit at the Municipality to probe illegal apartments, bring respite to the residents and bring the culprits to justice. She said that illegal constructions will be done away with and perpetrators dealt with.
Dehiwala-Mount Lavinia is the second largest municipality in Sri Lanka, covers an extent of 2109 hectares, and has a population of around 250,000.