Appreciations
View(s):

In spite of her difficulties she shone bright touching all our lives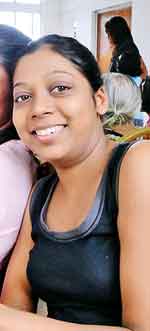 Dinusha Fernando
Our youngest daughter Dinusha was a gift from God on January 13, 1987 to both of us, my wife Roshani and I and to her elder sister Hirusha and brother Hirushke.  Dinu's earthly journey was only 10,606 days as she was called back to her eternal home two years ago on January 15, 2016 just one night after her 29th birthday.
Her life journey is a story of amazing faith, endurance and love. She had incurable Systemic Lupus Erythematosus  (SLE) to begin with and later on her kidneys failed and then her main heart valve was damaged.  She felt the worst was behind her.
It seems she was wrong. Following the heart surgery, Dinu had a stroke. As if everything Dinu was bearing wasn't enough, she contracted swine flu and then pneumonia. The last thing she needed was to find a lump in her breast, but that's exactly what happened.  Yet throughout Dinu's earthly journey she knew that God was her rock and only He could heal her of pain. This young, beautiful soldier of God was in so much pain. But she never uttered a cross word to any of us. She only let her love for her family show.
It was as if she knew she would only be here a short time longer and she wanted her family to have no doubt that she loved them. Her love for God was always evident and shone through like a bright light in those dark days.
Just 22 months after Dinu was born we as a family went through turmoil, however our faith in God was strengthened by the spiritual support of the Methodist church we attended regularly and the divine ministry of Dev Suwa Sevawa. Dinu was a happy baby who touched the hearts of everyone with joy and love. When Dinu walked into a room and smiled, it truly seemed as though the room lit up and was instantly filled with warmth.
Little Dinusha continued to grow and thrive under our watchful care. It was 1991 and it was time for Dinu to join school. We already had two elder children in prestigious schools and the fees were definitely heavy for us at the time. I worked every job I could find to make sure our youngest little girl, who was as bright as a button, was able to join her sister at Ladies' College.
Dinu was a studious, beautiful young girl, but she still never lost that fun-loving spirit she was born with. In 2006 she completed her Advanced Level exams and received great results which got her a good job in a leading travel company.
She loved her work and her workmates.  But in March 2009, Dinu's trial period at her job was supposed to be completed and she received a letter that stated, "Services are no longer required."
It crushed Dinu. She was sad and distraught.
Four months after Dinu survived the blow of losing her job, Dinu started complaining of pain throughout her joints. In August 2009, she was diagnosed with incurable SLE Lupus disease. Although she was incredibly sick, she was also a very brave young girl with a strong will and a mind of her own. She began praying and was able to find her another job which would help support the family and help pay for her medical expenses. Dinusha caught Chamara's eye while working in this place. Dinu, however was totally honest with him. She told him about her Lupus which was in remission at the time. On December 17, 2012, as she walked down the aisle holding my arm, she sang the words, "How can I say thanks for the things you have done."
Things were looking good for the young couple until May 9, 2014. Dinu returned from work that day complaining of pain in her abdomen and spine. Tragedy struck the family when we learned that both her kidneys had failed. In March 2015, we were told she needed to have a kidney transplant.
Dinu had developed a theme of life. It was, "The circumstances of your life don't and shouldn't describe or dictate the quality of your personality." Dinu didn't let these new and trying circumstances change any aspect of her character or her life. Though she herself was sick and in pain, she still took time to visit if a friend or relative was sick. Though she was in need, she was always there to help others when needed. She always had time to talk to her friends. Dinu's Bible theme verse was Col 4:2 "Continue earnestly in prayer, being vigilant in it with thanksgiving."
Dinu carried her cross with dignity. Through times of severe suffering, she still found ways to enjoy life. Though she was a young girl of 28, she was able to show the way for both the young and the old.
Her beautiful life showed the example of how to live and glorify God… I learned a great deal from my daughter of how not to let the circumstances of my life dictate the quality of my life.
By January 9, Dinu felt the Lord had sent her a message calling her home. When Rev Asiri Perera, President/Bishop of the Methodist Church, visited Dinu that day, she told him clearly and with perfect sense that she wanted to go to God's house…she had been called home.
The following morning, we all gathered around her bedside. Roshani and I, her loving husband Chamara, her brother and sister, and her brother/sister-in-law. This was part of the preparation for her journey home to God where she bid "goodbye" to all of us. God gave us one last birthday with our loving daughter on January 13, 2016.( I couldn't help but remember that January 13th of 1987 when she was born) . On the night of the 14th, Dinu was surprised by being able to listen to her favourite artist, Keerthi Pasquel singing to her by her bedside.
No one realized, except maybe Dinu, that it was her last night on earth. Dinu thanked all her doctors, especially Dr. Surjit Somiah who had looked after her so well. Each one had done everything they knew how to do to help her.
That night Dinu uttered these words to her family gathered around her bedside, "Jesus is coming tomorrow morning…beautiful…I am waiting for a message…I am watching…it—it is beautiful." Just as she said to us, the Lord came in the early hours of the 15th and took her home. My little angel is now a heavenly angel at the Lord's side.
Dinu touched the lives and hearts of many souls across the world. The spirit of my loving daughter, a brave soldier of God, will live on through every act of kindness she ever performed and her thoughtfulness. Her bright loving smile will never dim in the memories of those lives she touched.
Premakumar Fernando
---
She faced any challenge with aplomb
NIRMALA DEVI RAMACHANDRAN
The first Lady Commissioner General of Inland Revenue, is no more,
'Cause, this sprightly 81 plus year old has been summoned before,
The Universe's creator,
To be assigned a place in the abode of the maker.
The news of her demise,
Came as a surprise,
After a private funeral – cremation,
To many a friend and relation.
In the salubrious environs of Ward Place, she was born and bred,
And lived there – performing on the world's stage, till she was pronounced dead.
Born in 1935, on the 23rd of November
Died in 2017, on the 21st of September.
The only girl in a family of four,
Her father: The Late Dr. Vairamutthu Kathirgamatamby predeceased her by 70+ years or
more,
Though deprived of a father's love and care at a tender age
The values of honesty, justice and fair-play, she imbued from her mother (Chellam) and Alma
Mater – enabled her to face any challenging task on the world's stage.
At Ladies College she had her primary & secondary education,
And read for a Physical Science degree of the London University – from Aquinas College, a
Private Institution,
And secured a Hons Class degree,
That paved the way to join the prestigious Inland Revenue fraternity.
In 1960, Dr. Surendra married Nirmala Devi.
In 1962, they brought forth Sudarshan their progeny,
Who has soared over his father's medical renown,
By bagging two professorial medical gowns.
Dr. Surendra and Nimo acted as the wind under the other's wings,
To soar to great heights despite envious stings.
The husband was bestowed the much coveted – Deshamanya National Award,
The wife as the First Lady Commissioner General in the field of Inland Revenue a record.
During her watch as Commissioner General,
The Revenue Collection reached a very high level.
The Collection for the period 94 -95 being 20% of G.D.P.
The highest in the last one and a half decades of the 20th century.
Nimo was a voracious reader,
And also a great traveller,
Hence, she put pen and photography to paper,
To publish three volumes of Hindu Heritage to enrich Hindu culture.
To the Ramakrishna Mission Trust Fund treasury
She assigned the Book's Royalty,
To be used for charity,
To alleviate poverty.
Friends and relations please note,
Nimo's favourite quote,
Culled from the verse 'Farewell my Friend' by Rabindranath Tagore
A plea by those who we will, on planet earth, see no more
"Farewell, farewell
My friends
I smile and bid you
Goodbye.
No, shed no tears
For I need them not
All I need is your smile"
It is difficult to say goodbye with a smile, dear friend
Cause your life on earth has come to an end.
But Sudarshan, Sanju, Shanath, Pravinath, Harishnath and those near & dear to you will you
miss,
While you enjoy eternal bliss.

A. Pulle
---
The well known interpreter who did yeoman service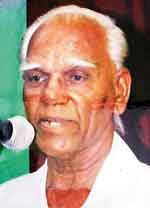 Sellaiah Kumarasamy
Sellaiah Kumarasamy English/Tamil and Tamil/English Parliament interpreter passed away, recently in his village Alaveddy.
He joined Parliament senate as an interpreter in 1961 .  He worked in some Ministries also as an English/Tamil, Tamil/English interpreter. After retiring having served 40 years in Parliament, he served as a relief interpreter from 1997 to 2012. He was honoured by the previous Speaker Chamal Rajapakse in 2012. At a Farewell for Mr. Kumarasamy, Former Secretary General of Parliament B.D.Dasanayake said SK had performed a long and dedicated service to Parliament.
During his career Mr. Kumarasamy earned the respect and commendation  of political leaders, members of Parliament and the Secretary-General whom he had the privilege to work with.
Another feather in Mr. Kumarsamy's cap was his involvement in translating the trilingual manual of the standing orders in the Senate. SK also attended many International conferences assisting political leaders in their deliberations.
Mr. Kumarasamy had a London matriculation certificate in English, Latin and Tamil when he joined the Senate, coming  first in the examination for interpreters to the Senate.
SK was the official interpreter at various conferences including the long drawn- out All Party Conference sessions, the Law Reforms Commission, the Inquiries on the Ceasefire Monitoring Commission and the International Islamic Conference. He was commended for his remarkable performance at the historic Thimpu talks in Bhutan in 1985.
In July 1969 when the historic moon landing was relayed over the Voice Of America (VOA), Radio Ceylon had engaged him to relay to Tamil listeners the VOA commentaries.
 N.Parameswaran
---