Graceful strokes
By Nirmalie Alahakone
The Mirror Magazine speaks to Neleisha Weerasinghe Jayamanne, an artist inspired by nature, especially dramatic landscapes.
View(s):
Neleisha Weerasinghe Jayamanne is one of the lucky few who can visualise then recreate in vivid colour what's in her mind for others to see and experience. "I try to stay away from drawing too realistically. But not completely abstract either. I prefer to stay somewhere in the middle. I think it's called semi-abstract. That gives me more freedom," says Neleisha, or Nelly as she is known.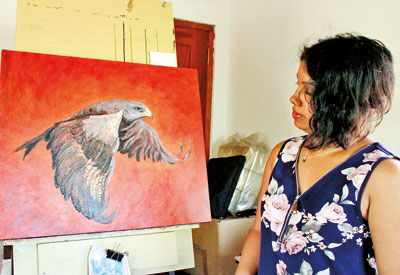 Nelly has been painting since childhood. "I started with crayons and watercolours. Nature inspires me. Very simple things. I don't go into conceptual painting. Where I have to think and formulate an idea. Currently my theme is waves, so that's something I'm working on."
Having studied art in school, Nelly feels her grooming could have been better. "They only give you the very basics; when I compare it with the amount of resources people have nowadays I think the real grounding could have been better. I could have used a bit more tips starting out," she says.
After school, she didn't have a formal training in painting instead she says she took lessons at Vibhavi Academy under Chadraguptha Thenuwara. I followed some online tutorials, followed other artists in the trade to see how they use the medium. I don't really like sitting and taking lessons. In painting I don't think there should be a strict rule of how things should be. I value freedom and the ability to be spontaneous," she admits. However, she concedes "When you don't have a university or formal education in the Arts it can be a drawback. If people see your work they might appreciate it. But without credentials it's hard to get across."
So how does an artist improve, or refine their work? "I have a few close friends who have creative careers; they paint, write poetry, music. So they provide critique, support," Nelly explains.
Nelly really put her heart and soul into painting a few years ago, when she got married and flew to Dubai. At that point she quit her day job as an online lecturer in marketing for an education firm. "Around 2015 I decided to give painting my full attention. I started with acrylic. It's my preferred medium." Due to sensitive hands she opted to avoid the use of oil paints. "People used to say oil was far better but I think acrylic has improved; in terms of colour, it's easy to handle and you don't have to think about the technicalities of the medium. With oil you have to mix all these additives to get the consistency right and that's another side you have to be conscious about while you paint. Another good feature of acrylic is you can do over. It has great covering strength. It dries fast." The one drawback is that because of the humidity there's a tendency for air bubbles in the paint, she explains.
Nelly buys most of her raw materials and tools online, from Dubai or India. She works with the palette knife which she says "is great for textured paintings. I like using the sharp edge of the knife, not the flat side. The flat side covers more but I like the result of the knife edge. It's more dramatic. I use a brush for line art."
Nelly likes to visit vivid landscapes and absorb the beauty as much as possible. The seaside, or the rolling hills of Wattegama, interspersed with lush green paddy fields – sometimes made even more dramatic with the sunset or an approaching storm. She overlaps several images in her mind before starting to paint. "I don't stare at the canvass and wait to paint. I start with my scribblings in my sketchbook."
"I come to the canvass with a picture in my mind. I use reference pictures sometimes. I take photographs and use them to create the composition. So sometimes my work is not of an actual location but based on a place."
Nelly has stayed away from portraits until now preferring to focus on landscapes. "I've not touched on people or things in my painting. I do sketch a bit, portraits-wise.
That's a whole new area I want to get into; it's a different career altogether. It's different from how you view a landscape."
Is it easy being an artist? "There are a few negative perceptions people have about being an artist. People ask me why I don't get a day job. I was in the corporate world and then resigned to take up painting; people can't seem to get their head around that. "Why would you want to do that? How would you pay your bills?" they ask. "You can't really expect everyone to understand," she smiles.
There are other things that could improve too. "I think artists could use a little more support. I'm speaking based on what I experienced in Dubai. When you look at the exposure artists have there, exposure in the sense, spaces and avenues to showcase their work, not necessarily a gallery. They [Dubai] have different events that help artists to show their work. They have a whole art calendar. It's a collective effort, government, private companies and foundations. Artists are involved when designing public spaces. Maybe it's graffiti or wall art. Public spaces can use artists; to get a message across, to beautify a place."
Nelly says that artists have a bigger role to play in Sri Lankan society than they do now. "I work with Rukshan Widyalankara (Past President of the Sri Lanka Institute of Architects and Past Chairman of the Architects Registration Board Sri Lanka) who's interested in getting engineers, architects and artists to work together on projects and public spaces. He promotes artwork at his locations. It's a concept called Place Making, where, basically, artists and people who live in that vicinity get involved in setting the space. This is related to public spaces. Say it's the town square, you would get the people involved, artists, architects, workers. So it's the whole community involved and people start to appreciate the area more, keep it clean, take care of it. It's sustainable."
Sri Lankan artists could use some support , she elaborates. "We would really appreciate having a space for artists to come together. I think the Collective of Contemporary Artists (CoCA) is currently working on this. We need a space for artists to create, to reside while they do so, and where a certain amount of facilities are available, like space, easels and good lighting. So artists can come work here, meet other artists, share techniques with each other, people can come see artists working.
It's public, but artists can work freely."
Nelly currently works with galleries, here and in Dubai. However galleries don't do active promotions of an artist's work, so she relies on word of mouth and online methods, particularly social media. Like other artists she also participates in markets such as the Kala Pola. Having participated in several group shows with other artists, Nelly is currently focused on a solo exhibition.
Nelly is also partly involved in creating jewelry. "I have a friend who makes them, I supply the drawing. The pendants are line drawings, done with a brush and more whimsical. The time and effort that goes into the jewelry is extensive. It's not easy, with a magnifying glass. So I need to evaluate if that's worth pursuing."
Plans for the future? "I want to make a living out of painting, hopefully in a few years' time. At the moment, I can't pay the bills with art alone. It's not like you sell a painting everyday. It can be a financially viable career," she stresses. "People do invest in art: Individuals and companies alike, they appreciate art."
Apart from painting Nelly reads a lot. She also plays the guitar. And of course, she loves street pooches. "Another thing that inspires me is a sense of gratefulness. A lot of my talented friends they don't pursue their dreams. They stop half way. Maybe when they get married, or with careers. They let their talent go to waste either of their own will or because of a lack of support. I have that support, and the means to paint, so that's a blessing,"she says.
More of Neleisha's art can be viewed at www.nellyartz.com or facebook.com/NellyArtz/