Face-stinging cold in town where everyone goes to chill
By Nadia Fazlulhaq
View(s):
Nuwara Eliya is accustomed to ground frost every year and this year, too, was no exception. Visitors were in for a teeth-clattering chill and the vegetable cultivations suffered frost damage.
On January 6, the temperature fell to 3.6 degrees Celsius and many locals lighted street-side fires to keep warm.
Vegetable growers have begun to count the cost of frost damage.
A G C Babu, the agriculture district director for Nuwara Eliya, said frost-covered crop suffer further damage from strong sunlight.
"Lettuce, potatoes and leeks are affected. Tea plantations also suffer from ground frost conditions. We advise farmers to avoid cultivation when there is a possibility of extreme weather and ground frost," he said.
He said growers should water their crop early in the morning to avoid burns from sunlight. The warm-cold extremes are hurting farmers in the Ragala-Nuwara Eliya area, Meepilimana, Lindula, Kuda Oya and Kandapola areas.
"There will be a slight drop in production of up country vegetables. Farmers are complaining verbally but there are no records of widespread damage," he said.
The director general of the Department of Meteorology, S Premalal, said that the Northern Hemisphere's extreme winter has an impact on Sri Lanka's climate.
"Ground frost is a weather phenomenon in Nuwara Eliya when the temperatures drop. Frost may occur for several days in the winter. Usually, the expected temperature is about 15 degrees Celsius, but January being the coldest month of the year, will have record low temperatures," he said.
During the north-east monsoon, winds come from the northerly direction passing over the Himalayas, across the Indian Ocean.
According to the department, the mercury dipped to a record low of 3.6 degrees Celsius on January 6. Last year, the lowest was 3.5 degrees, reported on January 14. In 2016, the lowest temperature was 6 degrees. In 2012, the temperature in Nuwara Eliya dropped to 2.7 degrees accompanied by ground frost.
Nuwara Eliya Government Agent, M B R Pushpakumara, said the chill was badly felt by visitors rather than the residents.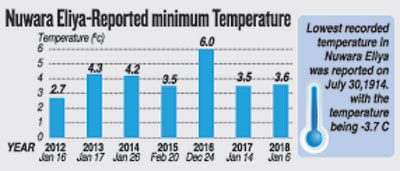 "Those arriving in Nuwara Eliya expected about 13 degrees Celsius and the drop in temperature to about 3 degrees caused great discomfort. It is important for visitors arriving here during this period to expect extreme chilly weather and have protective gear against the cold," he said.
Nuwara Eliya General Hospital director Dr. S A A N Jayasekara, said there were many admissions because of the cold.
"People elsewhere do not fully understand the temperature changes from December to February. Some visitors arrive wearing beach shorts and slippers. It is important to wear winter gear during these months — sweaters, socks, cardigans, closed shoes, ear muffs. They should make sure that the places they stay are warm," he said.
He said as there is an increase in respiratory illnesses, both residents and visitors should be careful.