What to expect at the FGLF children's programme
View(s):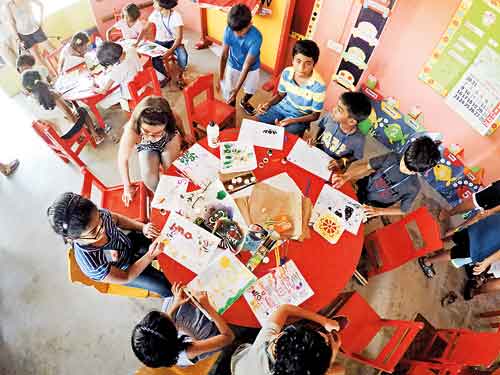 The Children's Programme at the Fairway Galle Literary Festival (FGLF) 2018 will take place on  January 27 and 28 at the Thomas Gall School with two lively days of literature, art and music. The programme has been expanded this year to include sessions for 3 – 5 year olds, in addition to the 5 – 7,  8 – 11 and 12+ age groups.
The 3 – 5 age group will work with early learning specialists Jessica Mason and Seema Omar on stories provided by Think Equal, a global social and emotional learning programme initiated by BAFTA award winning producer/director Leslee Udwin. Fulfilling our obligation to the 2004 World Programme for Human Rights Education, Sri Lanka is the first country in the world to have piloted Think Equal's learning programme and the FGLF is delighted to feature their work as part of the Children's Programme.
Featured events for the 5 – 7 age group include a session with award-winning German author and illustrator Ute Krause, who will share a story about a young culinary genius in Oscar and the Very Hungry Dragon. In author Tahira Sheriff's session, participants will meet the adventurous Mariah The Wonderer who finds out what it means to connect with people who are different from her. This age group will also be introduced to the African tradition of Call and Response, and explore the adventures of Sri Lankan folk favourite Mahadena Mutta. As the focus of this year's programme is on practical experience, children will also create their own puppets in a session conducted by drama therapist Tehani Chitty and perform short puppet plays for their parents at 2 p.m. on the 28th.
Participants in the 8 – 11 age group events will be introduced to Eastern and Western forms of classical music with Ursula Nelius of Serendip Strings, as well as work with looper artist and comedian Larry T. Hill to create their own spoken word poetry. Theatre artist Kimaya de Silva will impart the elements of the Italian theatrical tradition of Commedia dell'Arte and create original performances based on the stories of another local favourite, Andare, the Court Jester.
This performance will be shared with the public on the 27th at 4 p.m. Alternatively, participants can choose to create animals from Alexander McCall-Smith's world of Akimbo using recyclable materials with environmental advocate and artist Firi Rahman. Mr. Rahman will also create an experiential room based on the artwork found in Mr.McCall-Smith's books, which will be open to all participants. This age group will also find out more about collaborative storytelling methods with author Deshan Tennekoon, whose shrink fiction graphic novel 'Podi' is forthcoming from Oni Press and whose Haiga (illustrated Haiku) has been featured in several international publications.
Tennekoon will also conduct a session in creating Haiga for the 12+ age group along with artist Mika Tennekoon. The 12+ age group will spend an entire day with playwright/director Jehan Aloysius and his Centrestage Productions team, learning about Forum theatre and Musical theatre. This session will focus on themes of bullying which are found in Aloysius' original musical Rag, and will culminate in the performance of original short pieces at 4 p.m. on January 27. Other artists working with the 12+ age group include Larry T. Hill and Tracy Holsinger.
The tickets for the Children's Programme range from Rs.1,500 to Rs. 4000 and include refreshments and lunch on both days.