Malcolm Guite: An ode to discovering life's mystery
View(s):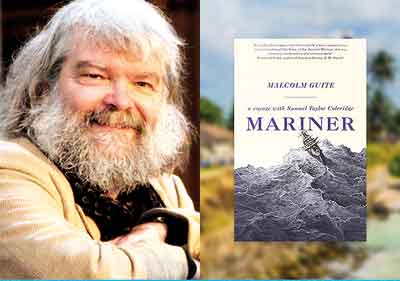 Malcolm Guite still remembers standing in John Keats' bedroom, reading Ode to a Nightingale written on one wall. He was 16, and had been dragged by an aunt to the poet's house in Hampstead. He was expecting "some boring old f—" and instead was utterly amazed."I stood in the room looking out through the French window to where the nightingale had been, and read this poem, and had a kind of epiphany."
As a young man, Guite was struggling to make sense of Christianity, and had chosen to adopt what he told journalists was a "more reductive scientific view."But when he read Keats' Ode, he suddenly felt there was mystery again.
"I convinced myself for a while that I could simply enjoy poetry on the side, without challenging or disrupting the increasingly narrow or materialistic view of the world which I was adopting. And I eventually realized I couldn't do that. Deep within me, I knew when I read that poem that it wasn't ultimately going to be enough to say 'I know exactly how the world works' with one side of my mind, and then just read poetry as a consolation."
Guite would be ordained as a priest in 1990. "For seven years I was very busy working as a parish priest on a demanding estate in Huntington. I got fully engaged in it, loved it in some ways, but it was draining, and I didn't write any poetry during that time. Then I was offered a sabbatical for three months," he told a journalist from Philosophy for Life.
Guite wondered what he would do with his sabbatical, when "suddenly, rising from the depths, I thought, I've got to read poetry again. So I sat down and re-read all the poetry that's referred to in Faith, Hope and Poetry. And I experienced it as a kind of life-saver."

It helps that Guite's love of poetry is in his blood. "Both of my parents liked poetry and quoted it unhesitatingly in their natural conversation. My mother in particular had a great fund of it, and I've inherited from her the ability to remember it. We used to travel by sea a lot, and on the way my mother would almost automatically begin 'I must go down to the sea today, to the lonely sea and the sky'."
Today, Guite has the unusual designation of being a 'Poet-Priest'; he is a Chaplain of Girton College, Cambridge and teaches at the Faculty of Divinity at the University of Cambridge. He lectures widely in England and North America on Theology and Literature and has published poetry, theology, and literary criticism and has worked as a librettist.
Guite is also the author of eight books which include: Love, Remember (November 2017); Mariner, a spiritual biography of Samuel Taylor Coleridge (February 2017); Parable and Paradox (2016); The Singing Bowl (2013); Sounding the Seasons (2012); Theology and the Poetic Imagination (2010) and Faith Hope and Poetry (2006).
Guite also plays guitar and is lead vocalist for the rock band Mystery Train. Known to many as the 'Rocking Rev', he and his band regularly perform gigs at Grantchester, Cambridge and other places around Cambridgeshire.