Her quest for the Truth brought her to the Dhamma
By D.C. Ranatunga in Sydney
View(s):
We are driving through beautiful greenery in the Southern Highlands of New South Wales. Huge green trees on one side, livestock farms stretching as far as the eye could see on the other. Our destination is Bundanoon, a rural town which is around a two hour drive from Sydney. A little away is the Santi Forest Monastery – a Buddhist Nuns' hermitage, a place of training and practice for nuns in the forest tradition of Buddhism. It is set on 150 acres of eucalypt forest in the rugged bush ravines of the Highlands  bought by a lady – a Buddhist practitioner – to set up a meditation centre.
At the monastery we meet Bhikkhuni Nirodha, who received higher ordination in the first batch of bhikkhunis held on the initiative of Ajahn Brahmavamso. She has been in permanent residence at Santi Monastery since 2012, the year Bhante Sujato – one of the senior pupil monks of Ajahn Brahm – who was resident there since 2003 left handing the place over to the nuns' community. Ajahn Brahm is the Spiritual Director of the place – run as the Santi Forest Monastery Incorporated as a not-for-profit charity. Cambodian, Thai and Sri Lankan devotees patronise the monastery attending to the needs of the place.
"There are many women who are keen to come and get ordained. They are mainly from other countries. Due to difficulties in getting visas most of them have not been able to come," Bhikkhuni Nirodha said. She was expecting two from America to come over in a few days.
The monastery is open to lay people to visit or stay for short periods to study and practise Buddhist teachings with the community. Monks can also visit and stay for a short period of time, at the discretion of the resident nuns. There is a fine library with a large number of books on the Dhamma.
Dwelling places ('kutis') are scattered amidst the tall eucalyptus and other trees with paths to reach them.
We had a Dhamma discussion with her and when it was time for her 'daval dana' we went round to see the place. We reached a cave situated a fair distance away in the forest, which is used for silent meditation. Flowers had been offered at the Buddha statue in a fairly dark corner inside the cave.
Sixty-eight-years old Bhikkhuni Nirodha's story is a fascinating one. Born in Austria she had come to Australia when she was 20, newly married. She later divorced. They had no children. "I enjoyed lots of travel, a relatively good life, but there slowly arose an increased awareness of no end of wanting and getting," she says.
When she realised I was keen to know about her interest in Buddhism, she gave me a print-out of an interview she had given to the newsletter of Buddhist Fellowship.
In the article she discusses how she gradually changed her attitude to life. "On a health resort sometime in the late 1970s, feeling bored, trying to decide whether to play tennis or a card game of Bridge, a sudden deep moment of stillness arose, a sense of giving up the endless choices and mental activity. From within that depth a clear question arose in my mind: 'Do I want to continue with this shallow, easy way of life, or do I want to look for the Truth?'  Without hesitation there came the strong desperate answer and determination that I must look for the Truth; even more, I wanted to become the Truth."
Life went on but she was disinterested in her childhood Christian roots. She remained open until one day in 1979 on a short visit to Sydney, a friend invited her to meet a Buddhist teacher at an open-house gathering. She went with the friend.
"When I was introduced to the teacher, as a greeting, he asked me 'What are you doing?' For the first time I understood, on a deeper level, and thought, yes, I am doing nothing with my life. I answered 'I am doing nothing."
A few days later she heard about this teacher having a nine-day meditation retreat. She decided to go for it. The retreat was co-led by Ayya Khema (she was in Sri Lanka at the lonely island, Parippuduwa close to Galle) and Ven Khantipalo. "When I told my friend she was aghast," Bhikkhuni Nirodha says. "She cried out, 'You know nothing about Buddhism! You can hardly even spell the word 'Buddha'!' The friend had studied extensively before starting her path."
In spite of the friend's warning she went for the retreat. She followed instructions and felt at home with the Buddha's teachings. "My quest for the Truth had brought me to the Dhamma. From then on, I gratefully and happily participated in Buddhist activities as much as possible, first in Australia, then in Sri Lanka, USA, Burma and Thailand, and now back in Australia."
Asked about her feelings and thoughts when she received ordination, she says that ordination was not one but three experiences. First was the anagarika ceremony in 2001 undertaking Eight Precepts (Ata Sil), shaving the head and putting on white robes. Next was observing the Ten Precepts (Dasa Sil) in 2003. She then changed to yellow robes and relinquished all money and assets, to the shock of her friends and family. "Since considerable assets were involved, even the bank rang up to make sure I was of sound mind. My loved ones had slowly adjusted to my new direction in life, yet were still stunned that I carried out the final step, leaving everything behind – as this implied that the world has nothing to offer, ever. It made a big impact on them."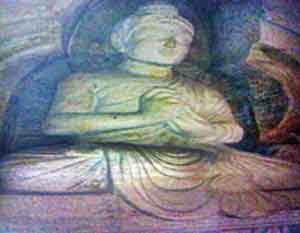 The third, her higher ordination in October 2009 was the most memorable. "The male and female Maha Sangha turned out in full force, even more than the needed number. Their full support was evident. From my heart I said these words: 'To end all suffering, to realize Nibbana, please raise me up out of compassion – that is, may they raise me into Sangha status.' And they did, in Pali, reciting the same phrases that the Buddha used. An indescribable unique experience happened during my ordination, of linking up, as though being received into the pure Sangha realm, with all Sangha blessings. From that day on, I gratefully enjoy the complete lifestyle that the Buddha compassionately gave his ordained disciples, which is the greatest support for the mind's development," she concludes.
Bhikkhuni Nirodha spent over three years at the Dhammasara nuns' monastery in Perth and took over as head after Ajahn Vayama retired and moved out due to ill health.  At the more leisurely and serene Santi monastery she is content discussing the Dhamma with visitors and teaching and training nuns and monks.
Though it has not been divulged in any public document, reading between the lines it is obvious that Santi Monastery is on the land she bought and donated to the Maha Sangha.