Green Path artists get a road-side gallery
View(s):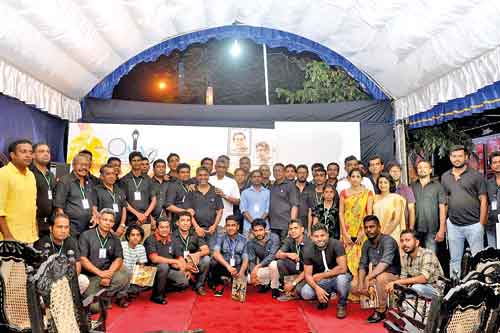 They are a common sight on the sidewalks of Green Path, the artists exhibiting their paintings, hoping to attract passers-by and gain some sales. Though shaded somwhat by the giant trees that line this stretch, they were nevertheless at the mercy of the weather, forced to hastily pack up when the rains descended.
Last week President Maithripala Sirisena declared open Sri Lanka's first permanent road-side gallery for the 60 plus artists who sell their work here. The project, initiated by the Provincial Councils and Local Government Minister Faizer Mustapha was declared open in the presence of government dignitaries, diplomats and corporate luminaries.
The gallery has 25 sheltered display units that were handed over to their respective owners at the opening ceremony by the President who noted that the project was very much in line with the government's vision to empower and encourage local artists as he believed that creators, through their respective media, have the ability to inspire a more sensitive, sensible and a perceptive society.
In the second phase of the project, a further 25 sheltered units are to be installed allowing more artists to showcase their work.