Finding contentment in simple things
In our last column of what 'Christmas means to me' we speak to Karu Amarasinghe, the name behind Cherine's Quench
View(s):
I start feeling like it's Christmas around the beginning of December. The month of December has this Christmassy feeling, we hear Christmas carols everywhere. Even now, I've already attended several functions. It's always been a special time, it's when we recall the birth of Christ and all Christians celebrate Christmas in that spirit.
We are honouring a great person. It's a time for festivities and interaction, a time for giving and receiving. These things make the month of Christmas very enjoyable for me.
When I was a child, I remember, we used to decorate the house, buy gifts for family and friends, and there would be the many big meals: we have a Christmas eve dinner, then breakfast, lunch, and dinner again. We visit our relatives, and they come here. We greet each other, wish each other. Then there's church. That's how we celebrated back then. It's rather similar now, not really much of a difference in that sense. But in a way, Christmas is much busier for me now than it used to be. Things have moved on, and it has become very commercialised.
What I like about the season is the giving part. Giving to the poor, especially. I also enjoy meeting up with friends and relatives. Celebrating Christmas encompasses all of this for me. Our family, we always meet for breakfast and dinner. Right now, our Christmas tree is stacked on the balcony. I generally bring it down and decorate it one week before Christmas.
Shopping, buying gifts is another aspect of Christmas. And it's the only thing that I kind of dislike about this season; going shopping with my wife. That takes up a lot of time. But I enjoy the giving and receiving that happens at Christmas. December, has generally been a busier time for me than the rest of the year. Now mostly because I have to make my beverages. There's a lot of parties, and lots of orders. So that keeps me busy too. I'm the person behind Cherine's Quench. Cherine is my wife. She started it, but she is working, so I carry on. She helps. Her speciality is the iced coffee. The recipes are from our parents, they are family recipes. We do iced coffee, narang juice and ginger beer. We started making these commercially about 3 years ago. I started when I retired. I didn't want to be idle. Spending time without doing anything, is really boring. And you get older fast that way, by not doing anything, not being active. That's how I got involved. It's my hobby. Lots of people appreciate my products, and I get a lot of positive feedback, that's very satisfying. These things give me a lot of satisfaction, much more than the money. This is not merely a business for me, it's my hobby and it's my attempt to stay engaged.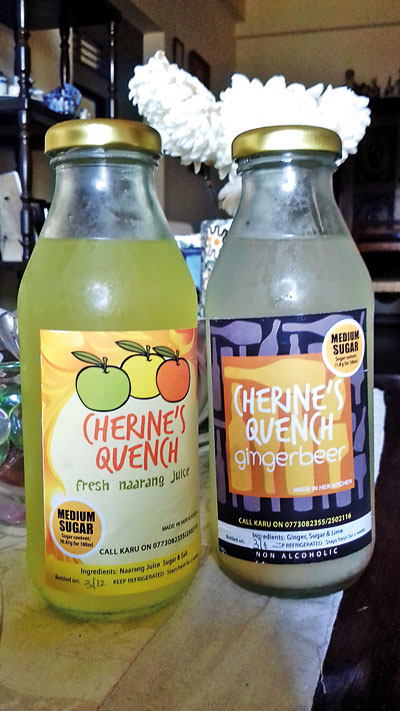 My wife's parents used to make these drinks and I also learnt it. Whenever we had a party or gathering my wife's mother used to make these drinks. And everyone was raving about it. When I retired I thought I'll try this out. I knew the recipe. I knew people really liked these, and there would be a market. There's much demand, but I don't undertake very many orders. I need to have my life. Having a nap in the afternoon, going for a swim or doing yoga. You must have a life. Money is not everything.
I always tell people who want me to expand "Greed is the source of all unhappiness." These are Lord Buddha's words. You must not be too greedy. There must be contentment, we can't conquer the whole world. Greed is what gets people into trouble.