Aru Sri Art presents Jai Ram for worthy cause
View(s):

'Jai Ram' one of most sort after Dance Drama, a production by Aru Sri Art Theatre will go on the boards by popular demand, on January 12 at Kathiresan Hall , Bambalapitiya.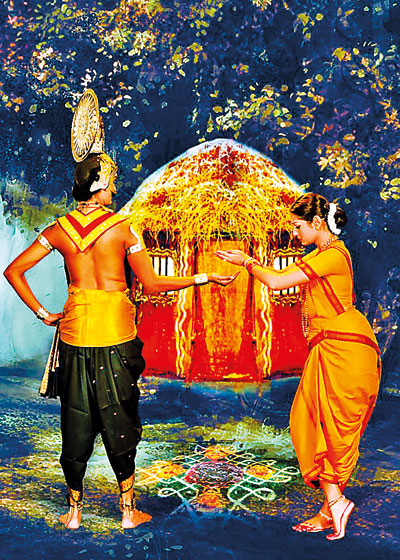 The performance is organize to raise funds for Harvard  University  Tamil chair.
Jai Ram Dance Drama was earlier performed in November 2014 and it was presented in collaboration with the High Commission of India.
Over the years Aru Sri Art Theatre which was founded and led by veteran dancing guru Dr Arunthathy Sri Ranganathan  has produced a number of dance dramas and  multicultural  concerts focusing on unity which are acclaimed  by  connoisseurs of art locally and Internationally.
The theatre under  the leadership of Dr. Arunthathy Sri Ranganathan, has been invited   to perform at several prestigious art festivals around the world. Dr Arunthathy Sri Ranganathan has made an everlasting contribution to the country's efforts towards national reconciliation through the refreshing  medium of the performing arts.
The highlight of the production is that the award winning dancer Shri Parshwanath from India and  Mohana Priyan, a dancer and choreographer from Singapore who is also a dancer attached to Aru Sri Art will be performing together with some of the best dancers of the theatre who have travelled widely with similar dance drama productions.
In September dancers from Aru Sri Art Theatre performed at the 3rd International Ramayana Festival in India. During the tour to India the dancers performed in Delhi, Jaipur and Bhopal. The Theatre is also has performed in several countries including Indonesia and Singapore.
Over the years Aru Sri Art has presented major dance dramas. In 2009 ICCR along with ICC presented Abbijnana Sakunthalam and it later travelled to Jaffna as well.
In 2013 Mekala dance drama was presented and it was co-sponsored by India Sri Lanka foundation.  In April 2016 , the theatre presented Narthana Bandham , binding both Kandyan and   Bharatham dance styles in collaboration with the High Commission of India.
In April 2017 our theatre presented Nrithya Kavi – poetry and Dance  in collaboration  with the High Commission of India .