Cheers! dear citizens
View(s):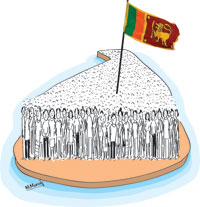 My dear citizens of Paradise,
I thought I must write to you when everyone is wishing you a Happy New Year and most of you are hoping that the next year will be better than the one that is ending today. What I wanted to tell you is that, even if you haven't realised it, you have already enjoyed one of the best years in recent times.
Now, with a few weeks to go before the elections, the Greens, the Blues and the 'pohottuwa' chaps are telling you that if you vote for them, the next year will be better but what has really happened is that we have been entertained by them so much that we have forgotten what a fantastic year it was.
Maithri, for instance, told us last week that he won't hesitate to use the 'sword' even against his own family, if they were corrupt. I am glad he is keeping up with technology- switching from the 'madu waligaya' to the sword, but just imagine what he would do to other families, if those are his standards.
Maithri has been making similar promises of trying to punish people for corruption but nothing has happened – except for poor Lalith going to jail for distributing sil redi – and considering that he has been talking to Mahinda maama about uniting with him, they have had a good year, don't you think?
Mahinda maama himself can't be complaining because he had a good year too. Instead of spending his retirement in Medamulana as he promised, he has a fighting chance of making a comeback – as much as Malinga taking a hat trick- thanks to the mess the Blues and the Greens have got themselves into.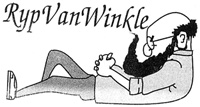 Even the Blues have had the best of both worlds. They should be languishing in the opposition after two decades in power and some of them – such as SB and Thilanga – should not even be in Parliament but they are still with us and have not lost anything, for all their acts of omission and commission!
The 'pohottuwa' chaps have had a very good year. They have a better chance than our cricket team of winning at least some local councils and despite all their protests and insults aimed at the Blue party, they haven't been expelled either. Nor are some of them behind bars, as we were promised.
Some in the main Blue party still want to have the cake and eat it. That is why we heard Susil saying that, after the elections, the Blues may team up with the 'pohottuwa' chaps, although we will vote for either of them because we don't like the other. He thinks we are morons, and some of us probably are!
Overall, those in the Blue camp have had a happy year and their good fortune will continue in the next couple of months. That is because some of them will cross over from the pohottuwa camp to the Blue party for state minister posts and others will cross in the opposite direction- no doubt for some reward.
Things are no different in the Green camp. They haven't lived up to expectations and should have been thrown out because of what they did with the bonds from the big bank but they are still in office. What's more, they might even win the local elections, just because the Blues are hopelessly divided.
Then, we heard Ravi saying that it is the big bank that is corrupt. After everything we heard at that commission of inquiry, I think that is the pot calling the kettle black. People have come to their own conclusions but, apart from resigning, Ravi has a very good year because he has had no consequences.
Then there is Justice Wije who suddenly realised that he was sitting in a Constitutional Assembly that was illegal. It took the President's Counsel many months to remember that and a few more weeks to resign but he has had a good year, because he is still with the Greens, though maybe not for too long.
When the economy of the country was threatened, our leaders have responded in style, so we can all have a good year. When the Russians banned our tea exports, all it took to restore that was agreeing to import asbestos from there. What does it matter if it causes cancer, if we can still sell our tea?
So, people, in Paradise, I don't think you should be unduly worried about the year that ends today, thinking that times are hard and that we could have done better. Every country gets the government it deserves and, judging by the fantastic year we have had, I daresay we have elected a very good one!
Yours truly,
Punchi Putha
PS: They tell me that our cricket team has had the worst possible year. I suppose there is room for improvement there. So, even if we can't win a few more matches next year, there is always the possibility that Dayasiri will learn to wish us all a Happy New Year in Latin!