As polls campaign begins, Sirisena brings bribery and corruption to the fore
By Our Political Editor
View(s):
All SLFP and UPFA candidates take pledge to work with high integrity, free of fraud, some already have charges pending
Bond Commission report handed over to President, speculation of serious charges against Mahendran but questions over whether President will make the report public before the polls
After rice and fuel crises, fertilizer shortage becomes major issue in rural areas
Many a political issue, some of them cause for great public discontent notwithstanding, President Maithripala Sirisena appears to have shifted focus to fight bribery and corruption during the local polls campaign. Needless to say, the move has revived public memories of assurances given during both the presidential and parliamentary elections to bring to book top personalities of the previous Government for such acts. Barring just one or two, others have fallen by the way side. Sirisena accused UNP leaders of stalling them. The UNP in turn blamed it on other state agencies.
"I am not sure who will be axed with my sword in my mission to have clean politicians," he told a gathering of Sri Lanka Freedom Party (SLFP) and other smaller groups on Thursday. The event at the BMICH saw them taking a pledge to protect Nidhahase Sammuthiya or "nation and the people to empower freedom." Taking part in the event were leaders of 31 registered political parties and representatives. They come under the umbrella of the United People's Freedom Alliance (UPFA), the SLFP backed front, which is contesting the polls countrywide.
The participants jointly read out a pledge. It said "The parties will dedicate themselves to elect educated representatives with high integrity, free of fraud and corruption to work in accordance with the conscience of the public for the protection of the motherland and for self-reliance." As it happens often in Sri Lankan politics, among those taking the oath were those facing bribery and corruption allegations. Some of them flanked President Sirisena while reading – or pretending to read the oath.
One need hardly say that the selection of "educated representatives with high integrity," if that is what the need was, should have been done ahead of the parties handing in their nominations. It is a closed matter now though one could argue it is such persons who have been picked. The question then is why say it now? That leaves emphasis on the second part of the sentence which calls for an environment "free of fraud and corruption…"
That Sirisena got all of them to swear such a pledge assumes greater significance for another reason. The three-member Commission of Inquiry to probe the Central Bank bond scam handed over its report to him last afternoon at his Paget Road residence in Colombo. During a nine month period, the Commission held 117 days of sittings into what is easily the biggest, single financial scam in Sri Lankan history. It was headed by Supreme Court Justice Kankanithanthri T. Chitrasiri and includes Supreme Court Justice Prasanna Sujeewa Jayawardena, and retired Deputy Auditor General Vellupillai Kandasamy.
With local polls due on February 10, the contents of the report will be the cynosure of the public – if it is made public. More so when the proceedings of the Commission where startling disclosures surfaced, sharply contrasted with what transpired before a parliamentary Committee on Public Enterprises (COPE). This has drawn greater public attention. Questions were raised on the veracity of many assertions. Similarly, it also brought into question the findings of an official committee and the remarks UNP MPs made in Parliament based on them. In essence, the overarching question at issue is how much the Commission's findings would contrast with the UNP claim that there was 'no wrong doing.'
The Commission's report, finalised after Chairman Chitrasiri returned from a visit to London, is being held a closely guarded secret for now. Yet, speculation is rife that at least nine politicians have been named for their role in the scam. However, this could not be independently verified. Sources associated with the Commission said strong indictments have been made against the Central Bank's former Governor Arjuna Mahendran. He is now in Singapore, of which country he is a citizen. It is no secret that the Cabinet of Ministers decided on his appointment as Governor despite objections at the time from some senior ministers over his nationality.
Prime Minister Ranil Wickremesinghe, under whom the Central Bank was assigned, pressed for his appointment. Mahendran told close friends recently that he had no plans to visit Sri Lanka since testifying before the Commission. That will set a poser when investigations into the Commission findings begin. Similarly, these sources said, strong indictments have also been made against Mahendran's son-in-law Arjun Aloysius who's Perpetual Treasuries Ltd., it is alleged, drew unlawful financial benefits running into billions of rupees. References have also been made to former Foreign Minister, Ravi Karunanayake. The same sources said that included the need to probe further his acquisition of an apartment of Monarch Residencies in Kollupitiya.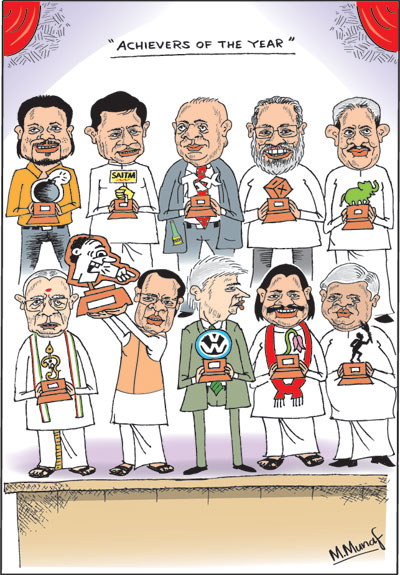 In the light of Commission's findings reaching President Sirisena, the vital question is whether he would approve the public release of the report before February 10 polls. Some senior SLFP ministers strongly believe he would. They argue that the President wants to tell voters that "he was unwavering when it comes to bribery or corruption" and "he won't condone it wherever it comes from." Those remarks assume significance in the light of the recent utterances by SLFP cabinet ministers. President Sirisena also declared at a meeting of SLFP organisers at Janadipathi Mandiraya on December 22 (Friday) that he would appoint a Commission of Inquiry to probe both SriLankan Airlines and Mihin Lanka.
Three different SLFP politicians went public with the same remarks. First was Transport and Civil Aviation Minister Nimal Siripala de Silva followed by Minister Susil Premjayantha. Both alleged corrupt activity at these two state concerns which came under State Enterprise Development Minister Kabir Hashim, a UNP Minister and General Secretary of the party. The latter was to add to the dilemma after the Sunday Times reported last week that the Board of Directors, with the exception of one, had offered to resign. Hashim, who has been complaining earlier that he was being sidelined by the Board said he was "unaware" of the "offer' by board members to resign. The worse part came when Hashim's deputy, the State Minister for Public Enterprise Development Lakshman Yapa Abeywardene from the SLFP told a news conference that Credit Suisse would grant a short term loan of US$ 50 million and a long-term loan of US$ 175 million for SriLankan. He declared that the money would be given to a newly appointed Board of Directors.
And on Friday, Minister S.B. Dissanayake, who addressed both SLFP and UPFA candidates at a meeting at the Sugathadasa Indoor Stadium declared, "Why did the President take over the responsibility to stand as the Common candidate, despite death threats? He did so to create a Government free of corruption and fraud. Therefore, President Sirisena has the responsibility to get rid of rogues, if they were in the Government. It is well known who is responsible for the great robbery in the Central Bank. Therefore strengthen the hands of the President to get rid of rogues in the government."
Increasingly, more SLFP ministers have become vocal about bribery and corruption. Many of them have bribery and corruption charges against them as well. Even if the others did not take a direct swipe at the UNP that Dissanayake did so on Friday is significant. It highlights that there is a positive anti-UNP thrust in the SLFP albeit UPFA campaign and portends what is to come. Other key issues like the cost of living and an acute shortage of fertilizer for farmers have not received any mention. Thus, the SLFP campaign has already assumed an aggressive character against the UNP. It is clear that public agitation at continuing bribery and corruption under the present government is going to be placed at the door-step of the UNP. That raises the all-important question – how long more can the Sirisena-Wickremesinghe Government continue with the bickering reaching new levels? It comes at a time when President Sirisena has failed in his efforts to unite the rival faction of the SLFP and seek their support. The compulsion for such unity is the estrangement with Sirisena's main coalition partner, the UNP.
However, there are a handful of SLFP ministers who say that Sirisena may not go public with the report until the local polls are over. This is in keeping with the principle that it was the main partner in the Government that has fielded candidates under the United National Front (UNF) and this would hurt their campaign. Yet, one of them said there were nevertheless"overriding factors." He pointed out that Sirisena had failed in his efforts to bring unity within the SLFP. His appeals to the rival factions met with a snub, politically isolating him. "Thus, everything counts when fielding candidates and steering a polls campaign. He has to come number one or at least two and that means a lot," said the SLFP minister.
Sirisena is not hiding the fact that he is very livid about not being able to re-unite the SLFP. He told SLFP organisers at the Janadipathi Mandiriya meeting that the main cause was Basil Rajapaksa, to whom he even spoke on the telephone through a Buddhist monk, as a last ditch attempt. He charged that Basil Rajapaksa's stubbornness led to the party remaining split. However, Sirisena declared Hebei, Mama Basil Rajapaksata hungak isthuthi wantha venawa or I am very thankful to Basil Rajapaksa. He said it was Basil who had, by his conduct, helped him to win the January 2015 presidential election.
Relations between the now chief strategist of the Sri Lanka Podujana Peramuna (SLPP) and President Sirisena had remained strained even when the duo were in Mahinda Rajapaksa's cabinet, it now transpires. Basil Rajapaksa made this disclosure to a friend and declared that till he received the telephone call, they had not spoken to each other for over two years.
Evidently Basil Rajapaksa had become aware of Sirisena's remarks. Speaking to SLPP supporters at a meeting in Battaramulla he declared, "There would have been no need for SLFP unity if Maithripala Sirisena did not divide the party. He did this before the presidential election of 2015 when he received the backing of the UNP."
Sirisena did not stop at that. He made clear that disciplinary action would be taken against those from the SLFP, who support any other party in the local polls. The name of the first likely casualty came up at the meeting. He directed party officials to consult lawyers and initiate disciplinary inquiries against former Minister Johnston Fernando. He had accompanied SLPP candidates to the Kurunegala District Secretariat for handing over of nomination papers.
On Thursday, eight partners of the 'Joint Opposition' signed a Memorandum of Understanding (MoU) incorporating the guidelines under which they are fielding candidates. They will all meet at the Sugathadasa Indoor Stadium in Colombo on Tuesday. 'JO' leader Mahinda Rajapaksa and other 'JO' party leaders will address it.
It came as the 'JO' leader in Parliament, Dinesh Gunawardena wrote to Speaker Karu Jayasuriya urging that Parliament be summoned immediately. This is on the grounds that the country is facing a serious economic crisis and a debate on the matter was necessary. Parliament is only set to meet on January 23.
With the local polls just five weeks away, some of the critical issues the Sirisena–Wickremesinghe coalition has to face at the grassroots level appear to have been created by their own side. Much the same way as the countrywide shortage of fuel was caused due to lack of sufficient buffer stocks, now, the issue is over the non-availability of fertilizer. The farmer discontent over this is growing and is sure to have an impact on the elections.
The fuel shortage led Sirisena to speak on the telephone with Indian Prime Minister Narendra Modi. He appealed for supplies until the orders placed were received. This time, he had to appeal to Pakistan Prime Minister Shahid Khaqan Abbasi. He spoke to him on the telephone on Friday and appealed for urgently needed supplies. Whilst ministers and bureaucrats responsible for such situations are not dealt with, it seems it is becoming customary for Sirisena to appeal to foreign leaders every time there is a shortage. Months ago, when there was a rice shortage, he telephoned Thai Prime Minister Prayut Chan-o-cha for supplies. He also then telephoned Malaysian Prime Minister Najib Tun Abdul Razak on the same matter.
Agriculture Minister Duminda Dissanayake, in different memoranda he submitted to the Cabinet of Ministers, has conceded that there are shortages of fertilizer. In a December 12 memorandum, which deals with urgent needs for fertilizer for 2017/18 Maha season, (the current cultivation), he has highlighted the need for 36,000 metric tonnes of urea, 12,000 metric tonnes of TSP (Triple Super Phosphate) and 12,000 metric tonnes of MoP (Murate of Potash). He said tenders were called and seven companies made bids. Two of them were short listed, since others did not conform to tender conditions.
Agri Commodities and Finance FZE had offered to deliver at the rate of US$ 316.20 per metric tonne for urea within a payment period of 270 days. The same company had offered TSP at the rate of U $ 340.20 per metric tonne for a quantity of 12,000 metric tonnes. This was for payment within 180 days. No one had made bids for MoP, according to Minister Dissanayake.
Minister Dissanayake says that Agri Commodities and Finance FZE had agreed to deliver 36,000 metric tonnes of urea and 12,000 metric tonnes of TSP on or before January 15, 2018. He concedes that the requirements of urea for current paddy cultivation is immediate and needed within days. He also admits that the costs are high for urea and worse enough, it cannot be used for the current Maha season. Hence, larger quantity will be available for the next Yala season.
As a result of this development, Minister Dissanayake says, on December 11, just a day before the date of his cabinet memorandum, the Special Cabinet Committee on Tenders decided to go for two alternatives. The alternatives were (1) The Government to procure fertilizer from private sector companies which have imported stocks at the higher rate. To continue the process of obtaining stocks from private sector until other measures are taken.
(2) Follow decisions taken at a meeting chaired by President Sirisena on December 11 and import 72,000 metric tonnes of urea before December 28, 2017 at the rate of US$ 316.20 per metric tonne, through Agri Commodities and Finance FZE. The doubling of the quantity is in view of a ban on fertilizer exports by Pakistan where the private sector was to obtain 38,000 metric tonnes. According to Dissanayake, he and Finance Minister Mangala Samaraweera met the Pakistan High Commissioner in Sri Lanka but their efforts were not successful.
In another Cabinet memorandum dated December 18, Agriculture Minister Dissanayake points out that he had obtained ministerial approval to procure 72,000 metric tonnes of urea. He has said that 60 percent of the expected fertilizer will be given to Lanka Fertilizer Ltd and the remaining 40 percent to Commerical Fertilizers Ltd. for distribution. Dissanayake has pointed out that the urea stocks to be imported cannot be sold in 50 kilogramme packs at the usual price of Rs 2,500, which is the Government approved price. He has sought approval for the Treasury to bear the loss caused by the higher price.
The irony in this saga is the fact that Duminda Dissanayake is not only the Minister of Agriculture. More importantly, he is the General Secretary of the SLFP. He is an MP from the Anuradhapura District, one of the main paddy producing districts. That his Ministry had failed to monitor the situation and take timely action, no doubt has cost the Government dearly. Other SLFPers now fear this would have an impact on votes for the UPFA, especially in the North Central Province. President Sirisena's home turf of Polonnaruwa is also in the province.
It was only weeks earlier that urgent stocks of rice were ordered to meet demands. Now comes reports of an acute shortage of fertilizer that would affect farmers, who are voters at local polls. The campaign has been somewhat muted by the holiday season and is expected to gain strength by mid-January.
Yet, Election Commission Chairman Mahinda Deshapriya is going ahead with official arrangements. This week, he resolved a knotty issue during a meeting with political party representatives — counting of votes in different polling booths. The Police have advised against this move saying they would find it difficult to protect all booths. Some participants complained that the Chairman was doing what the Police wanted. Deshapriya resolved the issue. All contesting parties will nominate two persons each per booth to assist the Police to provide security. Thus all polling booths will become counting centres after the polls close.
The count down for the test of strength of the coalition as well as opposition parties has begun.
Judges and state law officers to get substantial salary hikes and new allowances
An official Committee has recommended substantial increases in pay, allowances and pensions of judicial officers, law officers of the Attorney General's Department and the Legal Draftsman's Department.The Cabinet of Ministers is expected to approve these recommendations following a submission by Justice Minister Thalatha Athukorale.
The only exception is the Judges of the superior courts – the Supreme Court and the Court of Appeal. The Committee has said that the emoluments of the Chief Justice and the Judges of the superior courts have to be determined by Parliament.The Committee was headed by Cabinet Secretary Sumith Abeysinghe and included Justice Ministry Secretary Padmasiri Jayamanna and Director General of Establishments W.D. Somadasa. They were appointed by the Cabinet of Ministers. This was after Justice Minister Athukorale, among other matters, submitted cabinet memoranda on "Formulation of a new Salary Structure for the High Court Judges and the Judicial Officers in the Sri Lanka Judicial Service." She also sought the creation of a new Service Category and formulation of a distinctive salary scale for the Law Officers attached to the Attorney General's Department as well as those in the Legal Draftsman's Department.

Minister Athukorale noted that "difficulties were being experienced in "recruiting and retaining required officers" due to "inadequacy of existing salaries and other privileges."

Among the increases:
Salary and allowances of High Court Judges, presently the total salary and pensionable allowance which is at Rs 104,694 per month to be increased to Rs 180,000. Professional allowance will go up from Rs 15,000 to Rs 75,000. There will be an increase their allowances from Rs 168,894 to Rs 304,200. Besides this, they will also receive a housing allowance of Rs 50,000 (where there is no official residence) and a transport allowance of Rs 125,000 (where a vehicle and driver are not available). A driver's allowance of Rs 25,000 has also been included.

District Judges/Judicial Officers (Special): The present salary and pensionable allowance which is Rs 71,941 to be increased to Rs 165,000. They will also receive a non-pensionable 50 percent of their salary from December 31, 2015 as personal allowance. Other than the salary, their total emoluments will increase from Rs 151,424 to Rs 269,300.

Magistrate/Judicial Officer: Now drawing a salary and allowance of Rs 49,079. This will be increased to Rs 129,750. Total of the salary and pensionable allowance, which stands at Rs 49,079 will move up to Rs 112,500.

Attorney General: Now drawing Rs 95,800 as salary and pensionable allowance. This will increase to Rs 240,000. With other allowances, the total which stands at Rs 201,850 will increase to Rs 332,800. Housing allowance which stands at Rs 12,000 is to be increased to 50,000(where official residence has not been provided). A Books allowance of Rs 30,000 has also been provided for.

Justice Minister Athukorale has also recommended to increase the "Allowance for Not Engaging in Private Practice" from the present Rs 50,000 to Rs 150,000.

Solicitor General: Present salary and allowances Rs 90,700.This will be increase to Rs 140,000. Total of salary and pensionable allowances will go up from Rs 99,700 to Rs 220,000. Other allowances (professional, judicial professional COL, telephone etc) will go up from Rs 177,125 to Rs 290,800.
Senior Additional Solicitor General: Total of salary and pensionable allowances to increase from Rs 73,779 to Rs 190,000. All other allowances to increase from Rs 151,328 to Rs 250,800.

Additional Solicitor General: Total of salary and pensionable allowances to be increased from Rs 73,779 to Rs 170,000. Other allowances to go up from Rs 151,328 to Rs 230,800.

Senior Deputy Solicitor General – State Attorney: Total salary and pensionable allowances to go up from Rs 63,892 to Rs 150,000. Other allowances to be increased from Rs 132,232 to Rs 205,800.

Legal Draftsman: Total of the salary and pensionable allowance to go up from the present Rs 73,779 to Rs 190,000. Other allowances which stand at Rs 104,579 to be raised to Rs 222,800.

Additional Legal Draftsman: The present salary and pensionable allowance to be raised from Rs 73,779 to Rs 170,000. Other allowances to be increased from Rs 104,579 to Rs 202,800.