Anton enters interior hardware business with a new concept centre
View(s):
Known for its building material manufacturing for over six decades countrywide, St. Anthony's Group continues to redefine housing interior product experience with the opening of a sophisticated new concept centre – 'Dimensions' at 404 Nawala Road Nawala recently.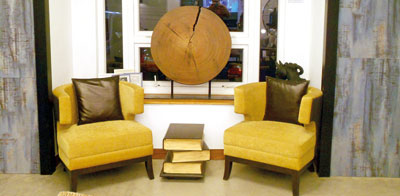 This centre is with an emphasis on Anton's newest housing finishing products contained within the state of the art building that has all its showpieces embedded within its structure.
The 70-year old stately house had been refurbished using Anton's innovative finishing products and has been furnished with classical furniture masterpieces retailed by premium furniture supplier 'Masterpieces'.
'Dimensions' breaks new ground as the retailer's foot print in the country and first concept store in its kind in Sri Lanka, a top official of the company said.
The concept store is by definition, a one-stop shop where new ideas are displayed in an effort to improve shopper's experience and sell more innovative products, he explained.
This is a new centre that sells a carefully turned out and unique selection of housing décor and interior design products, that appeal to a specific target audience.
Anton's has now ventured into the manufacture of innovative decorative board Griffin, Anton Armor Roofing, Architectural, performance glass and other home interior and building façade finishing products, he said .
It is an innovative move of St. Anthony's group which was founded for scrap iron trading in 1944 by the visionary businessman, the late A. Y. S. Gnanam who believed in hard work, perseverance and in optimising opportunities,
It is now Sri Lanka's pioneering pipes manufacturer and leading plastics value added processor producing 15,000 tonnes annually with a diverse range of products ranging from pipes to tanks, to plastic doors to insulation.
Speaking at the opening ceremony, Executive Director of St. Anthony's Industries Group Jeevan Gnanam, said that "the company has invested its expertise and experience gathered over a period of 60 years being in manufacturing to enable them to supply many innovative products".
Dimensions Concept Store is also home to the largest and only full colour 3D printer with the biggest build volume in Sri Lanka.
The subsidiary company of St. Anthony's Group that operates the 3D printer is equipped with capabilities such as 3D modelling and designing as value added services to the architects fraternity.
"The company will be working together hand in hand with the architects to come up with solutions and ideas for homes and commercial buildings," Mr. Gnanam said.
(Bandula)