Decisive role in local polls for new generation of 700,000 voters
By Our Political Editor
View(s):
Decisive role in local polls for new generation of 700,000 voters Sirisena faces tough challenge to prevent SLFP from suffering defeat and being further weakened
Rising living costs cause problems for SLFP, UNP; another major issue is the failure to bring corrupt VIPs to justice
International airlines consultant issues damning report on SriLankan, warning of bankruptcy; unions slam chairman for issuing damaging statements
Sri Lankans, 15.7 million of them countrywide, are eligible to vote at the February 10 local polls – 700,000 more than the previous August 2015 parliamentary elections – to pick 8,356 councillors.
That a new generation has swelled the ranks of voters is significant in many ways. In early post-independent Sri Lanka, local polls were the nursery for national level politicians. J.R. Jayewardene, R. Premadasa, N.M. Perera and a host of others cut their teeth in politics in municipal elections. Later, local councils were to become a game of power play amongst local stalwarts of political parties. Issues have centred mostly on who can deliver and who is more popular, the doctor or the driver, the businessman or the bar owner, the lawyer or a landed proprietor, the warlord or the war veteran and so on. Party considerations have also been significant as voters began to align themselves with one party or the other.
This time, however, many factors have changed. For over two and half years, local authorities did not function. There were no elected representatives to service the needs of the people. Their role was placed in the hands of Special Commissioners. That it caused untold sufferings to the people is no secret. Special Commissioners were meant to take charge of councils that were riddled with corrupt politicians. Things changed when Special Commissioners themselves became corrupt — and inefficient. This was clearly seen during the recent natural disasters where local politicians were outnumbered by bureaucrats. Another instance is the widespread outbreak of dengue, which among other reasons, was because drains were left unattended and most locations in local authority areas became breeding grounds for mosquitoes. Just two examples of the tales of woe of the people who are ratepayers give an insight. One struggled for months to have a building plan passed. Bureaucrats running the administration wanted to ensure every little detail required by law was adhered to, lest they be summoned before the Financial Crimes Investigation Division (FCID). In other places, an oiling of the palm got the job done.
Another found a street light outside his house at a junction had fused and spoken about it to his former member of the ward. It was of no avail for three long months. He had to work his way through the bureaucratic ladder to have it attended to. Earlier, as a witty former Urban Council Chairman declared, "You give them something.
The job is done. Both sides are beneficiaries." That is paying a bribe to get matters sorted out. Not that it does not happen now but he says "most bureaucrats are now frightened." Needless to say public discontent has grown deeper in the period when there has been a vacuum in local bodies with the absence of elected members. To put it plainly, democracy was not functioning at the grassroots level and the 'yahapalanaya' or 'good governance' was seemingly from the centre in Colombo.
New local government laws have been promulgated in an exercise where one draft law after another were introduced. It became patent as the months went by that other than updating laws, it was also a way of delaying the local polls. Added to that was the introduction of a new electoral system. Public discontent grew further and even political parties within the Government were frustrated. For Government leaders, particularly for President Maithripala Sirisena, it turned out to be a challenging task. He had regained considerable popularity after appointing a Commission of Inquiry to probe the Central Bank bond scam. Now, how does he avoid defeat and prevent a divided and debilitated Sri Lanka Freedom Party (SLFP) suffering further. Worse enough, what would be the party's fate if it were to come a third or even a fourth in some areas?
The situation had been made difficult due to the strained relations Sirisena and his SLFP had with their major coalition partner, the United National Party (UNP). That appears to be the avtur or jet fuel that propelled him to try to mend fences with the feuding faction of the SLFP led by his predecessor Mahinda Rajapaksa. He sought the help of a number of persons, including the Buddhist clergy. He spoke personally to former Defence Secretary Gotabaya Rajapaksa who was in open to discussions on re-uniting. His emissaries shuttled between him on the one hand and with Mahinda Rajapaksa as well as Basil Rajapaksa on the other. The duo bluntly rejected Sirisena's last minute desperate overtures. Gotabaya Rajapaksa flew to Los Angeles and vowed not to return until the local polls are over. The organisations he had formed will keep away from the campaign.
There is disappointment that the former Defence Secretary failed to deliver in re-uniting the SLFP. Sirisena trained his guns on Gotabaya Rajapaksa at the weekly ministerial meeting on Tuesday. He noted that some six billion rupees were being spent as rent every month to locate Army establishments in 15 different buildings in the City of Colombo. This, he noted, even posed a threat to national security. After the ministerial meeting, he urged Minister Mahinda Samarasinghe to hold a news conference that very day (Tuesday) and make the facts public. The usual news briefing after the ministerial meeting followed on Wednesday.
It is not only Sri Lankans who have been keenly following these developments. So have the Colombo based diplomatic missions, particularly those representing western nations which backed the Sirisena-Wickremesinghe combination at the presidential and parliamentary elections in 2015. For them, it has turned out to be as good as national elections with both local and international implications. Locally, it would be the first test to find out whether the registered voters approve of the Sirisena-Wickremesinghe Government and its policies. Internationally, the outcome will reveal Sirisena's public standing and how best it would help or affect his role as the President of Sri Lanka. That too is in the backdrop of both the SLFP and the UNP contesting separately and fears of the election rhetoric further aggravating their relationship. This is notwithstanding pronouncements from both sides that contestants would be cautious not to attack each other.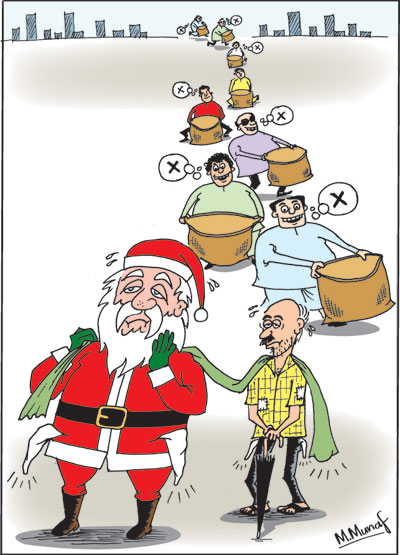 This is where the role of the 700,000 new generation of voters becomes significant. Being of a young age, they are literate and quite discerning over the numerous issues. Their votes and the new electoral system are being put to use for the first time. It could prove wrong conventional forecasts of the polls outcome and make many a prognosis flawed. Then, there are the other issues at play though the key parties are ready to throw money. Without doubt, the most damning issue for the Sirisena-Wickremesinghe Government has been the still rising living costs — a fact admitted by Prime Minister Ranil Wickremesinghe himself at a recent meeting of the Cabinet of Ministers. He has since been speaking of relief packages. That it has been cause for far lesser crowds at Colombo's leading shopping malls during this Christmas and New Year season is too revealing. With the Ministry of Agriculture in slumber, little appears to have been done for paddy production. The result has been more imports. Fertilizer is in short supply. These portend an even grim picture for next year's Sinhala Avurudhu and Hindu New Year in April.
Altogether there will be polls for 331 local authorities. Nominations for 93 of them were held earlier. There was a repeat of mistakes by the Sri Lanka Podujana Peramuna (SLPP). Among the 29 nomination papers rejected, five were from the SLPP. Earlier, six such papers were rejected. The new ones are the Jaffna Municipal Council, Pradeshiya Sabhas in Delft, Valikamam (North), Valikamam (East) and Thirippane. The nomination papers for UPFA candidates for the Pradeshiya Sabhas of Elpitiya, Polgahawela and Bibile were also rejected. In the Pradeshiya Sabhas of Weligama and Rideegama, the Sri Lanka Muslim Congress found its nomination papers rejected too. Details of this week's nominations appear elsewhere in this newspaper.
SLPP strategist Basil Rajapaksa claimed yesterday that the rejections of nomination papers in the North was a "tactical move" and declared that the SLPP would go to courts on the rejection of the nomination papers in Tirippane. He said all 'Joint Opposition' leaders headed by Mahinda Rajapaksa would take part in meetings at different districts. Asked whether the SLFP dissidents would thus face expulsion from the party, he said "naturally we have to be prepared for it. They (the SLFP leadership) will realize after the polls that people are not with them."
His claims were countered by SLFP Minister S.B. Dissanayake. He said, "We have a good chance of winning more councils. The traditional and hardcore SLFPers who were with the former President Mahinda Rajapaksa are now turning towards President Maithripala Sirisena to protect the party. The SLPP has not been able to field any prominent candidates and in some cases not been able to file its nomination papers properly. There are UNP supporters including the minorities who supported them now turning towards us. Therefore, we are able to attract minority parties as well."
UNP Minister Gamini Jayawickrema Perera said yesterday, "We have picked good candidates who are not crooks. We will conduct house-to-house campaigns. We will tell the people not to empower those who faced corruption allegations but to strengthen our Government. We will educate the people about our Grama Rajya concept."
Another polls issue is the continuation of bribery and corruption — a key issue on which the Sirisena-Wickremesinghe Government was voted to power. Repeated pledges were made that high profile cases would be brought to courts. Politicians responsible for it are blaming it on the Attorney General's Department. The latter in turn says that investigation reports lack substantial evidence that would meet the test in a court of law. Police top brass responsible for the probes complain, at least privately, that there was political pressure on them. That had included requests that some high profile persons allegedly involved be not arrested. One such major probe which led to startling findings suffered the same fate just weeks earlier. Almost two years of painstaking inquiries, which uncovered incriminating evidence, both in Sri Lanka and abroad, have been put on hold.
This has angered at least some ministers both in the SLFP and the UNP. They refer to a move to increase salaries of Judges (except the superior courts), Law Officers of the Attorney General's Department and the Legal Draftsman's Department. They argue that the increase in salaries and different allowances is being given sans other related factors. They point out that cases have been pending for 17 years or more according to a finding of the Parliamentary Oversight Committee. They also say a large number of investigation reports are held up at the Attorney General's Department.
Other than bribery and corruption, the Government's delay in dealing with state enterprises which are draining the country's financial resources has also been the subject of public focus. The largest such enterprise has turned out to be the national carrier SriLankan Airlines. It was last month that its Chairman Ajit Dias warned employees that the airline faced closure "in the larger interest of the country's economy" if "tangible and sustainable restructuring cannot be achieved."
Pointing out that the airlines' principal lenders, the two state-run banks, are at a "risk situation," he said in a message to all SriLankan employees that there were only two options. One was to restructure the company in such a way "as to attract an equity partner." The other, he has said, is to "carry out the restructuring in a manner that the airline can manage its own affairs without Government funding if finding a partner fails." So far, the airline has been unsuccessful in persuading partner airlines or other entities to invest. They have backed out after studying the financial status. Both, the Bank of Ceylon and the People's Bank have been issuing guarantees to SriLankan to the tune of billions of rupees to raise loans destabilising the banks themselves. This is besides huge loans obtained from them. They remain unpaid.
His remarks drew an angry response from the Alliance of Trade Unions-SriLankan Airlines. Pointing out that the present Board of Directors was appointed "to ameliorate our projected financial decline and rectify many malpractices and misappropriations your predecessors had allegedly committed," the Alliance told Chairman Dias "your board does not have the prerequisite competencies or the attribute to manage our Airline, leave alone give any stability to it." Later, the Airline Pilots' Guild of Sri Lanka declared in another letter, "our stance of no confidence in your Board is also further substantiated by the significant defamation and commercial damages caused to our Airline, because of your statements. The letter added, "we at SriLankan Airlines are of the firm belief that your management team has proven to be ineffective and unsuitable for the task at hand."
Weeks earlier, President Sirisena declared that he would appoint a Commission of Inquiry to probe SriLankan Airlines. The move follows issues raised by Ministers at weekly cabinet meetings. So much so, Chairman Dias and directors were summoned by President Sirisena to answer questions about their activities and how the airline was draining the country's resources.
Addressing the SLFP electoral organisers at the Janadipathi Mandiraya President Sirisena on Friday night declared that he would appoint a Commission of Inquiry to probe both SriLankan Airlines and Mihin Lanka. Now , Nyras, a British based investment and business advisory firm dealing with international air transport, hired by the Government for the third time to advice on SriLankan restructuring has voiced the same concerns though in different words. A report marked "private and confidential" dated December 20 prepared for Prime Minister Wickremesinghe, seen by the Sunday Times says in a key recommendation that there is the "need for quick decision-making and the absolute focus of airline senior management: having a clear and robust Board and governance structure is therefore essential." Premier Wickremesinghe who chairs the Cabinet Committee on Economic Management (CCEM) met representatives of Nyras for discussions also on December 20. Nyras has recommended that the Board should "have delegated authority to approve any decisions contained within the restructuring plan." The corollary of that assertion is that the present Board of Directors is not robust; nor does SriLankan Airlines have a governance structure that is essential for the board.
The Nyras report says the "Government Officials Committee to approve restructuring plan and quickly review major restructuring decisions (e.g. negotiation offers). Management to provide regular updates on progress of restructuring." The Board of Directors, Nyras says, "must be prepared to act quickly and be available on an almost daily basis." It also wants to "Consider appointing an Executive Committee with delegated authority during the restructuring process."
The other recommendations by Nyras is "absolute focus of leadership team on delivery of restructuring plan, with personal objectives accountability for each part of the plan. Structured review of process of restructuring implementation." It also says there should be "clarity of direction and objectives of the restructure, with departmental and personal objectives aligned to delivery."
Titled "Restructuring of SriLankan Airlines – Delivering a sustainable future," Nyras report says:
We have been asked to develop a plan to assess and implement options for the restructure of SriLankan Airlines ("SLA") to address challenges associated with legacy and fleet–related debt and consistent operational losses.
The restructuring plan should be consistent with GoSL objectives such as developing tourism, growing traffic and connectivity, ability to compete with Low Cost Carriers, affordable travel for SriLankan business, travelling public and migrant workers, find suitable partners willing to invest in SriLankan whilst respecting foreign ownership rules, cost effective airline and impact on jobs for the Sri Lankan economy.
We worked previously with SLA between January and March 2016, so have a good understanding of the airline's challenges. We worked closely with airline management and staff, reported and explained our findings to the Board and senior Government Officials.
Our previous work also investigated the practicalities of an administration / "Chapter 11" scenario, assessed SLA's competitive disadvantage caused by high fuel price, and estimated the impact on Ceylon Petroleum Corporation if it reduces prices to market levels. Note: Chapter 11 is a chapter of Title 11 of the United States Bankruptcy Code, which permits reorganisation under the bankruptcy laws of that country.
Some of the issues have since been addressed, but the major structural issues remain.
The timeline for this assignment, Nyras says is to address the most pressing concerns by the end of March 2018. It has identified eight different areas for the restructuring process. Among them are:
Re-negotiate four remaining A 350s and Rolls Royce engines to avoid US$ 800 million liability by converting A 350 order into A 321s for deployment on restructured network.
Re-finance seven A330s Lease rates are way over market and refinancing ensures market rate aircraft economics delivering $ 28 million per year but finance/equity required for $ 160 million deposit.
Re-structure SLA Group to enable investment into airline and SBUs to deliver cash to airline restructure debt, saving $ 41 million per year, improve operations and improve competitiveness.
Reduce Ceylon Petroleum Corporation pricing by ten US cents per gallon to address lack of competitiveness and increase volumes to other airlines delivering $ 8 million per year.
Improve commercial activities and streamline distribution to deliver greater yield and revenue opportunities.
The "absolute priorities," Nyras says are negotiations with Airbus, Rolls Royce and Lessors, Develop Business Plan to support negotiations, Resolve Ceylon Petroleum pricing, develop future fleet structure and identify investors for A 330 – 300s.
It is abundantly clear from the Nyras report that over the years there has been serious deficiencies in managing the national carrier. So much so, the consultant firm is even noting the need to consider declaring bankruptcy.
Resolving issues of SriLankan Airlines and making it a professional venture is one thing. It is another to identify who has been responsible for the colossal losses of public funds. After all such monies could have gone to projects for public welfare. Instead, ironic enough, when humungous losses are incurred, they inevitably come in the form of taxes which the public would be forced to pay. This has turned SriLankan Airlines into a national scandal.
Such issues, no doubt, surface during polls. It may be recalled that SriLankan Airlines was an issue during both the presidential and parliamentary election campaigns. The Weliamuna Committee of Inquiry was appointed and it came out with some findings but nothing has been done.
The holiday season has somewhat muted the polls campaign of all parties. However, when it hots up, not only these issues but those of a more mundane nature like garbage collection – which has become a national issue, too would surface. Pious promises of action would be made by leaders and it would end up in the limbo of forgotten things.
If the Government is committed to serving public needs through state-owned enterprises, there is no gainsaying they should be made viable ventures. Allowing political or personal considerations to prevail would only be detrimental to those who allow them. That is a message they should take seriously.
One cannot but agree with the "Joint Opposition' when it says that the local polls will be a national referendum on the Government. One may add that it is also a strong test for them, whether they have indeed played the role of an opposition.