Sri Lanka's Smart Metro wins Gold at Asian IT awards
View(s):
Sri Lanka's Smart Metro secured the Gold position, competing with entries from 16 other countries at the APICTA Awards 2017 held last week in Dhaka, Bangladesh.
The winning award was made under the Retail and Supply Chain category for the product "Smart Tea".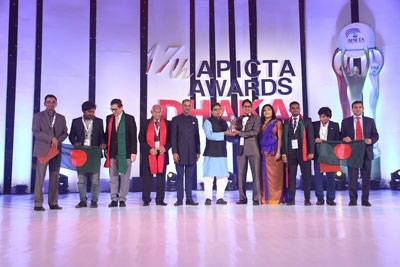 The Asia Pacific ICT Alliance Awards (APICTA AWARDS) is an international awards programme organised by the Asia Pacific ICT Alliance (APICTA) which aims to increase ICT awareness.
The grouping is an alliance of national ICT organisations representing their respective economies to build and enhance a mutually cooperative network to promote ICT, enhance technology innovations, capability and adoption, and encourage the development of indigenous ICT solutions for the global market.
The Gold winning product "Smart Tea" is a Tea Leaf Procurement System (TLPS) software that helps to maintain the integrity of the procurement of tea leaves. It provides simple and effective solutions to Sri Lanka's tea plantation sector to automate the process of tea leaf collection. The system integrates NFC technology for officer identification cards that help to identify each and every tea leaf supply and also suppliers can obtain a detailed receipt for the weight of the tea leaves supplied.
Smart Metro is an international software application development company specialising in near field communication and based in Sri Lanka. "We have employed highly qualified software development engineers and work closely with Sony Corporation FeliCa divisions for near field communication development work," a company spokesman said in a media release.