Big year ahead for real estate in Sri Lanka
View(s):
The year 2018 is expected to be a milestone for Sri Lanka's real estate sector and for all Sri Lankans. It is expected that a signif icant number of new developments under construction now will be completed in 2018 including landmark developments such as the Colombo City Centre, Dynasty, Altair and Astoria. Colombo will also be getting new malls early next year, including the mall at Colombo City Centre.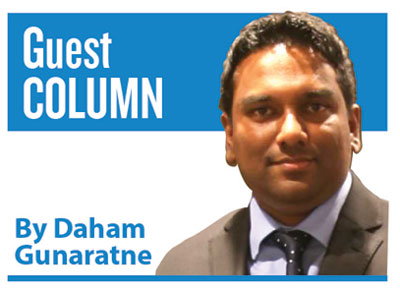 This will be in addition to the 100 or so new apartment developments that were given approval this year, of which majority are expected to commence next year.
2018 is also expected to see more developers moving further away from Colombo. There are at least four new luxury developments expected to launch in the beachfront between Galle and Matara early next year. However, the general tendency has been to build closer to Colombo, with outside of greater Colombo getting only a small percentage of the new developments.
Next year will also see the launch of the biggest condominium project to-date (in terms of apartment numbers), with the launch of the Harbour Village in Kotahena. This project alone will add 1000 units to the market.
Another factor that was noticed and is expected to continue is the focus of the developers on more mid-market and affordable apartments, than on the luxury segment.
Apartments or vertical living will become the only choice of living close to urban centres for some, and as more and more jobs are created, and the labour force needed for cities like Colombo increases, its natural that the demand for apartments will increase (specially in the mid to affordable range), as buying apartments is far more affordable than buying a land and building a house in and around Colombo.
The national House Price Index maintained by LankaPropertyWeb.com shows that 3-bed apartments in Colombo have an average price of close to Rs. 50 million and have seen a rise of 7.7 per cent since last year. The apartment prices, like any other property prices have continued to grow year on year and is a far cry from the average national price of Rs.26 million seen in 2012.
Another project being completed in 2018 is the Lotus Tower. This has already become a permanent fixture of the Colombo skyline and will add more vibrancy to the skyline when launched.
Lands continue to be the best investment
They say you don't make land anymore (well, unless you reclaim land from the ocean), therefore the value of land continues its' ascend with double digit rises year on year. The land prices in Colombo district have risen by 12.6 per cent during the first six months of 2017, according to the Central Bank and asking prices in Colombo city increased even further by 36 per cent since last year, according to LankaPropertyWeb.com.
This shows how valuable lands are becoming and a recent study by the Candor Group which compared all investment options including stocks, gold and lands showed that Colombo lands had the biggest rise in value and thus the best investment option for an investor. This not only applies to lands in Colombo, but lands overall as the value keeps on rising, albeit at different pace according to where it is.
New transport links to boost property value
The age-old mantra in real estate that it's all about the location is still prevalent today with locations closer to urban centres rising faster in value than others. However, in a developing country like Sri Lanka where infrastructure is rapidly developing, new hubs created by transport links will give a big boost to the price of property in previously untapped areas as it creates new access routes.
With the construction of the Central Expressway, the Light Rail Transit (LRT) train network converting greater Colombo and new transport hubs created under the "Sukitha Purawara" scheme of the Megapolis plan, property close to these areas will see a rapid rise in the next few years.
New taxes on the horizon
It's not only the investors who have taken note of the growing property prices; the government is also wanting a piece of it – in the form of taxes. On April 1, 2018 two new taxes will be reintroduced that will directly affect real estate. One is the re-introduction of the Capital Gains Tax with some tweaks.
The tax, which hasn't been in Sri Lanka since 2002, will impose a 10 per cent tax on any profits of a property sale from April 1 onwards. While we wait for the finer details of the implementation of this tax to be published, it needs to be seen if any concessions will be offered such as for a person's primary residence or a threshold only above which you need to pay the tax.
Another new tax reintroduced from next year is the 15 per cent VAT on any apartment sale prices. This would have a significant impact on buyers with many new buyers and existing buyers paying in instalments having to pay another 15 per cent on top of the sale price. We will have to wait and see if the government will allow certain exceptions to this, such as no VAT for apartments under Rs. 10 million, to help the affordable segment.
Growth to continue beyond 2018
There seems no let-up of new apartments coming up according to latest research, with more projects approved in the first nine months of 2017 than in 2016. With a plethora of developments currently under construction expected to be completed by 2020 and Port City commencing sales of their first phase by 2019/20, it is indeed an exciting time to see the skyline of Colombo change in front of our eyes; and as the fireworks will be lighting up Colombo's skyline on December 31, we can expect to see many more permanent illuminations emanating from residencies perched high up illuminating the skyline in 2018 and beyond.
(The writer is managing director of Lanka Property web, a key real estate website, set up in 2007)