Trade deficit widens in spite of significant growth in exports
View(s):

In spite of exports expanding by 8.2 percent in the first nine months of the year, the trade deficit expanded to US$ 6.8 billion during this period. If this trend of imports expanding by much more than exports continues in the final quarter of the year, the trade deficit is likely to exceed US$ 9 billion this year.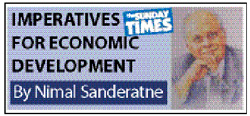 Such a large trade deficit is a severe strain on the balance of payments. Although the export growth since March this year was expected to improve the trade balance, the expansion in imports has offset the gains in exports. Much higher exports coupled with lesser growth in imports is vital to ensure a more manageable trade deficit.
Export growth this year
There was an expectation that the trade deficit would be brought down significantly owing to increased exports since March this year. The expectation of export growth was realised, but the trade balance deteriorated owing to a rapid increase in imports. While exports grew by 8.2 percent, imports increased by 9.7 percent. Consequently, the trade deficit increased to US$ 6.8 billion. The expansion of the trade deficit to such a large magnitude weakens the overall balance of payments.
This is the crux of the balance of trade problem for which there are no easy solutions. However one hopes that there would be a further increase in exports and a diminution of import expenditure during the next three months that would reduce the trade deficit.
Export performance
There was a growth in both agricultural and manufactured imports in the nine months of the year. Earnings from agricultural exports increased by 19.1 percent this year owing to higher earnings from the country's main agricultural export tea, owing to higher prices in the international market and a modest growth in export volumes. Tea export earnings increased by 20 percent in the first nine months. According to the Central Bank, earnings from spices also increased considerably due to higher export volumes of pepper, cloves and cinnamon.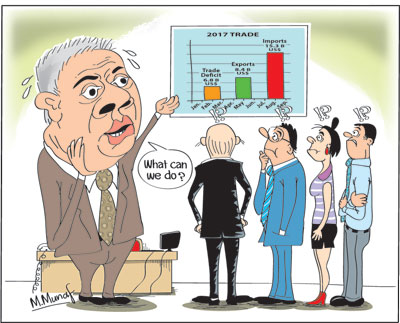 Seafood exports
The most significant increase in exports has been in fish exports to the EU market owing to the restoration of the GSP+ facility. Earnings from seafood exports increased considerably by a 153 percent growth in exports to the EU market. Sea food exports are likely to increase significantly in the next three months too.
Manufactured Exports
Earnings from manufactured exports continued its increasing trend since March 2017 till September 2017. In the first nine months, manufactured exports increased by 5 percent. This gain was mainly in the latter months.
This growth was mainly due to the increase in exports of textiles and garments as a result of improved garment exports to both the USA and EU markets. Earnings from rubber products rose owing to higher earnings from rubber tyres and surgical and other gloves. One of the bright spots in manufactured exports is the revival in garments exports. Hopefully the growth in garments exports by even a small amount is an indication that Sri Lanka's largest manufactured exports has not lost its competitive advantage in international markets. This gain has also been due to adaptations and quality improvements by garment exporters.
Import dependency
Expenditure on imports increased by 9.7 percent in the first nine months. Import expenditure was high as expenditure on fuel imports increased significantly due to high international prices and larger volumes of fuel imports for thermal power generation. There were increased imports of materials for the construction sector. There were also increased rice imports.
Lessons
There are several lessons to be drawn from the trade experience of the first nine months. However significant the increase in export earnings are, unless there are fiscal and monetary measures to contain aggregate import demand, import growth would be high. In fact the growth sectors of the economy are import dependent and have a high propensity to import.
Furthermore, some of the reductions in import duties, such as for certain types of cars may once again see a swell in imports. This also applies to a number of other tariffs that were reduced in basic foods. The desirability of reduced taxation of essential food items is undeniable, but their impact on the trade balance must be recognised and appropriate policies designed to curtail other imports are needed. The government must realise that imports are determined by fiscal, monetary and exchange rate policies.
Summing up
The story of the country's trade dependency since independence has been one of imports exceeding exports except in about 5 years. We have had trade deficits continuously since 1978. It may therefore be appropriate to call the Sri Lankan economy an import dependent one rather than an export-import economy. Certainly we have failed being an export-led growth economy.
The reasons for this failure are a multitude of factors many of which are political and noneconomic. The pursuance of inappropriate economic policies, an inability to implement economic plans and programs and the incapability to pursue pragmatic economic policies are among these factors. The trade profile and performance reflects the results of economic policies pursued over the years. It is the inadequate economic performance that has resulted in persistent large trade deficits.