Bulgaria's amazing Grigor Dimitrov
Survival into stardom
View(s):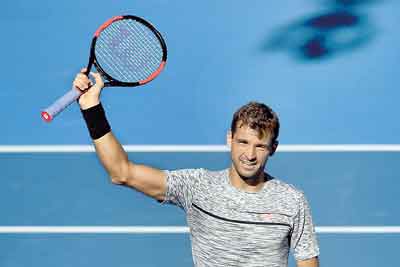 Bulgaria is not known as a Tennis Nation. During the communist era, they were good at Wrestling. Last week, by winning the 2017 ATP Masters title in London, Grigor Dimitrov rose to No.3 in World Rankings. With that, single-handedly, he has identified Bulgaria as another Tennis Nation in the modern era.
Dimitrov is the only Bulgarian ever to reach the Top 10 in World Ranking and also, ever to win any ATP professional event. In today's context and, in the standard of Tennis worldwide, it is a herculean task to accomplish. As it has been observed in Tennis often, it is not the system in a nation, but the individual who counts, in achieving heights. Roger Federer made Switzerland into a Tennis Nation.
Long Road
Dimitrov is 26 years of age and started his professional career in 2008. He was World Junior No.1 and won many Junior Grand Slam titles. All the past great players noticed his talent and did not hesitate to comment on his potential. Still for all, it has been a long road from his Junior feats to a place in the Top 5 of the world. His survival was never easy. Actually, he went down, only then did he turn it around.
His game is known for its variation, power and reaction speed, while some of his strokes have been compared with maestro Federer, and stated to be of equal potent. This is true, when Dimitrov is in full steam and hungry to win, no one can predict what's to come. It is said that, "not the size of the dog in the fight but the size of the fight in the dog" that wins. It is an old dictum, which holds true. Dimitrov's fight has been ever increasing and he is a potent force now. He has lasted a decade in professional Tennis and the signs are Dimitrov's Balkan spirit has enough to go ahead. His maturity began to show up in 2017, to compile games effectively.
When it comes to skills, Dimitrov's flexibility provides him with perfect balance to execute the most amazing and effective shots in time-squeezed situations. In the return of serve, it plays a dominating role. His returns caught even the best of players by surprise. On the fast surface of the London's Masters finals, Dimitrov came through winning the title, without losing a single match, for this reason. Additionally, it was Dimitrov's tactical depth that gave him the win against Belgian David Goffin in the finals. Goffin is also in his upbeat run and beat Roger Federer in the semifinals, which was his first win against Federer in 7 meetings.
Flamboyance plus, plus
If there is a male Tennis player with lifestyle equally flamboyant off court, as on court, it is Dimitrov. He has been described as the perfect mannequin. Standing at 6 ft 3 ins, with muscular streamline physique, he emits energy even standing still. It was strong enough of a magnet to attract beautiful Maria Sharapova and now, talent show X-Factor beau Nicole Scherzinger. Both much older than him. This show has just begun and the magazines have just inked their pens, and will write reams in time to come.
Little used road
Repeatedly, a phenomenon seems to be the most ignored in player development in any sport. That is, 'going out of the national borders' is not given much value in Junior development. That is a fatal error that is repeated and goes unnoticed by all. Many reasons can be cited for not doing so, none of which is valid. When measured, the development standard to be achieved to face OPEN TENNIS challenge, outside the national border experience is a decisive factor. Dimitrov is a classic example of this view.
Sport is an individual pursuit. Nations pump money on players who win closed Junior national events. This is wrong, for the simple reason, local standard of any nation is a 'in my little room' situation and is far below that of global Open Tennis. Success of such players as Dimitrov are good studies for us to model our development programme. The cost of these overseas events have to be borne by the same person who pays the player's school fees – the parents. Later, whatever a player earns is for his pocket and not to the controlling body. Apart from that, only the parents can control lifestyle of young players during development.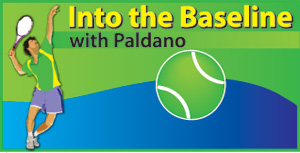 2017 Season ends
The ATP finals in London is considered the end of the season. From the list of injuries Men and Women incurred during this year's professional tour, has given jitters to tournament organisers worldwide. Some changes have to come.
Among Women, a new set of players have shown dominance. The new names are France's Caroline Garcia, Latvia's Jelena Ostepenko and Ukraine's Elina Svitolina. The return of Denmark's Caroline Wozniacki is the surprise, along with Spain's Garbine Muguruza, while evergreen Venus Williams is still holding fort.
Among Men, the 2 new names in the Top 10 are Germany's Alexander Zverev and Austria's Dominic Thiem. The others who showed stellar performances this year are USA's Jack Socks and, of course, Grigor Dimitrov.
-George Paldano, Former int. player; Accredited Coach of German Federation; National coach Sri Lanka and Brunei, Davis-Cup, Federation Cup captain/coach– contact 94 77 544 8880 geodano2015@gmail.com -