Real feelings shared on film
Joshua Surendraraj caught up with the cast and crew of Tuk Tuk Films, a talented group of creatives whose short film made in 48 hours was nominated among the top 10 at the recent SATO48 film festival in Missouri
View(s):
Mental Illness comes with a stigma that is often misun and those who suffer are shunned. A short film 'Aiya' by Tuk Tuk films, recently captured this aspect beautifully.
The film was nominated, earlier this year as one of the top ten films at SATO 48 (Springfield and the Ozarks), an annual film competition based in Springfield Missouri in the US.
The event challenges film makers to create a five minute film within a period of 48 hours. Don't let the short time frame fool you though, because making a movie is no walk in the park. Recently the Mirror Magazine got a chance to meet the team, who took us through the work that was put into 'Aiya'.
"Why do it aiya? Why care? "Malla asks. "Why help somebody else, when we need to be helped?" The brother replies, "no one has ever become poor by giving, to someone else. There are always people less fortunate than we are." The story is one of two loving brothers, who recently lose their parents and are immediately thrown into a dire situation. Their struggle with life, to finding a means of surviving and above all, searching for a reason to carry on, is what the story builds on. But there's more to it, we find out.
'Aiya' (played by Rajiv Colton) is loving and caring, especially towards his young Malla. He puts on a brave face, whilst struggling to make ends meet and still be a responsible big brother. The scene opens to the brothers playing a game of chess. 'Aiya' suddenly tosses the tiles over, his expressions, show him surprised at his own actions. This is the initial sign; Aiya suffers from a mental disorder. As the story progresses, his condition worsens, till his girlfriend, calls the 'Mesopotamia' Mental health institution to take him away. She claims he's a "danger to society and himself."
Rajiv who also wrote 'Aiya' incidentally met his teammates at his workplace, we find out. He had been a part of the competition thrice, back in his college in Springfield, Missouri. This was his fourth time taking part. "When I came back home, I thought what if we opened up the competition for international teams to take part. And that's how the whole conversation started," he tells us.
The original team comprised Rajiv, Kavindu Sivaraj (director, cinematographer, editing, sound and design) and Sarith Ranasinghe (director, cinematographer and colorist). Kavindu and Sarith were nominated for the best directors.
As the competition was an international one, the team wanted to have a Sri Lankan name, that's when they decided on 'Tuk Tuk'. The other team members included Sarah Jaufer (art director and actress), Lihan Mendis, Vihanga Mendis, Nathan Jansen and Shevon Desoyza.
Dhanuk Fernando, who played the character of 'Malla' was awarded the best male performance in the competition.
"We really clicked well and that's why we found it easy to work together," Rajiv recalls. To him, the story has always edged him on. When it came to 'Aiya', even though it wasn't a true story, it was a personal subject, he explains.
"The month (April) we were going to was on Mental illness, especially autism and I wanted it to cover autism as a tribute to a close family friend who suffered from it and who committed suicide," Rajiv shares.
Most of the scenes were shot at Kavindu's house and according to Kavindu, the timing couldn't have been more perfect. "The day we shot, my roommate left back to Kandy and we got to use his room. The way everything fell into place that day, from the weather etc. we managed to shoot the whole thing."
For Kavindu, film has always been something he wanted to do. His love for it goes back to his schooldays, when the teachers used to ask him and a few others to make videos for school events. Kavindu recalls, Rajiv asking them to come up with a script, which they never did (everyone chuckles mischievously at this point). In the end Rajiv came up with one and soon it was finalized, the actors and actresses were decided on and theme was set.
To make it fair for everyone taking part, the organisers would send in specifications the night before, which had to be included in the film. For them it was using the word Mesopotamia, twice in the film, which is tactfully done.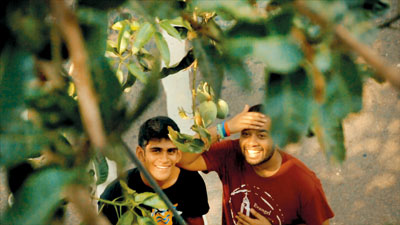 Kavindu runs us through the filming process at this point, recalling that he didn't have a computer to edit the footage on. So they had to go back to his office. Shooting started at 9 am and went on till 10 pm on day one. "That same night, we went to office and pulled an all-nighter and edited till 5 am. "We were zombified, we copied all the footage and I just started editing," Kavindu explains adding that he and Rajiv would take turns sleeping and editing.
Another stipulation stated that the film couldn't include any dialogue for the first minute. Rather it was just visual story telling. "We needed the sunlight for that, so I edited till 5 am and then when Rajiv made a tiny cot for himself in office and slept, I went to record a time-lapse of the sunrise."
Kavindu looks to convey that emotion in the script, via film. Ultimately everything came down to the story and Rajiv had written a solid one, which was easy to film. The team had to submit the film before 5.30 am on the second day.
"We took turns sleeping and editing, this was around 4.30 am and at one time both of us fell asleep. For some reason we woke up at 5.15 am and freaked out, because we were supposed to finish editing by 5," Rajiv recalls, adding that this was the scariest moment for them.
Ultimately their passion and drive for filming and highlighting an issue, was what took them to the top ten at Sato 48. This stands true to the fact that hard work and a passion for what you do can certainly take you to great heights and this is just what 'Aiya' represents.
"To me a big reason for the success of any project is the people I've worked with," Rajiv tells us adding that this was just so with 'Aiya' . Tuk tuk films hopes to continue their momentum with another project that will go into the making soon "so be on the lookout," Rajiv teases .
'Aiya' at a glance
Film was nominated among the top ten for best film at SATO48.Film directors Kavindu Sivaraj and Sarith Ranasinghe nominated for Best Director.

Dhanuk Fernando – awarded Best Male performance for his portrayal of 'Malla'

Scan the code to watch the film