Cinematic analysis on the scholarship exam
By Susitha R. Fernando
'5 Samath'
View(s):
Jayaprakash Sivagurunathan's newest family movie '5 Samath' will be released in theatres from December 1.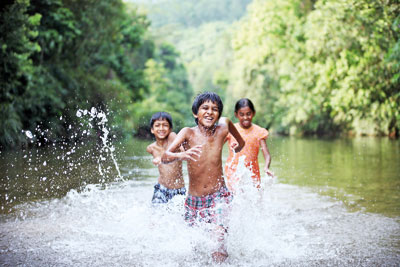 Story written and scripted by Rasika Surawirarachchi, the film discusses the highly competitive grade five scholarship examination and its effect on children.
'5 Samath' will focus on the social pressure placed on children to face the exam which is emphasised aptly. Samath and his family live in a humble abode in a rural area in Sri Lanka. As a result of their rural setting, they are unaware of the significance and allure associated with the Grade 5 scholarship examination.
Due to his closeness nature and animals, Samath is able to grasp what's in his text books well and this is evident when he is ranked No.1 in the island.
Samath's humble and patient demeanour is also highlighted in the movie and contrasts vehemently with the sense of entitlement we see in children educated in major cities. His innate desire to ensure that his village receives electricity and find a practical method of supplying water to his parents' paddy field are what motivate him.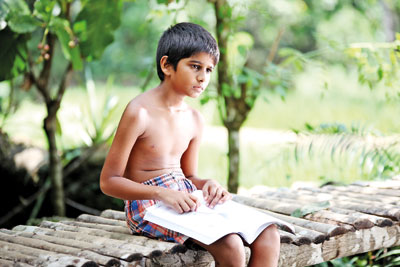 The practical knowledge he gained from the aforesaid ventures is what led to him being ranked first among those who sat for the grade five scholarship exam, This ultimately proves that knowledge you gain from books alone isn't adequate and there are lessons to be learned from nature.
The film stars Uddika Premaratne, Dilhani Ashokamala, Shyami Fernando, Semini Iddamalgoda, Irangani Serasinghe, Giriraj Kayshalya, Dayadewa Edirisinghe, Malcolm Machado, Saddamangala Suriaybandara, Malkanthi Jayasinghe, Asha Edirisinghe, Sarath Chandrasiri and Upatissa Balasuriya.
A group of children who are first timers including Amiru Koralage, Sharad Chanduma, Sejan Hansana, Kavinu Kasundara, Wageesha Salgado and Ibhasitha Kaangarage will comprise the cast.
Behind the screen, cinematographer is Thisitha Anuradha, music Kapila Poogalarachchi, editor Ravindra Guruge, art director Manoj Wickremasinghe, make up is by Ruchira Sanjeewa and the production manager is Srilal Wickremage.
'5 Samath' is the second production of New Imperial Talkies production following it successful release of "SikuruHathe". Released for school holidays and festival season the film will be released in theatres including Regal Colombo, Lido Borella, MC Colombo, Regal Kandy, Gampaha and NuwaraEliya, Amity Lite Maharagama, Vista LiteJa-Ela, City Cinema Mt. Lavinia and New Imperial Kurunegala.