Kids Essays
View(s):

Our annual concert
Our concert was held on October 11, 2017 at the auditorium of the National College of Education, Maharagama. The theme of it was 'Talent Ablaze'. The chief guest was the famous film producer Mrs. Renuka Balasuriya and the guest of honour was Mrs. Y. Kirubananthan President of the College of Education, Maharagama. The special guests were Mrs. Daya Jayasekara, Directress JMC, Master Nethma Akashmika, JMCian artiste, Mr. M. Kandambi, Advertising Officer of NLB and Mr. Jayantha Weerasinghe our former Deputy Principal.

There were many items in our concert. I participated in the 'Spanish Bull Dance'. My favourite item was 'Dhola Bhaje' the dance performed by the Grade Five students and trained by Ms. Taniya Warnakula. They performed very well. It was nice to see the Grade Five item with our JMCian actor "Sidu". The parents watched the items happily. Lastly there was the teachers' item. They sang songs with visuals.
We are very proud of all our JMC students and teachers. We thank our principal, deputy principal and all our teachers for organising this event in a grand manner.

Dimuthu Mihiranga (Grade 6)
JMC College Int., Maharagama
---
Tree-house in the Dubai desert
The best day in my life started at my home, when we decided to go to the desert. We went in the jeep which is my favourite vehicle. We first went to a shop and bought water, juice, ice-cream, fruits, vegetables, sweets, matches and charcoal. Then we went to the desert with sand and mounds. We saw so many camels. In a little while we were lost. Then we saw lights and followed them. Next we got stuck in the sand. My father took a shovel and dug the sand out to get us free. We all helped and got the jeep out of the sand and we all finally made it to the tree-house.
We played with our friends, ate and played musical instruments. We returned home later. It was the best day ever.
Zareena Cassim (Grade 4)
Horizon College Int., Nugegoda
---
My best friend
My best friend is Thisumi Kehansa Vikramarathna Gunasekara. She is very fair. She lives in Moratuwa. We both go to school by bus. She gives her books to me to do my work. She has a mother, father and one elder brother. She has two dogs, two cats and one squirrel. I am sad when she is not with me. I love my best friend.
Binadee Alahakoon (Grade 4)
Visakha Vidyalaya
---
My pet
A pet is an animal that lives with people. It is tamed so it doesn't harm you. There are different pets like cats, dogs and many more. Some animals cannot be kept as pets. These animals are called wild animals. Pets can do many things like swim, fly and more. My pet has a beautiful white coat. She is a cat. Its name is Fluffy. She waves her tail when she drinks milk. Fluffy likes to eat fish. When she sees a mouse she runs to catch it.
As my pet comes into the kitchen, my mother starts to make her favourite food, fish. It senses the smell of fish and comes running to eat. After she eats she drinks a bowl of milk. Then she comes to play with us. When she sees a dog, she runs into the house.
When Fluffy sees me, she comes running to me and licks my feet. I miss Fluffy when I am at school. She is four years old. When she sees another cat she seems very happy. I like to pat Fluffy as she has soft fur. I am glad that I've got such a wonderful pet like Fluffy.
Aamina Gaffoor (Grade 3)
Royal Institute Girls' School
---
lf I could go to space
A trip to space? Wouldn't that be a golden chance? It would be so much fun.
I would leave early in the morning and put on a space suit and a space helmet. Then I'd get into a huge rocket and head right to space! It would take quite a long time but finally I would get there. The rocket would be floating in space and I would be floating too! Floating about would be fun!
First I would land on the moon, take a few photos and then I would collect some sand and rocks to show my family when I return home. Next I would go to the
Red Planet (Mars). It might feel a bit hot on Mars because red is a warm colour. I would look around a bit and collect some samples there too. I wouldn't visit the whole solar system because I wouldn't have much time.
Next I would go to Jupiter. It is huge!
I would look at its huge rings and I would collect samples from there too. Then I would go to Pluto which is quite tiny compared to Jupiter.
Then I would be quite tired. So I would get back into my rocket and come back to Earth. I would be quite happy coming back to Earth. I went to many planets but I love Earth the most.
Samadhee Wijesekera (Grade 6)
Ladies' College
---
We're sorry dear animals
Until now, I have visited many zoos; two in Sri Lanka, one in Malaysia and two in Thailand. I saw a major difference between the zoos in our country and the zoos abroad. In our zoos animals are kept inside small cages, whereas abroad, it is us who are in small areas and not the animals.
I was really impressed with the way the Safari World in Bangkok was set. We had to travel on a certain path in a jeep where all the windows were shut and doors were locked, while the animals were freely moving all over the place. The predators and prey were separated.
In our zoos, people train some animals in a very cruel manner. We enjoy all the shows the animals present, but none of us know the bitter side of their talents.
We have to stop this cruelty towards animals. We have to follow the way which is right for both humans and animals. Let's be fair to each other.
Lihini Wijesekara (Grade

Lyceum Int. School, Wattala
---
My brother
My brother is Sasidu. He is strong. My brother
is very pleasant.
My brother likes to eat cake. I love my brother.
Hashini Navodya (Grade 4)
Mahasen J. S., Kalundewa
---
My sister
My sister's name is Rachini. She is 9 years old. She likes to draw. Chess is her best game. Always she plays with me.
I love my sister. She loves me too.
Hasali Adikari (7 years)
Girls' High School, Kandy
---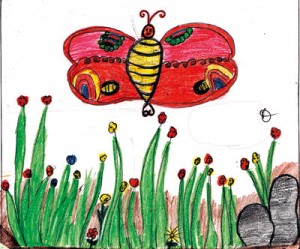 I am a butterfly.
I am a pretty and harmless insect. I do not work like bees. I am not clever like ants.
But my beauty gives you pleasure.
My chief beauty is my wings. I am in multi-colours (red, green, blue, yellow, white, black), arranged in pretty patterns. I lay eggs on the leaf of a plant. After some weeks these eggs hatch out into little worms with legs, called caterpillars. Then each caterpillar makes a covering for itself called a cocoon.
When the warm weather comes back, it comes out. The caterpillar bursts its cocoon and comes out as a lovely butterfly. So everyone loves me.
Z. R. F. Zulfa (Grade 4)
Royal Int. School, Kegalle
---
How I spent Teachers and Children's Day
On October 6, 2017, we celebrated Teachers and Children's Day. Early in the morning we went to wish our loving principal and teachers. After that in the third period, our class teacher came to our class and we wished our class teacher.
"A Happy Teachers Day" and gave her a present. Then she wished us "Happy Children's Day" and gave us presents too. The present was really beautiful. After that my five friends and I went to play. Then we went to class to cut cakes and had a party in our classroom. It was really amazing.
Then we gathered around the stage to watch the next part of the day that means the celebrations for the whole school.There were dances, singing, speeches and some other enjoyable events to watch. It was really fantastic and our chief guest was Principal Sir of that assembly. It was really enjoyable and all the children spent that day happily. I love to celebrate Teachers and Children's Day.
Adeesha (Grade 7)
Jennings Int. School, Nainamadama
---
 My pet
My pet is a dog. Its name is Merfy.
It likes to eat rice and curry. Its colour is yellow. It can bark loudly, run fast and jump. Its fur is very soft. It lives in a cage.
It is a good dog. It loves to play with us.
I love my pet dog very much.
Methindu Sasrutha (Grade 3)
Rahula College, Matara
---
Taj Mahal
The Taj Mahal is located in Agra, India. It is very beautiful. It is one of the wonders of the world. It was built by Shah Jahan, a Moghul Emperor, in memory of his dear wife Mumtaz Mahal. This is why the Taj Mahal is seen as an eternal symbol of love.
The Taj Mahal was built many years ago. About 20,000 men took 21 years to build it. It is made of white marble. People from other countries come to see it. There are beautiful gardens in front of the Taj Mahal. The gate to enter the monument is made of red sandstone. On full moon nights it looks splendid.
Vritti Delar (9 years)
Gateway College, Kandy
---
My class teacher
My class teacher's name is Pathma Piyaseeli. She is 38 years old. She lives in Thumbagoda. She is very kind. She is short and she has long hair. She has two sons.
Her favourite food is rice and curry. Her favourite drink is tea. Her favourite hobby is reading storybooks. She helps with our studies. I love my class teacher very much.
Prabhashi Gethmi (Grade

St. Agnes B. M. V., Balangoda