Royal cagers down Thomians in 14th encounter
View(s):

Royal College, who were at their peak, managed to beat their traditional rivals in a nail-biting match at the 14th Royal-Thomian Basketball encounter by 44-42 at Hendry Pedris Courts in Colombo. Royalists also won two valuable awards — the Best Defensive Player and Most Valuable Player — as Tharindu Balasuriya and Rukshan Atapattu respectively claimed the silverwares with their prolific performances.

Royal also became the champions of the National Schools Basketball Tournament beating Lyceum International School Wattala by 73-68 played at the Royal College Basketball Courts earlier on. The award for the Best Player was carried away by Rukshan Atapattu.

At the final Tournament of the season Royal College beat St. Joseph's College by 48-33 to emerge as winners of the 'Papare Basketball Championship 2017 All-Island 'A' Division Tournament' after an exciting Boys' final, which took place at the Hendry Pedris Courts in Colombo. In this tournament too Royal's Rukshan Atapattu and Tharindu Balasuriya won the Most Valuable Player and the Best Offensive Player awards respectively.

The victorious Royal team was led by Tharindu Balasuriya while Rukshan Atapattu was his deputy. Amila Ambewatta, Vibuda Jayathilaka, Hasitha Saminda, Ravindu Jayawardhana, Lakmal Mabulage, Shenal Ambewatta, Nelaka Upasena, Gimhan Ranasinghe, Binula Karunaratne, Pawan Ramanayake, Heshan Hansaka, Leon Fambeck and Venuja Gamlath were the other members of the team.

The Royal cager team was highly motivated by the encouragement of the Principal B.A. Abeyrathne and the Senior Games Master, Riyaz and the support of the sponsors Senaka Samarasinghe of Harischandra Mills and Fareez of Achievers.

The Royal Team was ably guided and supported by the Head Coach, Prasanna Jayasinghe, Assistant Coaches Gavi Cooray and Chathura Rodrigo, Masters-in-charge Lal Indrakumara, Salinda Samarakoon, the Chairman of Advisory Committee, Roshan Samidon, the Secretary of Advisory Committee and Teacher-in-charge Roshika Wickramasinghe.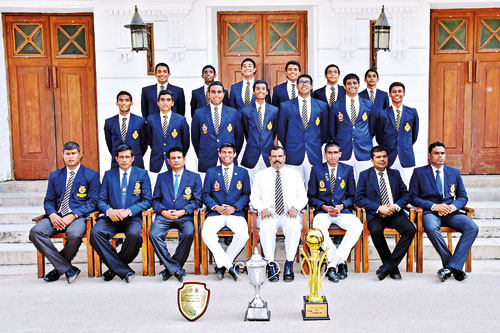 The Victorious Royal College team
Seated from left: Chatura Rodrigo (Assistant Coach), Prasanna Jayasinghe (Head Coach), Lal Indrakumara (Senior Master-in-charge), Tharindu Balasuriya (Captain), B.A. Abeyrathne (Principal), Rukshan Atapattu (Vice Captain), M.C. Riyaz (Senior Games Master), Gavi Cooray (Assistant Coach)
2nd row from left: Vibuda Jayathilake, Heshan Hansaka, Lakmal Mabulage, Hasitha Saminda, Nelaka Upasena, Gimhan Ranasinghe, Ravindu Jayawardhana
3rd row from left: Amila Ambewatte, Venuja Gamlath, Binula Karunaratne, Shenal Ambewatte, Leon Fambeck, Pawan Ramanayake