Shared love for art
By Tarini Pilapitiya
View(s):
From November 24 – 26, 15 artists ranging from 15 to 71 years will present their first joint exhibition -"Piyawara" at the Lionel Wendt Art Centre.
Meeting at an adult art class, the group under the guidance of their teacher Ruwan Prasanga, is exhibiting a range of work drawing on diverse themes and techniques from impressionism, architecture, wildlife, abstract and modern art, fauvism, figuratives and portraits to name a few.
"Even from my schooldays I loved everything creative!" says senior member of the group, Janaki Perera. She has been with Ruwan's class for just six months but had previously studied under Nadine David.
Presenting a series of impressionist paintings, the majority focusing on lotuses, influenced by Claude Monet's Water lilies series, Janaki recounts her 2001 Parisian adventure of seeing one of Monet's masterpieces as having a "big impact" on her. Formerly a director at Aitken Spence, Janaki is 71, and "proud to be doing all these things!"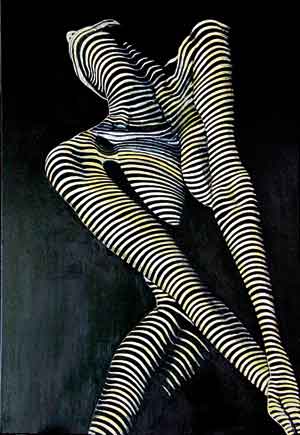 For the youngest of the group Khaalisha Ilham, 15, a student at Bishop's College, Piyawara will be her first exhibition. Her first painting on a canvas "A lighthouse by far" sees her experimenting with the palate knife. The detail of this technique is clearly seen in her painting of an approaching elephant.
Joining the class was a happy accident for Anuradha Wijegunawardena (32) who showed up to enrol her cousin. We are struck by her technique and eye for detail as we watch her work on a line drawing.  She shares that her main inspiration lies in the paintings found in the Mulkirigala Rock Temple.
Wildlife enthusiast Upul Samarasinghe (51) pursued art to "take my mind away from stress." One of his paintings – a lone elephant ambling peacefully titled "Thaniyama" holds sentimental value for him. "I've come a long way alone," he shares.
Alan Lappan (57) joined the class around one and a half years back as a "hobby". Alan who loves to travel and has a passion for photography recalls his expeditions. With the help of a palate knife he captures the essence of Sri Lanka – from gravelly sand to refreshing waterfalls. Chamika Jayawardena says that this exhibition is "another experience in life." Specializing in landscapes – what initially started as a "relaxing hobby" has turned into something that continues to motivate her.
"The advantage of different age groups is that you can learn from everyone," says 19-year-old Chantal Dassanayake who has a penchant for wildlife portraits and landscapes.
Yasora Wickremasinghe, an "animal lover" has used different wildlife like the wolf as a symbol of darkness in a myriad depictions. "I'm currently experimenting and incorporating Sri Lankan culture into mythical art," he tells us.
"This is a platform to rejoin the art scene," states Gayan Weeriyawansha who exploring a variety of mixed media, enjoys drawing figurative paintings and exhibiting "abstract versions of a woman's figure".
Designer Dhanushka Kodituwakku, 34 was always intrigued by visual media (comics, cartoons etc) and decided to pursue his passion by joining the class. He was given the space to "draw freely"  and now Dhanushka's art reveals his dexterity with line drawing and his influence as a 3D artist.
For Janaki's daughter and partner in paint – Kushlani Perera, painting "is very cathartic". Partial to vibrant colour, Kushlani says, "These colours uplift my mood" as her pieces favour the style of Fauvism. Fauvism allows her to put her feelings on to a canvas and much like Janaki, Kushlani too has recorded her travels in her paintings. Her main inspirations are the works of Henri Matisse, Andre Derain and Vincent Van Gogh.
In her collection Udara Sandaruwan captures portraits with a sense of abstract realism and enjoys painting "wild life, ancient ruins, places and traditional art".
 "Piyawara" will be on from November 25 – 26 at the Lionel Wendt Art Centre from  9 a.m. to 8 p.m.