To the beat of their drums
By Tarini Pilapitiya
Naadro's 10th anniversary will culminate with 'Bera Fest' - a feast for music lovers and percussionists
View(s):
The heart and soul of a band is its drummer – usually hidden behind their kits glimpsing the audience behind wildly flailing drumsticks and a rhythmic steady beat.
Breaking stereotypes since 2007 Sri Lankan drum ensemble Naadro brings forth their talent to centre stage at Viharamaha Devi Park on November 26 for their 10 year anniversary drum festival "Bera Fest 2017."
Brainchild of Rakitha Wikramaratne, Naadro is an indigenous percussion ensemble known for their prowess in excelling at a wide range of drumming. The talented members of Naadro specialize in fusing Sri Lankan drum styles with rhythms of Latin, African, Indian, Japanese, American and many other forms into their signature style of drumming.
What originally formed as a collaboration between Royalists and students of Piyasara Shilpadhipathi and Ravibandu Vidyapathi in 2007 still comprises of founding members Rakitha Wikramaratne, Gayan Manokumara, Ranga Nuwantha, Nupathi Nilambara, Chathuranga Chithrajith, and Nuwan Darshana. Expanding over the years Naadro has also initiated their latest recruits Hashan Weerasinghe, Maneth De Zilwa, Dilip Thejana Kanakarathna,Suranjana Fernandopulle, Rusiru Rathnayake, Chinthaka Hettiiarachchi and Sahan Dahanayak.
As a representative of an amalgamation of their 10 year musical journey, Naadro conceptualized 'Bera Fest'. A novel concept in the industry, Naadro will be bringing together a holistic musical education and experience for their one day event.
While Naadro will showcase their talents on the main stage, the event will be geared as a representative platform for percussionists featuring performances from both foreign and local music legends.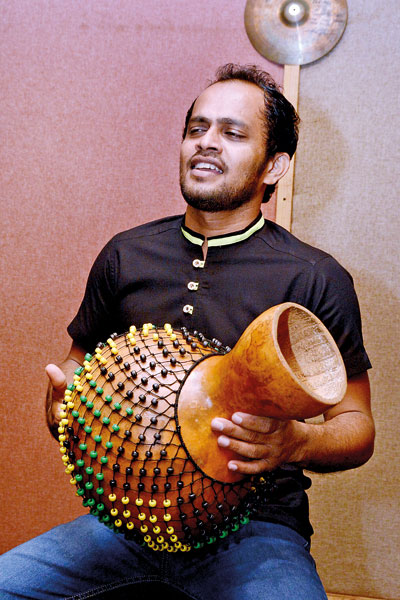 What truly makes a Naadro-esque style of drumming is not limited to their capabilities with traditional and non traditional drums but this bands potential to try their hands at more unorthodox instruments like kitchen utensils, vehicle spare parts even going as far to incorporate the sounds from implements used by masons into their music.
Distinctively branding themselves in the world of music Naadro has been stretching the limits of their creativity for years.
This year Bera Fest 2017 will feature a robust event line up. The main concert will present a wide range of instruments – with percussion melodies to be integrated with the ochestra of Mahesh Denipitiya. Percussionists and drummers who will also be playing alongside Naadro in the main concert are Giovanni Hidalgo (USA), Pete Lockett (UK), Ravibandhu Vidyapathi, Elephant Foot, Aruna Siriwardhane and Jananath Warakagoda.
Not excluding other musicians Naadro will also be accompanied by artistes such as Chitral Somapala, Kasun Kalhara, Bathiya and Santhush, Daddy and Lahiru Perera.
Another segment in the lineup "Drummers on Stage" will feature independent drummers and those from a variety of bands who will showcase their prowess in their artistry. Joining the programme is Dennis "The Menace" Alwis (Misty), Shamila Siriwardana (Daddy), Jimmith Sirnanda (Magic Box), Billy Fernando (2FoRTy2), Sumudhi Suraweera (Music Matters), Kaushan Wijesuriya (Wayo), Harshan Gallage (Thriloka), Lelum Rathnayake, Aruna Siriwardhane and Subash Punyasoma (Marians). Invitations to the percussion bands of the three forces, as well as Government and Private University percussion bands, school bands have also been included in the line-up as well as street performers. "The Bera Fest will be very informative to every one who has a liking towards music," Rakitha shares adding that over 300 drummers will be performing during the course of the day. Just coming back after receiving the opportunity to play with American percussionist Jordan Rudess of the progressive metal band Dream Theatre in October, Rakitha reveals "in the years to come Naadro has plans to go international taking our culture along with it – blending the east with the west"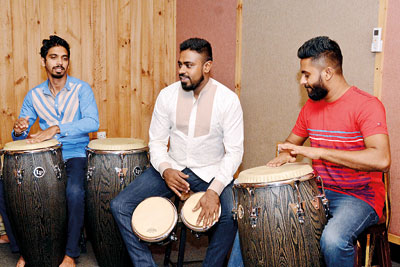 The Bera Fest will take place on November 26 from 9 am to 9 pm at the Viharamaha Devi Park. Admission is free. Tickets for the main show will be priced at Rs. 1000 and 5000 (VIP tickets) will be available at Yamaha music center, Sarasavi bookshop Nugegoda,Sadeepa Bookshop Borella and my tickets.lk. For more information check out www.theberafest.com