South Asian cultural diversity through cinema
SAARC Film Festival 2017
View(s):
With the aim of preserving and promoting cultural diversity and identity through cinema in the region, the 7th SAARC Film Festival 2017 will be held from November 21 to 25 at the National Film Corporation Cinema Hall, Colombo 7.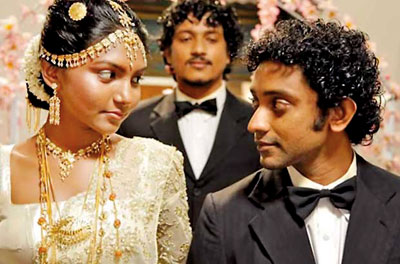 Since its inception in 2011, the SAARC Film Festival has been held in Sri Lanka, and with every year, it has gained a reputation for promoting and featuring some of the best films from the SAARC Region.
This year's festival comprises of feature, short and documentary films from all the South Asian countries.
Afghanistan will show case its feature film 'The Bird was not a bird' directed by Ahmad Zia Arash and short film 'Water' by Sayed Jalal Rohani
Bangladesh will present its feature film 'Premi O Premi' directed by Zakir Hossain Raju, 'Oggatonama' directed by Tauquir Ahmed, documentary film 'Bibek', Janani', Bishomber Babur Dai and Sarangshe Tumi.
Representing the Master Category, feature film 'Anil Bagchir Ekdin' directed by Morshedul Islam will be screened from Bangladesh.
Feature films 'Serga Mathang' directed by Kezang P. Jigmee and 'Hum Chewai Zamling' directed by Wangchuk Talop will represent Bhutan.
India's feature films 'Onaatah' directed by Pradip Kurbah , 'Pinky Beauty Parlour' directed by Akshay Singh, 'Veeram Macbeth' directed by Jayaraj and two Malayalam films 'Ketaki Narayan Kulkarni' made by Sudesh Balan and 'Ormayude Athirvarambukal' directed by Sudesh Balan and short film 'Taandav' directed by Devashish Makhija will be screened during the festival.
Representing the Maldives, feature Film 'Vishka' directed by Ravee Farooq will be screened while the feature film 'The Black Hen' directed by Min Bahadur Bham and documentary 'Oh My Man' directed by Gopal Chandra Lamichane will be screened from Nepal.
On behalf of Pakistan, feature films 'Bin Roye' directed by Shahzad Kashmiri and 'Mah e Mir'directed by Anjum Shahzad and Sarmad Sehbai will be screened at the SAARC Film Festival.
Representing Sri Lanka, Asoka Handagama's film 'Age Asa Aga' Aso starring Swarna Mallawarachchi, Dritimen Chaterji, Sandali Ash and Rithika Kodithuvakku and Visakesa Chandrasekaram's 'Sayapethi Kusuma' (Frangipani) written and directed by Visakesa Chandrasekaram will be screened.
Additionally two documentary films 'Song of Innocent' and 'Naked Among Public' will also be screened.
"We now want to take it to the world, through the portal of South Asia and build it into a truly magnificent and international festival experience. The message of tolerance and the power of the film is easily experienced through the screen with every member state given the opportunity to screen and showcase some of their best creations and form a vibrant collage and tapestry of meaningful films from the Region," the SCC said in a statement.
Selected by an International Panel of Judges, the festival will present awards for the Best Feature Film, Silver Medal for the First Runner up – Feature Film, Bronze Medal for the Second Runner up – Feature Film, the Best Short Film, the Best Director, the Best Actor, the Best Actress, the Best Cinematographer, the Best Editor, the Best Screenplay, the Best Original Score and the Best Film – Open Category.