'Koombiyo' climbs top in IMDb
By Susitha R. Fernando
View(s):
A popular teleserial with a novel storyline 'Koombiyo'- (Ants) directed by debutant Lakmal Dharmarathna has topped the Crime TV Series of the Internet Movie Database well-known as IMDb with User Ratings 9.9 out of 10.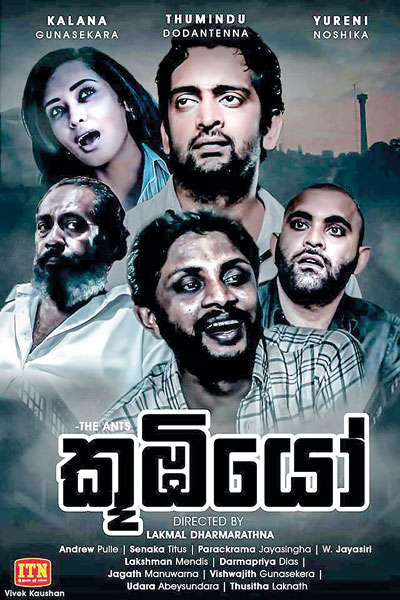 This is the first time a Sri Lankan tele drama has reached the first place of an international rating and 'Koombiyo' has been watched by Sri Lakan viewers both here and abroad. 'Koombiyo' is followed by the TV series "Breaking Bad" which is in the second position. However 'Breaking Bad' received 9.5 out of 1,034,933 while 'Koombiyo' received 9.9 out of 9,503 viewers.
The rating was given by all age groups, male and female viewers who rated the teleplay 9.9/10.
Revolving around a young graduate, Jehan Fernando (played by Thumindu Dodentenna' and his partner in crime Priyantha (Kalana Gunasekara ) who try to exploit the loopholes in the law in order to make a living, the teledrama has received a large number of positive user reviews in the IMDb site itself.
Some of the reviews stated are;
"Started watching this a few weeks ago and we were instantly hooked! We live abroad and impatiently wait for the next episode in YouTube every week! This is one of the different types of stories that I have seen,", "The show has been crafted very carefully with attention to story, character building and cinematography.", "Checked out the series after some major hype on social media. The hype was worth it…" and "once you watch the very first episode, then you will watch them all without a breath".
Produced by Asanka Dodantenne, 'Koombiyo' is edited by Damitha Chandrasiri, art directors are Prasad Manjula and Suranga Gunathilake, makeup by Priyantha S Wanninayake and production manager is Sanka Bandara.
The talented and experienced cast include Thumindu Dodantenna, Kalana Gunasekara, Yureni Noshika, Andrew Pulle, Senaka Titus, Parackrama Jayasingha, W. Jayasiri, Lakshman Mendis, Darmapriya Dias, Jagath Manuwarna Kodithuwakku, Vishwajith Gunasekera and Udara Abeysundara.