ESHKOL encourages vertical farming in Sri Lankan homes
View(s):
A small Sri Lankan social enterprise is offering a long term solution to anyone who wishes to own a garden but hasn't been able to simply due to space constraints.
The ESHKOL Initiative offers to help you grow a full-fledged garden – and organic at that – with or without ground or soil.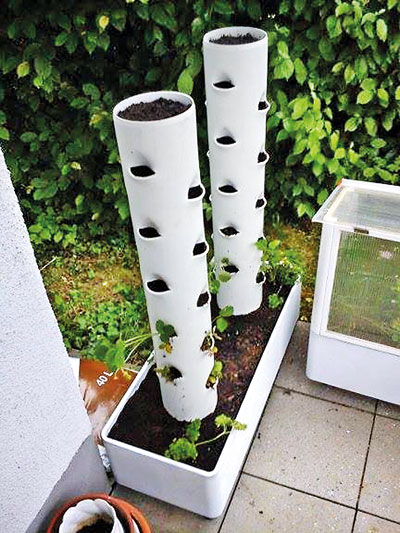 ESHKOL is an idea generated in 2013 but officially commenced its operations in 2016 by Bhagya Wijayawardane to empower and sustain Sri Lanka's low income communities through rooftop farming.
"We aim to provide inspired urban green solutions that elevate the quality of life through social and environmental change. We do so by crafting sustainable spaces that adapt to diverse communities' needs. Our state-of-the-art products include rooftop farms, raised vegetable garden beds, eco-friendly growing bags, roof gardens and vertical wall gardens, as well as a multitude of eco products and solutions," Ms. Wijayawardana said in a media statement.
Her enterprise was launched to support the efforts taken by the society and government to combat food insecurity issues at grassroots level and build a future generation by investing in them in developing human values, life skills, non- violent communication skills, etc through a compassionate classroom school model.
Many people who live in apartments and small houses don't enjoy gardening because of space constraints and their concerns about the use of soil, fertilisers and pesticides, apart from water consumption. But with vertical gardens, anyone can grow anything they like on living walls to roof tops.
The technique we use is ecologically safe, preserves water and energy and ensures higher yields with a 30-40 per cent faster growth rate, she said.
"These days, we are experimenting with another improvisation to our existing hydroponics system, called aqua-aeroponics, a fish tank that is used at the base which creates a complete sustainable eco-system. While vertical gardens have been around on a commercial scale for a while, this is believed to be the first time it is coming into urban homes in Sri Lanka with a focus on community farm where individual residents from the area grow vegetables, salads and fruits. We dream of transforming homes in urban Colombo where the project has been introduced. We teach families how to sow, maintain and harvest from their gardens to suit every season by partnering with area social service organisations to identify families who are both food insecure and want to grow their own food as there are food insecure households, as the non-perishable foods that fill the shelves do not provide the nutrients of fresh produce," the statement added.
In order to improve food access to communities, ESHKOL encourages home and community gardeners to donate excess harvest of fruits and vegetables, so that it can also reach out to low-income families. This is also carried out as a part of the initiative. The organisation operates as a community centre to teach organic vegetable gardening, seed starting, composting in a way that promotes self-sufficiency, pride, and good stewardship of the earth.
ESHKOL also provides seeds and seedlings to low-income families, sell plants, seedlings, raised-bed garden kits, and other gardening supplies, hold indoor workshops targeting community, school children on gardening, harvesting, preparing and preserving vegetables to bring communities together, uplift rural livelihoods in the Uva province by buying the supplies, encourage local produce and help the society to overcome food insecurity and malnutrition, while access disease-free, healthy balanced life style and nutritious food.
"We also help them with small scale livelihood programmes such as upcycle old clothing material into phone covers, purses, bags as well as reusable clothing pads as a way to support women groups in impoverished areas from the Uva province," she added.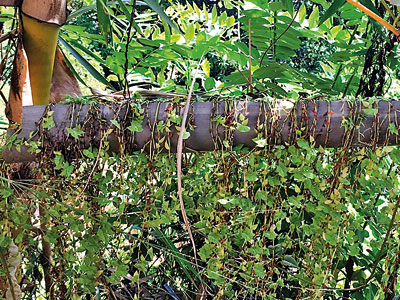 It also helps community building and learn the art of respect, diversity and cooperation through NVC training sessions in social circles. Since, the community centre holds programmes on cooking healthy food, meditation, composting, preparing healthy kids meals it also encourages people to connect very closely with the nature, work as a community, and in knowledge sharing.
Given the country's landscape, ESHKOL sees a huge potential for vertical farming because lack of fertile land, rising fuel prices and imports of food are factors that go against traditional forms of cultivation here, and the need for vertical farms is very timely.