Travel Trade Beach Rugby on Nov 19
View(s):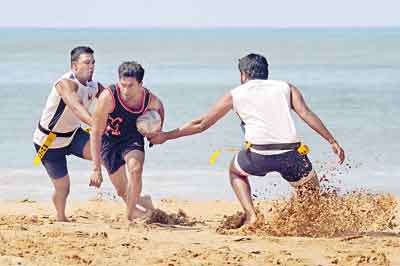 The fourth Travel Trade Sports Club five-a-side, Beach Tag Rugby Championships 2017, sponsored by Walkers Tours and hosted by Mt. Lavinia Hotel will be held on Sunday, November 19 at the Mt. Lavinia Hotel Paradise Beach, commencing 9.00 am.
Entries have been called from the 160 strong TTSC Membership, closing on November 15 at 3.30 pmwith Gayani Karunaratne, C/o Aitken Spence Travels PLC, Tower II, 4th Floor, Vauxhall Street, Colombo 2.
In the previous tournament held last year at the same venue, Classic Travels won the 'Cup' championship, Sri Lankan Airlines won the 'Plate' and Cinnamon Grand won the 'Bowl'. The tournament will be under the Jurisdiction of A Goal Rugby Academy.
This will be the seventh event in the TTSC multi sports events calendar 2017, having earlier completed the Bowling, Archery, Pool, Futsal Soccer, Badminton and Softball Cricket Sixes.