Gamage, Faham overall 3rd in Asia
By Naushad Amit
Asia Auto Gymkhana Championship 2017
View(s):
Two motorsports enthusiasts, Yasith Gamage and Ishad Faham, have set their sights on finishing off the Asia Auto Gymkhana Championship (AAGC) 2017 in style, after becoming the 3rd best pair in the last outing held in Taiwan. Gamage and Faham claimed overall 3rd position after testing their skills in 2 previous Legs held in Indonesia and South Korea, where they were placed between 8th and 9th overall, from 16 Asian nations.
Coming 3rd in Taiwan was not a fluke at the AAGC 2017 Series, where driving skills become secondary. Gymkhana driving requires steering discipline, maneuvering skills and more importantly, memorising ability.
"If you compare with Motorcross or races held on courses, Gymkhana is a totally different ballgame. It is not at all about driving fast, but certainly requires more than what is expected from an ordinary race driver. I was a total stranger to it some months ago, but now I am better than before, so is my partner Ishad," said Gamage, freshly after the win in Taiwan.
Gamage's first outing at a Gymkhana event happened to be with Devin Serasinghe, son of veteran race driver Upulwan Serasinghe. Both Gamage and Jr. Serasinghe, being National 1000cc Championship winners, the Ceylon Motor Sports Club (CMSC), never had no second thoughts in nominating the duo for the AAGC 2017 Series. They represented Sri Lanka at the Series opener held in Indonesia and won the hearts of fellow competitors, as well as the officials and organisers, as well mannered and skilled drivers.
But with Jr. Serasinghe's academic commitments, Gamage was paired off with Faham, who is based in Australia. Gamage, together with Faham, managed to continue what he flagged off in Indonesia with Jr. Serasinghe. With setbacks, mainly faced by Gamage, he and Faham managed to fight together to claim overall 9th in Korea.
"What we carry with us for Gymkhana competitions are our race kits and gears. Ishad had done his warm up in Australia and arrived in Korea on time, but I landed minutes before the start of the competition, due to logistic issues. Adding more trouble, my luggage with the sporting gears, had been misplaced during transfer. Anyhow, competitors from other countries were really helpful, they offered me their kits, gloves and helmets so I could start on time. And they were happy to see us performing despite all these setbacks. The organisers were really impressed with our final outcome," stated Gamage.
After the Korean experience, Gamage and Faham had ample time to gear up for the Taiwan Leg, which was held in the last weekend in October. With the mixture of the previous experience, the duo reached Taiwan well in advance, with the sole intention of performing well.
"As told before, we are given 5 layout plans of how we should drive. The whole course is placed with plastic cones, and it's up to us drivers to memorise our map and drive accordingly with the best timing. As the 5 layout plans are divided between me and Ishad, eventually, the officials add up our timings and make out an average score based on facts from all 5 runs. Even both of us were impressed to find our names among the top 4 on the final day," Gamage and Faham recalled.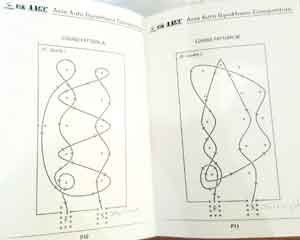 When Sri Lanka entered the AAGC Series, after 18 long years, they were placed below par and had no rankings. But, after gradually mastering the required skills for Gymkhanas, such as cones, tires, barrels, reversals, 180 degree to 360 degree spins, parking boxes, figure 8s, drifting and other advanced skills, Gamage and Faham managed to elevate Sri Lanka to overall 3rd in Asia. The pairing of Gamage and Faham was so impressive that they managed to outsmart some of the experienced Gymkhana experts from Japan and Indonesia.
"Together with Yasith, we were able to achieve the aggregate and win the overall Third Place trophy for Sri Lanka. It was a great achievement for us, particularly because it being only the second outing as a team. We have one more Leg of the AAGC Series before the end of 2017 in Thailand, and surely, we are eager and committed to better our record there," Faham elatedly said.
The future of the duo at Gymkhana racing is not cemented, as the CMSC will have to decide the AAGC Series representatives for Sri Lanka next season. But Gamage and Faham have certainly cemented their places at Gymkhana racing. Gamage also aims to recommence his domestic racing career in the SLGT Super Cars class. Faham, an undergraduate at Monash University in Australia, continues to engage in racing activities down under. But, both are adamant to earn a reputation and bring honour to Sri Lanka at their AAGC 2017 Series season closure. By next year, Gamage hopes to conduct a few Gymkhana events in Sri Lanka, for which he has already initiated the groundwork by canvassing for potential organisers and sponsors.
"We must thank our sponsors, Australia College of Business & Technology (ACBT), where I'm employed at, and Fazaal Ceramics, Ishad's family business. The racing cars at Gymkhana events are provided by the organisers, as it's an event rule. Our other expenses are met by our sponsors. Eventually, whatever we attempt is to bring glory to our country, which will be our objective, as long as we are engaged in motor racing," Gamage concluded.