For a taste of seafood specials in Galle
By Kaveesha Fernando
View(s):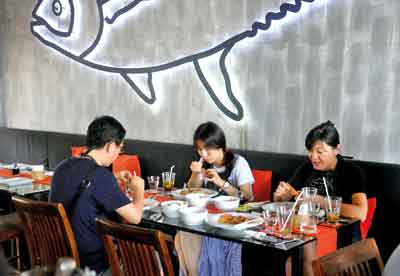 Nestled in a corner of the Old Dutch Hospital at Galle Fort is the Tuna and the Crab, an amalgamation of Dharshan Munidasa's Nihonbashi and Ministry of Crab restaurants which offers a selection of dishes available at the Colombo restaurants, alongside new exclusive signature dishes.
With two large metal outlines of a Tuna and a Crab decorating the walls on opposing sides the highlight of the modern decor, large windows on the other two sides, afford a view of the bustling street outside. The open kitchen is sure to dispel most scruples one might have on the preparation of their food and might even instil a sense of wonder at the various culinary techniques being employed.
One of the signature dishes offered proves just this – the 'Olive oil soy sauce sashimi' (Rs. 1300) sees fine cuts of white fish topped first with burnt garlic mixed with olive oil and then in soy sauce right at the table – a subtle blend of flavours. Another signature dish, the 'Pepper crab' (Rs. 600 per 100g) sees fresh crab cooked in a spicy pepper sauce. A dish not recommended for those who don't want to get their hands dirty, anyone who dares to undertake this gloriously messy experience will be rewarded with a spicy and succulent gastronomical treat.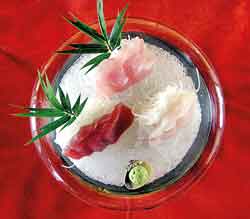 The 'grilled catch of the day fish fillet' (Rs. 1500) is made (as the name suggests) from the catch of the day, filleted, grilled in garlic olive oil and plated with burnt soy sauce. The sole (that day's catch) was grilled perfectly with a caramelised outer coating, the other ingredients creating a great combination of flavours. The 'Fresh water prawns' (Rs. 2400) are served with garlic chilli or pepper and are much larger than your 'isso' curry variety. Served with garlic, chilli and olive oil in this instance, these juicy prawns proved delicious.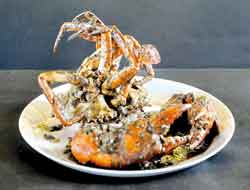 The restaurant 's focus on seafood alone would most likely deter vegetarians, but there are good vegetarian options available. The 'Tofu Steak' (Rs. 780), sees well seasoned tofu topped with a selection of sauteed vegetables, making it as appealing as the other dishes.
One of the signature beverages at Dharshan Munidasa's restaurants is the 'Iced tea soda' which was more viscous than average iced tea, yet not overpoweringly sweet. The 'Coffee jelly in condensed milk' is one of the signature desserts offered by the restaurant. With bitter coffee jelly (made in house) coated in sticky sweet condensed milk, the mix between the two elements of this dessert creates the interesting sensation of eating coffee for dessert.
The Tuna and the Crab is open daily from 12 p.m. to 10.30 p.m. at the Old Dutch Hospital, Galle Fort, Sri Lanka. For reservations, please call 091-309-7497 or visit their website www.thetunaandthecrab.com.