Petrol crisis: Urgent need for independent regulator
Public Utility Commission says Sri Lanka needs to ensure energy security
By Sandun Jayawardena and Damith Wickramasekera
View(s):
The week-long fuel crisis which triggered a war of words between Lanka Indian Oil Company (LIOC) and the Minister of Petroleum Industries has highlighted the urgent need for an independent regulator. LIOC, which claimed it was unfairly criticised for the petrol shortage, is among those calling for market regulation. The Public Utilities Commission of Sri Lanka has also long pushed for reform.
"We need to ensure energy security," PUCSL Director General Damitha Kumarasinghe said. "There are two players now. We don't know if there is pricing efficiency or whether the inefficiencies of the CPC (Ceylon Petroleum Corporation) and LIOC are going into the price. We have to ensure that procurement of petroleum resources is done on the right basis, from the right source."
"An independent, third party has to be there," he said. "The consumer is also helpless where petroleum is concerned. There is no consistency in fuel or service standards. Natural gas is also coming in. There are safety issues to be considered. When we develop as a country, we must have these structures in place."
The downstream petroleum industry is still governed by the Petroleum Products (Special Provisions) Act and the Ceylon Petroleum Corporation Act. The Petroleum Industries Minister has overall regulatory powers.
Draft amendments to these two laws to enable the PUCSL to fully regulate the petroleum industry are held up at the Ministry.
There must be better coordination between relevant bodies to prevent future crises, LIOC Managing Director Shyam Bohra said . Things can get complicated because the CPC and LIOC are competitors, and the CPC is under the Minister who is the regulator. An impartial regulator was the best way forward.
The LIOC in a statement blamed the petrol fiasco on the CPC which it said caters to 84 percent of the Sri Lankan market. Why, asked Mr Bohra, is the small player being targeted? The onus was on the majority party to ensure there was no shortage. The crisis was precipitated by panic buying.
LIOC has now cancelled its term contract with the French oil company M/s Total which on October 16 brought in 35,000 metric tonnes of petrol that did not meet CPC/CPSTL (Ceylon Petroleum Storage Terminals Ltd) standards. While the chemical specifications were fulfilled, laboratory tests showed the "presence of visible impurities" in the samples.
With Total not supplying a replacement cargo on time, LIOC has consulted lawyers on possible legal action. This is expected to be a drawn-out process. It is being done under the terms and conditions of the agreement Total has with LIOC.
Mr Bohra said there was no argument that the TOTAL stock did not meet certain criteria. The rejection, therefore, was justified. But assigning blame on LIOC for the subsequent shortage was not. Neither did the company attempt to "pressurise" Petroleum Industries Minister Arjuna Ranatunga to accept the consignment. LIOC merely acted as message-carrier between Total–which offered to filter the petrol–and the Ministry, which did not want that consignment.
LIOC and CPC keep their stocks together in a 'common user facility' (CUF) which is essentially a set of tanks in Kolonnawa managed by CPSTL. The sharing of oil between CPC and LIOC happens via book transfers. Physically, the stocks are pooled together.
LIOC's slice of the market is so small that each shipment of 30-35,000MTs lasts around 50 days. It has a buffer stock of 3,500MT of petrol at the CUF. Even with the rejection of the Total cargo, therefore, there was enough for the company to service its sheds until a ship arrived on November 10.
When the Total tanker docked on October 16, a sample of petroleum was taken and rejected. Meanwhile, the CPC was also informed that its own consignment–the next installment in a term contract–would come a few days later than it was scheduled to arrive.
"By around October 24 or 25, those in the system including at LIOC and CPC knew we will have a situation where one consignment had been rejected and other looked like it would be delayed," said an authoritative official source who asked not to be named.
While LIOC had asked Total to replace the questionable stocks in keeping with the contract, the supplier had said it would take 20-21 days. "Because of the time factor, the supplier suggested filtration," the source said. "The initial offer was to do it on land but this was complicated because we would have had to accept the consignment.
The supplier then said it will bring another vessel for ship-to-ship filtration."
This technique sees petrol being cleaned while transferring from one ship to another. It is called STS or ship-to-ship transfer. All this was to be done at Total's cost.
On October 25, this option was discussed at length by the Technical Specification Committee (TSC). It agreed to allow an STS and for a sample to be tested again after filtration to determine whether it was suitable for distribution. The TSC also said it might consider accepting the consignment if it came from a new ship with a new bill of lading. "It did not want to test a sample from the same ship," the source said.
But during the weekly stock review meeting on October 31, Minister Arjuna Ranatunga, who returned from overseas travel, issued instructions that the Government had no wish to accept a shipment that had been rejected. This was despite being told that there would be a shortage by November 5 or 6–something CPC and LIOC had both realised by then.
It was on Friday, October 3, that messages started circulating via whatsapp and other platforms warning of a scarcity. One of them read: "LIOC has rejected their latest 40k MT petrol shipment, after the laboratory results of CPC revealed that is [sic] substandards [sic]. Around that time, Sapugaskanda refinery underwent an unexpected plant shutdown due to a power failure. Hence still Sapugaskanda too cannot meet the standard Octane requirement. Considering the day-to-day demand we all can survive until next Tuesday. If Sapugaskanda refinery fails to recover and meet the Octane requirement before next Tuesday obviously there will be a petrol shortage in the country. So better to top up your petrol tanks."
This was compounded by Minister Ranatunga issuing a media communiqué requesting the public not to panic but to use petrol sparingly. He also blamed the LIOC for the shortage saying the situation arose "due to the rejection of substandard shipment of oil" imported by that company.
Diplomatic channels were also used to convey to various levels of the Government of an impending shortage. This might have been misconstrued as "pressure", political sources said. Minister Ranatunga angrily told media he would not succumb to undue influence.
The short messages combined with poor communication by the Government triggered a frenzy. Queues piled up at petrol stations. "While a crisis would have happened by November 5-6, it now erupted on November 3," an official said, requesting anonymity.
The CPC then cut down on issuing stocks to tankers and started rationing petrol. The situation became progressively worse during the weekend, forcing Cabinet to meet on Monday, November 6. Following that discussion, the Government formally requested India to help with emergency supply. This was duly dispatched from India's refinery in Paradeep in the East Coast. But this would also take two-three days' sailing time.
That refinery had only 21,000 kilolitres (not metric tons) of 92 octane petrol that met CPC specifications. All of it was sent to Colombo as a special consignment. LIOC usually does not purchase petrol from India and sell to Sri Lanka. It buys fuel on a global competitive tender. This is how Total had secured the last contract.
India also offered 14,000KL from its Kochi Refinery but said Sri Lanka would have to send a tanker to collect it as one was not available. This option was not taken. In the meantime, CPC's own ship 'Neveska Lady' docked in Colombo on November 8 with 40,000MT on board.
"Petrol almost ran out on November 8," the official said. "Rationing was going on and a little less was consumed. The CPC did not have sufficient buffer, if you discounted LIOC stocks. This situation, especially the communication aspect, was just not handled well."
Reacting to reports that LIOC had rationed fuel, too, Mr Bohra said they had held back some for emergency services. The company had to take another hit before the controversy fizzled out. It offered to send a shipment of diesel in the tanker from Paradeep as there was spare capacity. This was misinterpreted as an attempt to sell "substandard diesel" to Sri Lanka when the Indian standards were Euro 4 and higher than those here.
"This whole thing went off really badly," the official reflected. "And the Government has taken a serious hit, unnecessarily."
| | |
| --- | --- |
| Why it all happened | |
| When the Lanka IOC's shipment was rejected on October 17, there were 45,000 metric tonnes of petrol in the tanks at Muthurajawela and Kolonnawa, Ceylon Petroleum Corporation (CPC) sources disclosed.Officials were confident that they could manage the situation as a replacement vessel from LIOC was expected by October 31. The tanker 'Neveska Lady' with 40,000MT of petrol procured by CPC was due from the United Arab Emirates on November 2.By October 27, however, it became evident that LIOC's French supplier M/s Total was not sending a replacement while it was communicated that the CPC tanker would be delayed until November 8 or 9. The Sapugaskanda oil refinery was also shut down for three days on October 31 owing to a technical fault. It was a triple whammy.By November 2, there were just 20,000 metric tonnes of petrol in storage. The daily requirement was between 2,500 and 2,600MT. If Neveska Lady was delayed till November 9, stocks would run out one and a half days before the vessel reached Colombo.It was decided the same day to manage existing stocks carefully. All sheds were issued petrol sufficient for just one day. A limit was set: the maximum quantity of petrol released for daily consumption would be 3,000MT. Sheds with storage capacity of several days were also issued only daily stocks. The rationing took place in Colombo and outstation.Panic buying started on November 3 due to SMS and social media rumours. Consequently, daily requirement skyrocketed to around 5,000MT. But the CPC strictly adhered to a daily limit of 3,000MT. Stocks would have run out within three to four days had more been issued.The Petroleum Industry Ministry says 2,623 metric tonnes were issued on November 6 while the maximum limit of 3,000 metric tonnes was released on November 7 and 8. | |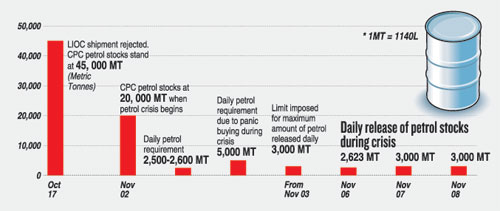 Union leaders blame LIOC and Govt
The LIOC vessel that arrived on October 16 contained 30,000MT of 92 and 10,000MT of 95 octane petrol. The stocks were rejected after two different tests found visible particles in samples, said Ceylon Petroleum Common Workers' Union (CPCWU) Convener D.J. Rajakaruna.The company was under obligation to immediately supply replacement cargo. It had first said another vessel would arrive by October 31. There is usually a 10-day window after a fuel shipment is rejected for a replacement to get here. And there were sufficient stocks in fuel storage to manage during this time, Mr Rajakaruna said.But trouble began on October 27, the trade unionist said, when LIOC officials said M/s Total would not be sending a replacement stock. "The LIOC waited till the last moment to say another ship wasn't coming," he claimed. "The company did this to force us to accept the rejected cargo."Meanwhile, the CPC's own vessel could not depart from the UAE on schedule owing to a delay of several days to load the ship. Mr Rajakaruna described the delay as "unusual."The crisis was exacerbated by the sudden shutdown of the Sapaugaskanda oil refinery on October 31. The CPC lost the ability to refine 700MT of petrol a day during this period.
LIOC officials were aware of these issues as they attend the weekly stock review meetings where inventory is taken and the schedules of incoming vessels for the next two months are examined. "LIOC knew the extent of the crisis, and it used the opportunity to its advantage," Mr Rajakaruna alleged.But he also stressed that the Government was chiefly to blame for the fuel fiasco. "People shouldn't have to stand in the street for petrol just because one ship doesn't turn up," he pointed out.The CPC had insufficient storage to hold a suitable buffer stock. "This is why we have demanded the return of tanks in the Trincomalee tank farm," Mr Rajakaruna said. Last year, a Cabinet paper was presented to acquire some of the tanks after it was found there was not enough storage to stock fuel from four vessels that had brought in emergency consignments for thermal power plants during the drought."Cabinet approved it, but the Prime Minister had it withdrawn by presenting a memo saying it would impede talks on running the tank farm as a joint venture with India," he said.The CPC controls more than 80 percent of the market but could not prevent long lines at fuel stations because it had no storage. If the LIOC, with 16 percent of the market, is allowed full sway over the tank farm, there would be nothing to prevent it from acquiring more sheds and tightening its grip.
"The Government was also letting the oil refinery to die a natural death instead of upgrading it from its current production capacity of 50,000 barrels per day," Mr Rajakaruna claimed.

If the Chinese were given a free hand to build a refinery in Hambantota and the Trincomalee oil tanks are handed over to India, the CPC will lose every chance to expand storage, said Bandula Saman Kumara, President of the CPC's Nidahas Sevaka Sangamaya.

"There's the likelihood of such crises happening again if this is allowed," Mr Kumara warned. (Under the memorandum of understanding signed between India and Sri Lanka to set up a joint venture for the Trincomalee oil tank farm, however, ten tanks would be for the exclusive use of the CPC).

Unqualified people were appointed to important departments to handle fuel procurement and storage, said Cyril Suduwella, an energy expert who worked for three decades at the Sapugaskanda Oil Refinery.

"When we have a fuel vacuum such as this, we need a qualified team of experts to manage the crisis," he explained." These positions are now filled by political cronies who have no knowledge or expertise in their fields. They often find themselves out of their depth when a crisis occurs."

"The crisis is a clear indication that the CPC's senior management had no proper knowledge of the oil market," he said. "They could have floated spot tenders and obtained petrol from suppliers in places like Singapore or nearby countries. But that can't be done without a proper knowledge of the subject."

To avert problems in future, the capacity of the Sapugaskanda refinery must be increased to between 100,000 to 150,000 barrels, he said.
| | |
| --- | --- |
| CPC chief alleges Mafia interference | |
| CEYPETCO has not floated a spot tender since his management took over, its Chairman Dhammika Ranatunga said. It tried to procure an emergency petrol consignment via a spot tender during the fuel crisis but a shipment was not available. The institution would not need to go for spot tenders in future and could manage with term contracts, he said.A term contract is "A written agreement which explicitly states a fixed duration that the contract will be in effect. The signing parties are obligated to adhere to the terms and conditions within the contract until the expiration, or end date, of the contract."Mr Ranatunga alleged there was a mafia behind the tender process. They had noticed it after taking over four months ago."One company had been selected for three separate tenders relating to fuel supplies," he revealed. While the tender process was complete and the bidder selected, Mr Ranatunga said the tenders hadn't yet been awarded when he assumed duties.The new management focused on reducing operational costs and found it could save between US$ 250,000 and US$300,000 on each shipment by introducing a new filtration process for fuel, he added.A report was presented to the Technical Evaluation Committee and the committee had recommended to CEYPETCO not to award all three tenders to one company as it bred corruption. It was also found that selecting one bidder for all meant CEYPETCO would not be able to save as much money from each ship through the new filtration process.This particular company, which the Chairman declined to name, was now involved in spreading rumors that CEYPETCO was planning to float spot tenders as a practice, Mr Ranatunga alleged: "It is because it had not been awarded multiple term tenders like it expected."CEYPETCO was working on reforming the tender process. "Under the new scheme, bidders will be able to come to us directly, instead of going through other parties, like they did before," he added. | |
| | |
| --- | --- |
| Import of substandard oil damaged thousands of vehicles in 2011, but the case is still being towed | |
| No one has yet been punished for the importation of a substandard petrol consignment in June, 2011, which damaged thousands of vehicles after it was released to the market.On October 23, 2012, the Bribery Commission filed charges in the Colombo Magistrate's Court against the Petroleum Industries Ministry's former secretary Titus Jayawardena and the Ceylon Petroleum Corporation (CPC)'s former former Commercial Manager Uditha Wimalanath Doloswala over the importation of the substandard petrol stock. They were charged under Section 70 of the Bribery Act.Mr Jayawardena's lawyers raised preliminary objections that the Magistrate could not entertain prosecution for offences under the Bribery Act without written sanction from the Commission. They argued that the proceedings had been initiated by the Director General of the Commission, but when a prosecution for an offence under the Bribery Act was filed, written sanction of the Commission was a prerequisite.After these arguments were rejected, the lawyers filed a revision application with the Colombo High Court, which ruled against Mr. Jayawardena. The case is now again in the Colombo Magistrate's Court. The next hearing is on February 5, 2018.More than six years after charges were filed, therefore, the case has made little headway.Senior lawyer Rienzie Arsecularatne who represents the CPC's former Commercial Manager Doloswala said his client was not challenging the right of the Bribery Commission to file charges and was eager for the trial to proceed and be concluded swiftly. | |