Major breakthrough in live streaming cricket
View(s):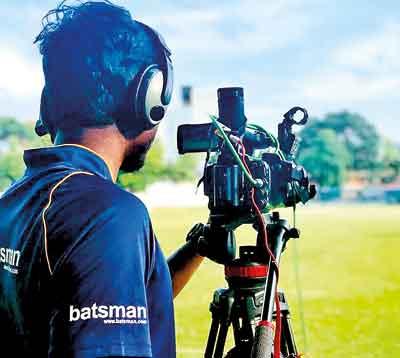 With the popularity and demand for Cricket growing globally and locally, a Sri Lankan entity has developed a software that, they claim, can be maintained by an individual, during a live game, with complete updates. The software or, the application, named Batsman CG (Character Generation) Manager, has the ability to illustrate live score updates, as well as video stream coverage and other important components during a live game, giving its viewers the experience of a live cricket game, as seen on TV.
This one-of-a-kind experience is developed and mastered by Sri Lanka's very own Batsman.com, a website dedicated to local cricket, with a comprehensive database of local cricket and its players. The application, Batsman CG Manager has completed its trial run and is now open for operation, stated its Director Kumara Gamhewage.
"This application lets one stream a full cricket match live, with features such as scoreboard, team cards, player profiles, out cards, in cards, wagon wheels, Manhattan graphs and worm graphs. All that is needed is a camera, a laptop and an internet connection, and you're ready to live stream your own live match, with all the above features, right on your own," he explained.
Gamhewage's Batsman.com cricket website has been in operation for the past five years and has been working to build up its image as the only element with a rich information base on school cricket. By now, Batsman.com boasts of a strong player database and match scorecard archive on school cricket. The new application, as Gamhewage elaborated, will be made available free for schools, as an initiative to further enhance the game and further contribute towards school cricket.
"This is a one-man show where only one person, who knows the game very well, can run the whole process alone. The ball-by-ball update will do both the jobs of generating the live scorecard and generating the live stream of the match. This can even be done by a student from a school or even a player from one of the teams. What's more important is that, after the match, all the data will be saved under each team and player, and their stats will be updated within the system. This will only result in expanding the stats base of Sri Lankan domestic cricket automatically, on a large scale, and updating all players with more and more data."
Batsman.com's intention, according to Gamhewage, is to serve the game with up-to-date and modest developments through modern technology. Their newest addition, Batsman CG Manager, promises of providing all users, including coaches, players and everyone else who are even in the least interested in domestic cricket, with accurate statistical information that will help in taking important decisions for the benefit of their teams.
Another opportunity that blooms with the introduction of this application is the opportunity for youngsters to commentate a full live match. This will definitely open avenues for those who wish to contribute towards cricket off the field.
"Our team at Batsman.com will train anyone interested in the application and commentary, and will walk them through the whole process, before starting on their own production. This is one major opportunity for all and their schools to shine. This, as we anticipate, is the ultimate step in the upbringing of youngsters of Sri Lanka Cricket, and make sure they take this opportunity and not let it go waste," stated Gamhewage, who explained that Batsman CG Manager can be a huge advantage for the survival of good cricket in Sri Lanka.