New fines and safety rules: Despite three-wheeler drivers' protests Road Safety Council says no change
View(s):

No changes will be made to the traffic fine system and the Gazette pertaining to three-wheeler safety despite protest by unions, the National Council for Road Safety said.

The Council's Chairman Sisira Kodagoda said the regulations were now with the Legal Draftsman Department and would be submitted to Parliament after they are approved. Police Spokesman Ruwan Gunasekara told there would be no changes in the proposed regulations.

"We will strictly implement the new regulations after the issue of the Gazette relating to the new fines system and the three-wheeler safety rules," the SP said.

Meanwhile three-wheeler driver unions said that while they would accept the fine system, they were against three-wheeler safety regulations.

Sudil Jayaruk, chairman of the All Island Three wheeler Drivers' and Owners' Association, said the highest of fines should be imposed for major offences. But he claimed that the regularisation of meters might give rise to a mafia.

"They must be more practical about fitting meters. There should be a common standard for all three wheelers," he said.

Commenting on the new traffic fines system, Lanka Private Bus Association Trade Union Alliance Leader Stanley Fernando said they were not informed of the new fines system.

"We believe there should be heavy fines for major offences, but relief should be given for minor offences," he said.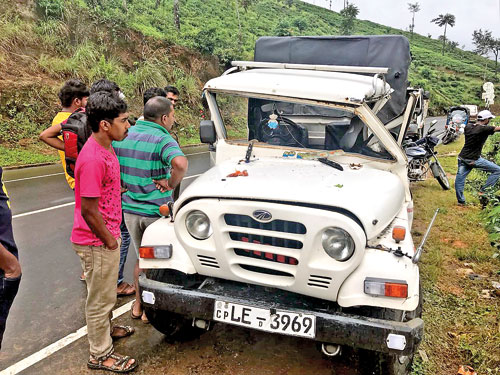 Accidents in the hill country and Katunayake claim 3 lives
Three people were killed and six injured in two separate accidents at the 18 mile post, in Katunayake and Hatton yesterday.In Katunayake, a truck travelling over the speed limit crashed into a transformer located alongside the road. Three injured people were admitted to the Negombo hospital.

Meanwhile, two others were severely injured when two vans collided on the Nuwara Eliya main road. The injured were admitted to the Dickoya Hospital. The Hatton police said misty weather prevailing in the hill country area could have led to the accident