Funnily enough, it's not you they are after
View(s):

My dear Geetha,
I thought I must write to you when I heard that a decision has been taken to disqualify you from being in Parliament. That will be the final decision on this matter, because it is the highest court in the land which has delivered the verdict. You must be extremely disappointed to leave the Diyawanna House.

Unfortunately, Geetha, your name will be added to a growing list of actors and actresses in our paradise who tried their hand at politics and failed to reach great heights: Gamini, Malani, Vijaya and Ravindra. It proves that while most politicians are good actors, most actors aren't good politicians!

Funnily enough, the other actor in the Diyawanna House, Ranjan, was also booted out of his organiser post at Divulapitiya by the Green party this week. However, he has made a comeback already, being appointed to Gampaha instead, so it seems as if it was only a game of musical chairs by the Greens.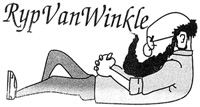 I hate to tell you this, Geetha, but you have missed a trick here. If you were smart enough and played your cards right, you would not only still be in the Diyawanna House, you could have even been a minister or a deputy by now- and I am not talking about renouncing your Swiss citizenship either.
Remember that difficult time in the Blue Party during the last big election? That was when Maithri walked out of Mahinda maama's Cabinet and decided to challenge him. Most of you stayed with Mahinda maama believing, of course, that he will win easily and Maithri would just be an 'also ran'.
That didn't happen and the rest, as they say, is history now. Although Maithri won the election with Green votes, after the election some Blues, after supporting Mahinda maama at the polls, were smart enough to quickly change sides and join Maithri's government. That is the trick you missed, Geetha.
Remember SB? He was on Mahinda maama's platforms, heaping insults on Maithri. The same is true of Dayasiri. He even said that Maithri was spineless and couldn't stand up straight. Yet, after the election, they were quick to change their tunes and sing Maithri's praises – and they were being smart.
Maithri didn't disappoint them either. When those such as SB and Thilanga who supported Mahinda maama were sent packing by the people, Maithri got them back to the Diyawanna House through the back door – the National List- and here you are, having won at the election, now being sent home!
Of course, Geetha, you will concede that you were not the smartest of the lot at the Diyawanna House. Why, there was even that embarrassing moment when you said that 20 million people attended Mahinda maama's 'paada yathra'. That is almost every man, woman and child in the country!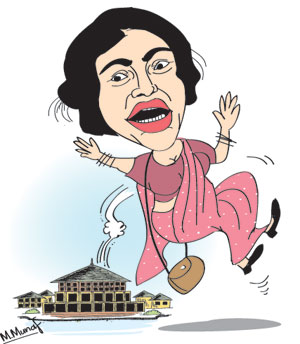 All this makes me wonder, Geetha, whether having celebrities from other fields in the Diyawanna House is a worthwhile exercise. I think not. Why, there was a time when we had Master Blaster Sanath and the tele-drama actress 'Paba' there, and they didn't cover themselves in glory either.
Captain Cool is a celebrity in cricket and he continues to be in the Diyawanna House making a worthwhile contribution but then, politics runs in his family anyway. In fact, there is too much politics in that family and his mother must be having trouble deciding which son she should vote for!
Although you must be very sad that you lost your chance to grace the Diyawanna House with your presence, I am sure there are others who will be very happy with this verdict – and ironically, they will be mostly from your own Blue party, not the Greens. If you doubt that, just ask Piyasena, will you?
All this just goes to show, Geetha, that politics is not as easy as it seems, despite not needing any 'qualifications' to be in it and despite all the insults we throw at our politicians. After all, you are acting only when you are in front of a camera but politicians have to be acting all the time!
I hope you do not wish to return to the Diyawanna House. You are respected as an actress and there is no need to tarnish that – and the people of Bentara- Elpitiya deserve better, don't you think? If you have no idea of what to do next, you can play cricket-our national team can do with some help!
Yours truly,
Punchi Putha
PS: Just in case you are thinking why this happened to you, Geetha, let me explain. This law about holding dual citizenship was not at all intended for you. It was intended for Gota and Basil and you happened to get caught in that trap. And now, it is crunch time for Gota and Basil: if they want their 'pohottuwa' (flower bud) to bloom, they will have to say goodbye to their citizenship in Trumpland – and if they are ready to do that, we will know that they are the patriots they say they are!