Illegal weapons: No smoking guns
By Sandun Jayawardana and Kasun Warakapitiya
More criminals using automatic firearms, but police clueless as to how or where they come from
View(s):
Early last month, traffic policemen who became suspicious of a licence plate intercepted a hybrid vehicle in which the occupants had Chinese-made assault weapons.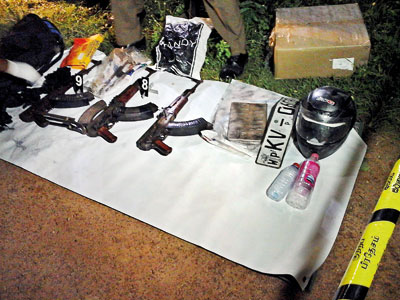 By all indications, if not for the vigilance of the two traffic policemen and sheer luck, a violent crime could have been committed in Gampaha town in broad daylight.
In the incident on October 2, police recovered three T56 assault rifles. The vehicle had been travelling on the road near Gampaha Hospital when two traffic policemen on a motorbike passed it.
A senior police officer in the division, who did not wanted to be named, said the vehicle had aroused their suspicions, particularly its licence plates, which identified the car as from the Central Province. They flagged it down, but as they tried to approach the vehicle, however, the four occupants fled. Inside the vehicle, police saw the weapons. A search turned up a second licence plate, belonging to the Western Province, and several other articles.
Police also noticed that all the T56 rifles had been modified so that they held an extra magazine. "Each magazine contained about 30 rounds of ammunition and all were full," the officer said. Along with an extra magazine found inside the car, the suspects had over 200 rounds of ammunition.
How the suspects got the weapons was not known. All four remain at large. Speculation was that they were in Gampaha to target a local businessman who had escaped an attempt on his life earlier this year. Police however, would not confirm or deny.
This incident, along with armed robberies and killings in the past two years, once again added to fears that criminals had access to a seemingly endless array of firearms. A major concern for law enforcement is that many crimes are being committed using automatic and semi-automatic firearms. T56 assault rifles, 9mm handguns and revolvers are the weapons of choice.
Criminals are also modifying weapons and producing new ones. A suspect arrested for an armed robbery of Rs 3.1 million from a private company in Horana last May, was found with a pistol modified to fire T56 bullets. Illicit small arms 'factories' which are manufacturing such weapons have become a major irritant to police.
A string of violent incidents involving illicit firearms prompted police to launch a crackdown last year. From January, 2016 to August 31, 2017, special operations resulted in the seizure of 1,074 firearms and 3,548 rounds of live ammunition, police statistics show. Alarmingly, there were 43 T56 assault rifles, 88 pistols and 164 revolvers among them.
Criminal gangs have used such weapons to devastating effect. This was tellingly illustrated on February 27, when armed men in police-like uniforms and a police-like pick-up truck, ambushed two prison buses at Ethanamadala in Kalutara, massacring seven persons including a crime suspect. A three-member fact finding committee notes in its report that according to prisons officials, the attack had lasted only three or four minutes. By the time it was over, five prison inmates, including alleged gang leader 'Samayan' and two prison guards were dead. "Attackers seem to have been armed with fully automatic weapons, maybe rifles, T56 and 9mm pistols…" the report states, adding that about 70 rounds of used ammunition casings were found at the scene.
Corruption within the prisons system meanwhile, facilitates criminals to plan and execute crimes from inside their cells. The panel report notes that several mobile phones had been found from 'Samayan's cell and there had been reports he was plotting to kill his rivals from within the prison. Mobile phone usage within the prisons have become endemic and this facilitates crime, the panel has emphasized.
Just how many illicit firearms might be in circulation is impossible to determine due to a variety of factors. Firstly, no one knows how many weapons that once belonged to the LTTE and other armed groups found their way into the hands of criminal gangs in the south.
While some former LTTE cadres and members of other armed groups are believed to have sold their weapons, soldiers who picked up weapons from conflict areas as 'battlefield souvenirs' may well have sold some. Meanwhile, the military itself is reticent about revealing how many of its weapons are unaccounted for. When the Defence Ministry announced a general amnesty to hand in unlicensed firearms last year, it was stated that about 200 remained missing, though officials never provided a breakdown of what types of firearms are unaccounted for.
No comprehensive study of illicit firearms has been conducted either. The last major study was published in 2008 by the National Commission Against Proliferation of Illicit Small Arms. The 'Survey report on the prevalence of illicit small arms in Sri Lanka' however, notes that it can only present a partial picture of the situation in the country as during the period that the survey was conducted from 2006 to 2007, it could not cover areas that were under LTTE control. "There is insufficient evidence, based on information generated by the survey, to offer a new estimate with confidence," the survey report observes regarding how many illicit arms might be in circulation.
"Most of the weapons in circulation seem to be from deserters from the armed forces, while weapons captured from the LTTE are also there," said a chief Inspector who tracks underworld gangs and illicit firearms. The officer, who spoke on grounds of anonymity, said some deserters sell firearms to underworld gangs, while others become gang members.
Weapons are not cheap. According to police sources, the price of a T56 ranges from Rs 75,000 to well over Rs.100,000.
Tracing the origins of these weapons is almost impossible as their serial numbers are scrubbed out. Even if the firearm had been stolen from an armoury belonging to the state, it cannot be traced.
The army however, strongly disputes assertions that most sophisticated illicit firearms may have once belonged to it. Military spokesman, Major General Roshan Seneviratne, pointed out that soldiers are not allowed to take their service weapons home with them when they go on leave. He rejected the notion that those who go absent without official leave (AWOL) take their weapons.
But he admits there have been instances where weapons are missing from armories and while soldiers have been on duty.
Even the 2008 report into illicit firearms though, notes there is strong evidence linking deserters and the military to the proliferation of illicit weapons. "While police records do not systematically record whether an offender caught in possession of, or trying to supply, a military-type small arm is a deserter from the security forces, there is strong evidence to suggest that a large number of cases do involve deserters."
Police believe that the 30-year-long war was the main cause for the proliferation of illicit firearms. Firearms continue to be in circulation, said Deputy Inspector General of Police, Priyantha Jayakody, who has been engaged in combating organized criminal gangs for decades.
He further revealed that even before the war, there were small workshops in the south that crafted guns. "We had very efficient gunsmiths even then," he remarked. But there was no easy access to automatic weapons then. Most people in the villages sought firearms such as the 'galkatas' and trap guns.
Trap guns were used extensively by those engaged in illegal ganja cultivation, especially in places such as Thanamalvila in the Uva Province. "Even when we went on raids, we had to be very careful about trap guns," he stressed.
A small amount of illicit firearms are also smuggled into the country from overseas, the DIG observed. Those who do so, tend to smuggle them in among unaccompanied baggage in sea cargo, which face less stringent checks than the baggage of air passengers. He also ruled out the possibility of firearms being smuggled in from India, noting that the country had strict gun regulations and access to firearms was difficult.
The DIG further said one cannot simply dismiss claims that those from the armed forces and police had a hand in the proliferation of illicit firearms. The largest firearms smuggling racket busted during the last few decades involved a policeman. "In 1997, we arrested a police officer at the Kuliyapitiya Police Station who had sold some 70 firearms to outsiders," DIG Jayakody said. The officer had been in charge of the station's armoury. He had first started by selling shotguns handed in by civilians when emergency regulations were in effect. Later, he had begun selling automatic firearms belonging to police.
DIG Jayakody insisted that the term 'underworld gangs' in the Sri Lankan context was incorrect. "These are not the mafia. These are low-level organized criminal gangs who mainly engage in drug trafficking."
Much of the present violence is due to such criminal gangs clashing with each other over the illegal drugs trade. Most of the victims of the violence therefore, are those connected to the gangs, the officer pointed out.
He believes that the best way to eradicate illegal firearms is for people to be alert to the danger and inform the polie.
Army deserters pose major problem
There are some 35,000 military people who are listed as being absent without official Leave (AWOL). About 30,000 of them are from the army, according to official figures.Some of them could fall on to the path of crime or become a part of criminal gangs; both as suppliers of illicit firearms and as foot soldiers, according to police sources.

Many military deserters have been identified as suspects in a large number of major crimes involving illicit firearms. In June, police arrested two former soldiers, including a commando, in connection with the shooting deaths of five individuals in four police divisions the previous month. The suspects, who belonged to a criminal gang from the south, had been ordered by their leaders to take out members of a rival criminal gang in the same province.

Meanwhile, the suspected shooter who ambushed Police Narcotics Bureau officers in Piliyandala, Noel Asitha Kumara alias 'army Noel' is also an army deserter. He is believed to have escaped to India.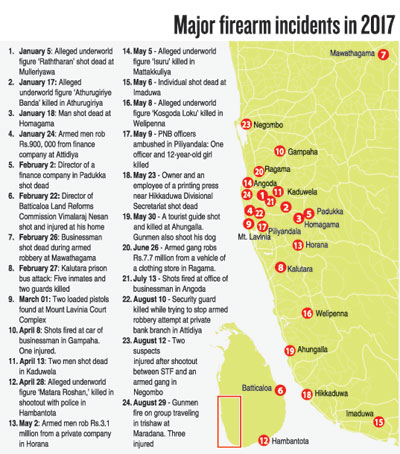 DOUBTS ABOUT POLICE ABILITY TO SEIZE ARMS
The proliferation of illicit firearms in the country is creating a fear psychosis among the public, warned Prof. M W Jayasundara from the Department of Criminology and Criminal Justice, University of Sri Jayewardenepura."Today, it has got to a point where it's not only those who live by the sword who die by it. Innocents get hurt too," the academic said, pointing out that several people, including children, who have no connections to criminal gangs, have become victims of gun crime.

Such incidents inevitably lead to people who would normally stand up against injustice to remain silent, he opined. "It's a natural reaction. You don't want to raise your voice too much because you don't know if the wrongdoers are capable of violence towards you and your family."

Prof Jayasundara stressed connections between criminals and politicians was also a major hurdle in eradicating illegal firearms. A criminal gang that has political patronage will not be cowed easily and as long as this occurs, it will be difficult to completely eradicate the problem, he observed.

It is the police who have to take the lead in cracking down on illegal arms, he stressed, but questioned whether the force was capable of doing so. Perhaps, a better solution would be to elicit the support of a dedicated specialized unit such as the Special Task Force, he added.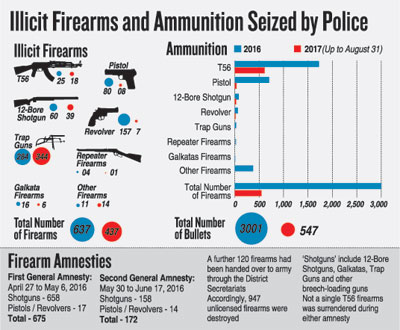 GUN AMNESTIES ONLY PARTLY USEFUL
The Ministry of Defence announced two general amnesties last year for the public to hand over unlicensed firearms.A total of 947 unlicensed weapons that were surrendered were later destroyed, according to the ministry.

Worthy of note, however, was that only a small number of pistols and revolvers were handed in, while no T56 rifles were surrendered during either amnesty. This is despite the Government offering a cash incentive of Rs 25,000 for a T56 weapon during the first general amnesty.

Authorities acknowledged that most of the firearms that were surrendered were old. A large number of guns were not even in working order with missing parts. Many firearms, notably, were licensed at one time and had been handed down to the present owners through their families.

Gun owners must renew their licences every year. In many of these cases though, the licences had not been renewed, rendering the weapons illegal under law.

Questions inevitably arise on the effectiveness of such amnesties. DIG Priyantha Jayakody, said the amnesties had not brought in desired results as very few automatic weapons had been surrendered. At any rate, it was too much to expect people to surrender firearms used in crimes, he said.

N G Panditharathna, additional secretary (civil security & development) at the Ministry of Defence though, argued that the amnesties serve a purpose in that they help to remove unlicensed firearms from society. "People who kept these weapons were living in fear. They wanted to hand them over but feared legal action. It's not about whether a weapon is old or new. The amnesties helped people to hand the weapons over without fear, and they no longer need to live with that burden," he commented.

Moreover, the amnesties reinforce the view among the public that illicit firearms are a problem. It would hopefully, persuade people to inform the authorities about any illicit firearms that they may know about, he added.