Drip irrigation could trickle down relief to parched dry zone
By Namini Wijedasa
International expert Armugam Kandiah driving force behind pilot project here - India launched this method as far back as 1992 to great benefit
View(s):
The inhabitants of Sri Lanka's dry zones, most of whom are farmers, have suffered searing droughts for decades. Agriculture has taken a severe hit. Crops are wilting and people are plunging into debt and poverty.
Last year was particularly bad. The North-East monsoon failed, heralding the worst drought in four decades. And despite floods in other parts of the country, rains over the dry zone have remained sparse.
Output is expected to slide. In September, the Department of Agriculture predicted paddy production this year to be the lowest in a decade, owing to drought and floods. The future–shaped by climate change–threatens to bring with it longer, drier spells in some parts of the country.
One international expert with over 30 years in the field is rooting for drip irrigation to boost production in the face of these challenges. Dr Armugam Kandiah is an agriculture graduate and has a master's degree in irrigation and a PhD in water resources engineering. He divides his time between Seattle, USA, and Sri Lanka, where he is the driving force behind a drip irrigation pilot project.
"Drip irrigation has the potential to increase yield by more than two-fold, save more than 50% of water used under traditional irrigation and increase cropping intensity to 300%, while greatly reducing adverse environmental impacts and vulnerability to climate change," Dr Kandiah told the Sunday Times via email.
The technique allows water to trickle slowly to plant roots through a network of valves, pipes, tubes and emitters. This minimizes the use of water and fertiliser and has been known to double crop yield while significantly improving quality.
Under conventional methods, a significant share of irrigation water flows into the ground, carrying with it soluble fertilisers, chemicals and contaminants. These include the poison Nitrate nitrogen which comes from urea and has been detected in wells in the Jaffna peninsula and elsewhere.
With drip irrigation, the downward flow of water is minimum–virtually nil–if the system is well-designed and run. It is also possible to apply a measured amount of fertiliser to each plant, close to its roots, allowing for full absorption by the crop.
The system is particularly appropriate for the Jaffna district which is mainly dependent on groundwater. It can help avoid heavy pumping of wells, the normal practice in most agricultural areas there, during the dry months which has led to saltwater intrusion and related health hazards.
Drip irrigation has been tried in Sri Lanka in the past but failed because those efforts were, according to Dr Kandiah, cosmetic and haphazard. Farmers were given drip equipment. In some cases, it was installed in their farms without training on how to operate and manage the system. They did not know how the different components worked.
When the network broke down, farmers had nowhere to get it fixed. Equipment suppliers could not provide after-sales service or operation and maintenance care. The Department of Agriculture, too, lacked capacity.
But drip irrigation has been thriving for years among small farmers in India. The internet is awash with success stories; of cultivators saying they had saved, not only water, but fertiliser and labour while increasing yields. The reason for this is a comprehensive approach comprising subsidies, supportive policy, research and development, extension support, farmer training and easy availability of affordable, good quality equipment with after-sales service.
Since 2005, the area covered under micro irrigation systems in India–which includes sprinklers–has grown at an average annual rate of 9.6 percent. Sprinklers account for 56.4 percent of this while 43.6 percent is drip irrigation. The latter has shown stronger growth in recent years, increasing at an annual rate of 9.85 percent in 2012-2015 while sprinkler irrigation has edged forward at a pace of 6.6 percent during the same period.
Drip irrigation cannot be used for paddy cultivation. It is suitable for crops such as onions, chilies, tomatoes and high cash value vegetables as well as a variety of fruits such as banana, mango, papaya, pomegranate and grapes. Coconuts, too, do well under drip irrigation.
In Sri Lanka, the Office for National Unity and Reconciliation (ONUR) recently took up the 'drip irrigation challenge' within its sustainable livelihood programme. A pilot project is being implemented in the three dry zone districts of Jaffna, Kilinochchi and Hambantota.
Under its first phase the universities of Jaffna and Ruhuna trained 300 farmers and 100 extension officers (who directly work with farmers and companies with the objective of helping them make better decisions to increase agricultural production). Participants in the programme now show a better understanding of drip irrigation technology and are motivated.
The second phase will assist farmers who have been trained to practice the technique on their lands by providing a 50 percent subsidy on the cost of drip irrigation equipment; paying interest on the farmers' loan for one year to buy irrigation equipment; and providing assistance to them to design and install drip systems.
It promises to be a success. But there is now a need to go beyond the pilot phase–or to "scale up". It is proposed to increase coverage to 12 districts in five provinces.
They are Jaffna, Kilinochchi, Mullaitivu, Mannar, Vavuniya, Anuradhapura, Polonnaruwa, Trincomalee, Batticaloa, Ampara, Moneragala and Hambantota.
And there is no way round the reality that farmers will initially require financial incentives and assistance to instal the systems in their farms. "Drip irrigation is relatively capital intensive," Dr Kandiah admitted. "However, if properly installed and managed, the system will pay for itself within two to three cropping seasons."
Farmers should have access to good quality equipment at an affordable price. The supplier should be able to custom-design the system to suit each farm's geometry, prevailing climatic and soil conditions and the crops to be grown. And farmers will need support to overcome day-to-day issues related to operation and maintenance.
The expense could be particularly high in Sri Lanka as there is no competition among suppliers. There is a monopoly in the country by a leading supplier. The prevailing cost is around Rs 650,000 per acres whereas in India, the per-acre cost of a comparable system is around Rs 236,000 (INR 100,000).
"At the beginning, to promote the technology, a 40-50% Government subsidy to small farmers is a good thing," Dr Kandiah said. "In India, the subsidy scheme has worked reasonably well, and one could learn from this example. I'm not aware of a financial model not involving a Government subsidy in developing countries."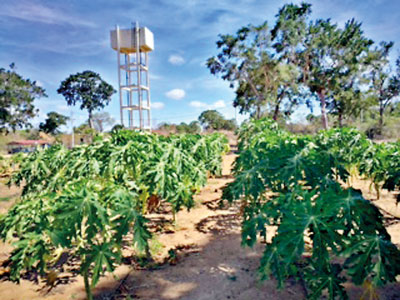 The means to take drip irrigation to all parts of the country where farmers could benefit from it is already available. "I think the President's Grama Shakthi program is an appropriate vehicle to launch a nationwide drip irrigation drive," Dr Kandiah said.
"The funds required to provide the subsidy, train farmers and extension workers and strengthen the institutions will be well paid back in the form of increased farm productivity, increased rural incomes, higher contribution towards gross domestic product, national prosperity and national unity and reconciliation," he emphasised.
But it remains to be seen if Sri Lanka will now start working on something India launched as far back as 1992 to great benefit.