There will never be another Daha
By Gaston de Rosayro
Tribute to Wijayananda Dahanayake on his 115th birth anniversary
View(s):
Today is the 115th birth anniversary of Wijayananda Dahanayake of Galle, a former Cabinet Minister and caretaker Prime Minister of our nation. He was born on October 22, 1902 as a twin in a conservative Kachcheri Mudliyar's family. The Dahanayake twins Wijeyananda and Kalyanapriya came howling into the world in their ancestral home Dangedera at Richmond Hill.
No one would have predicted then that the elder twin would storm the national political arena and rise to the highest rung of legislative power. Wijeyananda Dahanayake, perhaps more than any other politician, was a sphinx-like and captivating individualist. Daha as, Wijeyananda was affectionately called, set the nation's political universe in a whirl with an unprecedented charm and anti-establishment sassiness seldom encountered in this nation's political firmament then or now.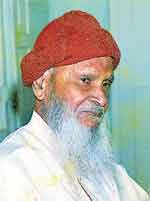 The Dahanayakes were part of the anglicised elite but clung fiercely to their proud local ancestry. They were gifted with an extraordinary assimilated intelligence that was a consequence of colonisation.  A demonstration of their way of life is best expressed in their unblemished command of both the Queen's language and the Sinhala vernacular in which they could expound on any theme with equal competence.
Wijayananda's chimerical temperament was grist for the right wing press which satirized him without respite. His wordplay and rhyming couplets along with some of the greatest parliamentary orators of the time provided dream 'copy' for lobby correspondents, political columnists and newspaper editors.
Wijayananda Dahanayake's political profile is as fascinating and as multifaceted as was his contradictory character. This is his political legend in a nutshell. He was a member of the Lanka Sama Samaja Party and Mayor of Galle before joining the administration of  S. W. R. D. Bandaranaike, Prime Minister and leader of the Sri Lanka Freedom Party. He served as Cabinet Minister of Education from 1956 to 1959. He took office as Prime Minister, Cabinet Minister of Defence, External Affairs and Education when Bandaranaike was assassinated in September 1959.
He contested the March 1960 General Election under the nomination of his newly formed Lanka Prajathanthravadi Pakshaya , LPP, also amusingly nicknamed the 'Lanka Pisthola Pakshaya'. He was not re-elected as an MP as he lost his Galle constituency in that election. He had also served as a Cabinet Minister of Home Affairs in Dudley Senanayake's government from 1965 to 1970 and Cabinet Minister of Co-operatives in Junius Richard Jayawardene's government from 1986 to 1988.
Throughout his chequered career he waged his polls campaigns, not on a shoestring but on a 'no-string budget'.  All it took was an old jalopy, decorated with gokkola – tender coconut fronds – and coloured paper bunting and a loud-hailer to attract the crowds.
He elicited his biggest cheers, when he talked about improving conditions for the working poor.
He was a controversial and boisterous lawmaker. His style of handling issues had made him seem a political clown because of his unorthodox behaviour. Yet, when the effervescent Daha was performing, everyone in the House would be certain of a theatrical treat. Dressed in his homespun white cotton national dress, which was derogatorily referred to as the 'vauwula' suit by his more anglicised peers, he brought a touch of entertainment and zest into the most jaded sittings.
But he was a man of diverse talents – an accomplished educator, constitutional commentator, poet, parody writer and parliamentary reformer. He was also a deeply generous, cosmopolitan and civilised man, widely read and with the facility of thinking on his feet.
Daha loved public life and could never resist cutting a figure wherever he was.  He was certainly mercurial and could be petulant, almost snappish at times, although it was the usually amiable side of his character that surfaced most.
He was perhaps the only public figure who always rode the rails on the Colombo- Galle route 'third class'. When questioned as to why he chose to travel 'third class' he pithily countered: "Because there is no fourth class!"
The death of S. W. R. D. Bandaranaike hurled the island headlong into yet another political crisis. Bandaranaike's chosen successor, Education Minister Wijayananda Dahanayake was asked to take over the government.  He was a stand-in no doubt, a sort of stunt man understudy who was propelled into the leading role by default.
As caretaker Prime Minister he faced internal party dissension as well as thunderous opposition demands that his government resign.
The besieged Dahanayake baffled the entire political caboodle with a series of trumps. He did so with aplomb in an overnight operation that left the whole country blinking. In quick succession he dissolved Parliament, fired five Cabinet ministers, quit the Freedom Party, and announced the formation of a new political party of his own.
In all, he was considered the most flamboyant and charismatic political figure this country has ever seen. He enlivened every parliamentary debate. We will never see the likes of such a bubbly personality ever again. Sadly the country does not make politicians of his calibre anymore.
The entire nation, notwithstanding political affiliations, was stricken with grief when he died on May 4, 1997 as a simple man at the age of 94. Hardly surprising then, that his legend lives on.