Her paintings are open to interpretation
By Kaveesha Fernando
View(s):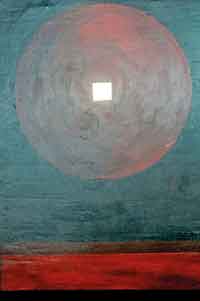 In the past, she used to observe the world around her and paint.
The title of Shirani Pereira's first solo exhibition at the Paradise Road Galleries is 'Meditations' because the act of painting itself is meditative for her. Having moved to abstract art where her subjects aren't as fixed as they were before, Shirani feels that her subconscious often guides the way – finding themes and art she almost did not know were there before.
Shirani is no stranger to the world of art. She discovered her knack for it when her art teacher selected one of her paintings for an exhibition in Bombay when she was a student at Ladies' College, Colombo. Interestingly, her art teacher was none other than Sirancee Gunawardana who would later become the Principal of Ladies' College. Having thus realized her artistic abilities, she continued to paint.
Shirani feels that art is something which is open to interpretation and should not be defined. This is why her works are not titled. "If the viewer can see something that they can relate to, that would be lovely," she says, adding that she hopes that her art will evoke strong emotions in people.
 'Meditations' will be on till November 8 at the Paradise Road Galleries at 2, Alfred House Road, Colombo 3 from 10 a.m. to midnight. For further information, please contact the gallery on 011 2582162 or email them at art@paradiseroad.lk