Appreciations
View(s):

A true servant of God
JOHN BLAIR
I was saddened with the news of the demise of John Blair better known to us as Uncle John. I was equally sad that I could not pay my last respects — prevented due to medical advice having undergone surgery at the same hospital he spent his last days. However, I am composing this at the scheduled time that his remains were expected to be interred.
Uncle John was truly a good servant of God, having helped many a Sri Lankan including my own parents, expounding the word of God very clearly and wisely. He has been doing this service for 57 years in Sri Lanka always wishing to end the journey of his life in Sri Lanka, having left the luxuries of his parental home in New Zealand.  I remember visiting this home in the mid 1970s and meeting his mother and brothers.
I have many memories of Uncle John, such as to mention a few, how in the early 1970s when I visited him and his companion in their camp in Balangoda, they were after their lunch having had a few durians which was his favourite fruit. He had installed a windmill for the people there utilising parts from a  motor vehicle, for the purpose of cultivation through lift irrigation. Perhaps this was one of the first windmills to have been installed in Sri Lanka for such a purpose. Also perhaps to cut on travel costs he converted a Sunbeam car to run on kerosene, and people around could 'smell' his arrival and departure in addition to the noise. In the late 1980s he laid the foundation stone at my request for the Open University Guest House in Bandarawela and after completion of the building, on my invitation, he was among the first occupants as my guest to the bungalow.
He was very kind and firm in his wise counsel and was liked by both the young and the old.
I will always remember his constant advice to me " Do your best and leave God the rest, the merciful Lord will be the final judge !"
May his soul rest in peace.
Dayantha Wijeyesekera
---
A sad surrender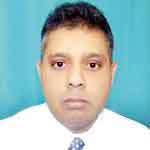 Yasantha Elikewela
As we laid you to rest,
our eyes clouded with hurt
we knew this time it won't be easy,
to have ourselves revert
Memories came gushing and tears like an incessant river,
that exuberant laugh we could hear ringing in our ears
this time it was like no other
the aching burn we felt,
hollowness inside everyone whom you left a footprint,
with the kindness you dealt
You were a man sent from heaven,
and everybody's beacon of hope,
the light you brought into our dark worlds
could never be explained or told
On your birthday we remember you
with swollen hearts of grief
but we won't cry in your absence,
rather we'll celebrate every day you lived
and all the lives you touched down here
even on your stay so brief
You only knew kindness and
your only religion was love
you're never to be forgotten
for you were an angel among us
- Dilshani
---
You showed us by example how we all should live our lives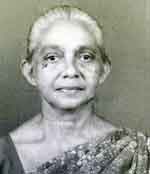 Soma Muriel Cabraal
Nearly three months have passed and we still talk about the life you lived, the things you used to say and the love you shared with us all. The greatest lesson you ever taught is beyond the texts you used to teach at school; it is beyond our understanding- you lived and showed us how we all should live. If we were to exemplify sacrificial love and selfless acts of kindness – Mamma, you have shown us exactly how it should be.
I have heard from many about the beautiful ways in which you had touched their lives – I have heard of you as a loving sister, a strong woman, a concerned teacher and a caring mother. They tell of your resilience, your passion and your God-fearing nature. To this day, some of the greatest stories I have heard and experienced, of a teacher's dedication, a wife's trust, a mother's love and a grandmother's sacrifice, are yours.
My earliest memories of you run back to your days in Ratmalana, when you brought up your grandsons as your own sons.  We fondly recall the way in which you called them by the names of Thaththi and Bappa. You saw no difference in your role, and certainly not in your age. The glasses of milk you served us with extra sugar when we visited you and the pocket money you gave us in little envelopes will always be remembered as outward signs of your immeasurable love. I also recall the story of how you explained to a woman at a hospital that God will provide you with good daughters-in-law when she inquired if you regretted not having any daughters of your own; and when God provided you as you knew He would, you made them feel at home.
Nine years ago, people flocked to pray for you, with calls of concern from near and far – your impact on lives came to light. Even though your mind was determined to remain selfless, your body could not handle it anymore. That marked the beginning of a true retirement for you; a retirement from house-work and a retirement from parenting for a second time. Over those years, you displayed true courage and strength of character, faith in God and kin, and the ability to progress from bed to wheelchair to your own feet, until you followed that track back to bed in January.
One of the best miracles we've ever experienced is through you. When your only sustenance during the last twenty days was water and pomegranate juice, your perfect memory and fatigued smile is surely a testament of faith and courage. When your final wish, which was to see your great-grandchild, was fulfilled, your smile was heavenly and it will be engraved in our hearts forever.
In my 22 years with you, I have seen the loving mother you were, during your illness- the fighter you were, and mostly, the concerned grandmother you certainly were to us. They say the prayers of our grandmothers are the reason we are here today – that is undeniably true. Your inspiration runs in rivers through our bodies, your dreams have become our realities and your love has been the sun we have woken up to all our days. Our achievements were your pride and happiness, our journey was yours as well. When times were tough, you were there; when life hit us hard, you gave a helping hand; when we needed a shoulder to lean on, our weight did not matter to you – you were always there. Your chair at home will always be empty, our ears will crave your tales, but you will always be in our hearts. I pray that your love and kindness radiate in us. May you rest in peace and rise in glory!
Oshanthaka Cabraal
---
A humble generous man who helped many
 Kularathne Pieris
It is said that one should never postpone a visit to an invalid septuagenarian – octogenarian – nonagenarian, as otherwise one may repent later, if the person leaves this world before one could see him and speak a few words with him. This is exactly what happened to my friend Meril and me as our beloved colleague Kularathne Pieris passed away on July 16 before we visited him.
Although my friend Meril had telephoned me earlier and said that Mr. Pieris was not well, we never expected that he would pass away so suddenly. However, when we visited his funeral, past memories of how we worked in the C.W.E. – and enjoyed office life came back to me.
Mr. Pieris was chief of the Dispatch Department of the Co-operative Wholesale Establishment (C.W.E.), and discharged his duties honestly and loyally, without any adverse comments from any quarter. The staff under him were helpful and respectful to him owing to his good qualities.
We joined the C.W.E. in the 1960's and remained friends since then. We were bachelors at that time and on Saturday, which was a half day, we used to meet in the C.W.E. Sports club and play various indoor games till late evening. Mr.Pieris came to C.W.E. in his own vehicle, which was a luxury at that time, and he always dropped us  at our residences although we never expected him to do so. That was a great human quality in him. He never expected anything in return for all the help he rendered to anybody whether financially or otherwise. We also loved to join his light-hearted banter. He always extended a helping hand to anyone who needed assistance or advice on any matter without any form of discrimination.
Although we worked in different departments of the C.W.E. we maintained our friendship till retirement. There was hardly any person in the C.W.E. who did not know Mr. Pieris.
Mr. Pieris hailed from a respectable family in Kirullapone and was blessed with two daughters and grandchildren who are well educated and employed here and abroad. He had no worries and was a happy person till the final phase of his life.
Once he invited us to his annual almsgiving at his house and I saw how the late Chief Priest of the Asgiriya Chapter held his hand to invoke blessings on him. We knew only that day that he maintained a close rapport with the Asgiriya Chapter. The Ven. Thera in his sermon said Mr. Pieris had made many donations to Asgiriya and helped many young novices. Many of us came to be aware of this only during this sermon.
A simple, honest personality with a genuine smile,we have lost a good friend and we share our sentiments with his wife and two daughters.
May his sojourn in samsara be short and serene and may he attain the  supreme bliss of nirvana.
Gamini Dharmaratne and  Meril Perera
---
He was a brave, brilliant and more  importantly compassionate doctor
Mailoo Ganesaratnam
Mailoo Ganesaratnam was born into a family of 10 talented children. All except one were graduates, whilst two of his brothers took to medicine; one became a Consultant Physician and the other a Consultant and Obstetrician and another is an Emeritus Professor of Chemistry in South Africa.
Mailoo's early education was at Royal College Colombo, but after nine initial years there he had to move over to St. John's College, Jaffna when his father retired from Government service as Superintendent of Mails. The year was 1958, when riots in Colombo over the "Sinhala only" issue probably influenced the father to take the young family to a safer environment.
In spite of this change in the educational environment, Mailoo excelled in his studies, so much so that he entered the Faculty of Medicine, University of Peradeniya where he had a brilliant academic record. He scored three Distinctions in the 3rd MBBS examination in Pathology, Microbiology and Pharmacology. As a result he won an exchange scholarship to the University of Manchester, UK arranged by the late Professor Senaka Bibile. He spent three months in the firm of Mr. Anscombe, a brilliant surgical craftsman who may have inspired young Mailoo to later take to Surgery as a career. Within three months of returning to Sri Lanka in 1968, he completed the MBBS Course with 2nd Class Honours.
He sat for the Primary FRCS and the MRCP Part 1 within a short space of each other and was successful in both. In spite of spending his pre-registration Internship with late Professor Dharmadasa, a brilliant Physician and teacher and Professor D. E. Gunatillake, an equally inspiring Obstetrician and Gynaecologist, it appears as if the memories of his undergraduate days at Manchester prevailed and he decided on a career in surgery.
This was an era when doctors had to proceed to the UK for postgraduate qualifications and an era when it was relatively easy to obtain GMC registration and jobs. Mailoo proceeded to the UK and worked at St. Helier's Hospital Surrey and at the Southampton General Hospital and passed the FRCS examination in 1976. Later he worked as a Senior Registrar in General Surgery at the Whittington Hospital in London where he worked in the Units of Mr. Cochrane, Mr. Russell Lock and Mr. Alan Wilson. He has also worked as a Locum Consultant Surgeon in Northern Ireland.
Returning to Sri Lanka, he spent the next 13 years as Resident Surgeon at the General Hospital Colombo, as Consultant General Surgeon, Matale, and Negombo. In 1989 he was transferred as Consultant Surgeon, General Hospital, Jaffna. Those who can recall this era will remember that this was the time of the violent JVP movement and that this was also the time when the Sri Lankan forces fought a bloody battle to take over the Jaffna Fort. A violence-ridden conflict had just begun. Many professionals left the country and only a very few brave ones stuck it out at Jaffna. Mailoo was one of them; he risked the lives of his young family and despite being displaced from his house many times he continued to work tirelessly day and night dealing with casualties and emergencies. They even had to close down the Jaffna General Hospital and shift it temporarily to Manipay. His mode of transport was the bicycle.
In spite of being eligible for a transfer to Colombo, Mailoo continued to work in Jaffna for six years as the only surgeon until 1995 when he was transferred to the National Hospital of Sri Lanka. In 1996, at the request of the then Minister of Health, he and Dr. Sivakumaran went back to Jaffna General Hospital to reorganise the medical and surgical services.
He loved teaching. He continued to go to Jaffna on weekends to teach the medical students there as Visiting Lecturer in Surgery and Anatomy from 1990 to 1995 and he was appointed a Visiting Professor of Surgery to the University of Jaffna from 2004 to 2006. He also served as a member of the University Council from 1992 to 1996. He was President of the Jaffna Medical Association from 1992 to 1994.
At the National Hospital Dr. Ganesaratnam's talents as a brilliant General Surgeon and dedicated teacher surfaced. He excelled in Hepato-biliary-pancreatic and laparoscopic surgery so much so that he was often the first choice for trainee registrars and senior registrars when it came to allocation of training posts. His dedication to training surgeons was also evident as he served as coordinator of Surgical Training of postgraduates appointed by the PGIM from 1998 to 2003, in the Board of Study in Surgery of the PGIM from 1998 to 2003 and served as an examiner in the Parts I and II of the MS examination. He was also the examiner in Surgery for the MBBS in the Universities of Colombo, Jaffna, Kelaniya, Ruhuna and Sri Jayawardenapura.
He had time to serve as a Member of the Inter-country Consultative Group in development of a regional strategy for prevention of injuries and violence in held Bangkok, Thailand in 2002 and to serve as a member of the Committee on National Policy framework on Injury Prevention in Sri Lanka in 2003.
His research interests and publications are on obstructive jaundice, Laparoscopic cholecystectomy, Trauma, Maydl's hernia (published in the British Journal of Surgery) and Thyroid disorders including solitary nodule and Thyroiditis in Sri Lanka on which topic he delivered a guest lecture at the Annual Sessions of the Association of Surgeons of India in Jaipur in 2005.
He has delivered the Canagaratnam Memorial Oration on "Prevention of Illness" and the Sivapathasunderam Memorial Oration on "Injuries in Children".
He served as a Council Member of the College of Surgeons of Sri Lanka for several years and in 2007 served as its President. This was a fruitful period for the College as over Rs 6 million was collected for the building fund to build the College Training centre and Auditorium and the shell was completed.
Mailoo retired from the National Hospital of Sri Lanka as its senior surgeon in 2003. He however continued with a very busy private surgical practice and continued to take an interest in undergraduate and postgraduate training and examinations.
In spite of these commitments he was a family man having brought up four children, all professionals, an accountant, an IT expert, a lawyer. However his contribution to the development of the family is best obtained from his ever smiling wife Nirmala. Of the four children only the last daughter is a doctor and we can only hope that she would continue in the illustrious footsteps of the father.
It is my pleasure to present Mailoo Ganesaratnam, a brave, very brave and brilliant surgeon, dedicated teacher and a splendid, caring and compassionate human being for the award of the Honorary Fellow of the College of Surgeons of Sri Lanka.
(Citation read at the Scientific Sessions of the College of Surgeons of Sri Lanka on August 30, 2008)
 Post Script:
Dr. Mailoo was cremated on Wednesday, October 4 having succumbed to an illness which he bravely fought. This was a sad period for the medical profession as in the space of two weeks three eminent medical personalities passed away. I admired all three and each one leaves a lesson for us survivors and for future doctors too. The other two doctors were Dr. Sarath Abeykoon, MD, FRCR, Consultant Oncologist and Dr. C.K. Pathirana, MS, FRCS a relatively young Surgeon.
The two important lessons from Dr. Ganesaratnam's career one needs to record is his work ethic and his devotion to patients from many of whom he charged minimum fees and on many occasions carried out operations free of charge. Yet he was able to educate his children to be successful professionals and lead a comfortable life. He never said no to a patient and worked late into the night, often starting again early in the morning. Dr. Sivakumaran, Consultant Physician told me that his favourite expression was "Sin, no?"
And this epitomizes his commitment to care, a must for every doctor. He was ever ready and willing to come to the rescue of fellow surgeons when called upon and never charged a fee for spending this time. Even when he was a Consultant Surgeon in Government service, he personally saw every patient under him and was in the operating theatre whenever his juniors were operating. He found the time.
Dr. Sarath Abeykoon was a Consultant Oncologist who never did private practice until he retired from the Cancer Institute, Maharagama. He too was a very caring and committed doctor. The word "empathy" characterizes his attitude to his patients, and cancer patients used to flock to his unit to experience his caring ways. A recent appreciation in a newspaper stated that he often spent over an hour with a patient, one who had no hope of survival but who enjoyed the comfort of his care and concern. Patience, caring and solace is what he offered. Dr. Kanishka de Silva, Oncological Surgeon told me at the funeral that he had no enemies, so much so that you cannot find, "not even a three wheel driver who would speak ill of him"!
Dr. C. K. Pathirana was a young Consultant surgeon with a special interest in gastroenterology. He brought a new dimension to the operating theatre introducing new operations and innovations. He loved teaching and spent his last few years in the Out Patients Department of the National Hospital of Sri Lanka. His newspaper articles and talks on the electronic media on common surgical problems, for the benefit of the lay public, will remain his legacy.
Our sympathies go to the the grieving families they have left behind. The loss is difficult to bear. But may these memories comfort them while we in the medical profession hope to benefit from the legacies they leave behind
Professor A. H. Sheriffdeen
---