Rewards and regrets at Grade 5 scholarship exam hurdle
By Akash Widanapathirana
View(s):
Fewer children have achieved the Grade 5 scholarship test cut off mark over the years, data show.
Only 9.45% of the 350,462 candidates achieved the cutoff mark this year — a 10-year low. This, compared with 11.95% in 2007 and 11.79% in 2008. Last year, just 9.5% scaled the hurdle.
This year, the cut off mark for Sinhala medium students was 164, the highest in the last 10 years. It was 156 for the Tamil medium, the second highest cut off mark in 10 years.
Nearly 69.4% students scored marks 70 and above, with 35 and above for each paper, this year. Last year, it was 75.67%, while in 2015 and 2014 they were 76.33% and 78.96% respectively.
Minister of Education, Akila Viraj Kariyawasam, concedes that the exam was creating more pressure on students and educators are being asked to propose solutions. A long-term solution would be to upgrade all schools.
Educators, psychologists, and psychiatrists, expressed their views on the impact on the students due to the Grade 5 scholarship examination.
Dr P R K A Vitharana, head of the department of education, University of Peradeniya, said failures can affect the personality of a child.
Professor W Chandradasa, at the department of educational psychology, Faculty of Education, University of Colombo, said attitudes need to change.
"Many state and private institutions reward the top scorers and give them huge publicity. Some do this for commercial purposes. But it increases the pressure on the children indirectly.''
Prof Chandradasa also noted that comparing or assessing the academic achievements of a Grade 5 student at national level was unnecessary.
Dr Asiri Rodrigo, consultant psychiatrist and a lecturer at the Faculty of Medicine, University of Kelaniya, said exam results could negatively affect students. But he concedes that exams are important in a competitive world.
"For instance, if a student did not obtain the expected result at the scholarship exam although they had worked hard, he or she would be demotivated and think that hard work is useless," he explained.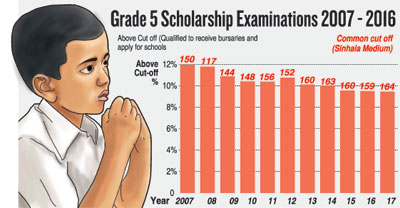 Also, those who work hard, could become anxious when sitting for another exam and not do their best. "For some of the students, failing the scholarship exam might lead them to completely give up education, being castigated as a failure and they might engage in anti-social activities,'' he noted.
He said these beliefs, psychologically identified as "deep-seated beliefs" that are formed at a young age could re-emerge when a person faces a similar situation such as a job interview. That could lead to depression and even suicide.
"This does not apply to everyone, but might happen in a significant minority,'' he emphasised.
Clinical psychologist, Dr A Dewaka Wanigaratne, suggested the scholarship exam be held at the age when students take the Ordinary Level exam. A 10 year-old can not handle a competitive exam. "A child is more suitable to handle such a competitive exam at 16 years of age as they are psychologically capable of managing stress.''
Dr Wanigaratne suggested that popular schools admit children from rural areas.
A Grade 5 teacher at Kende Nekutunuwewa Vidyalaya in Kahatagasdigiliya, Anuradhapura, Udesha Kumari Upananda, does not favour scrapping the scholarship exam. She sees it as an opportunity for the underprivileged. "There is no stress for the students here like in urban cities. They do not attend tuition classes."
She said students are content to achieve marks above 70 and receive a certificate for that. But Ms Upananda claimed that the certificate had not been given to children in the past few years.
She noted that there are deficiencies in the syllabus for Grade 5 students. In some subjects, she said, it was difficult to determine how much a child should be taught.